Nearly 250 guests gathered in the White River Conference Center on Nov. 3, for the Missouri Republican Watch Party hosted by the Missouri GOP committee and Mike Parson's Campaign.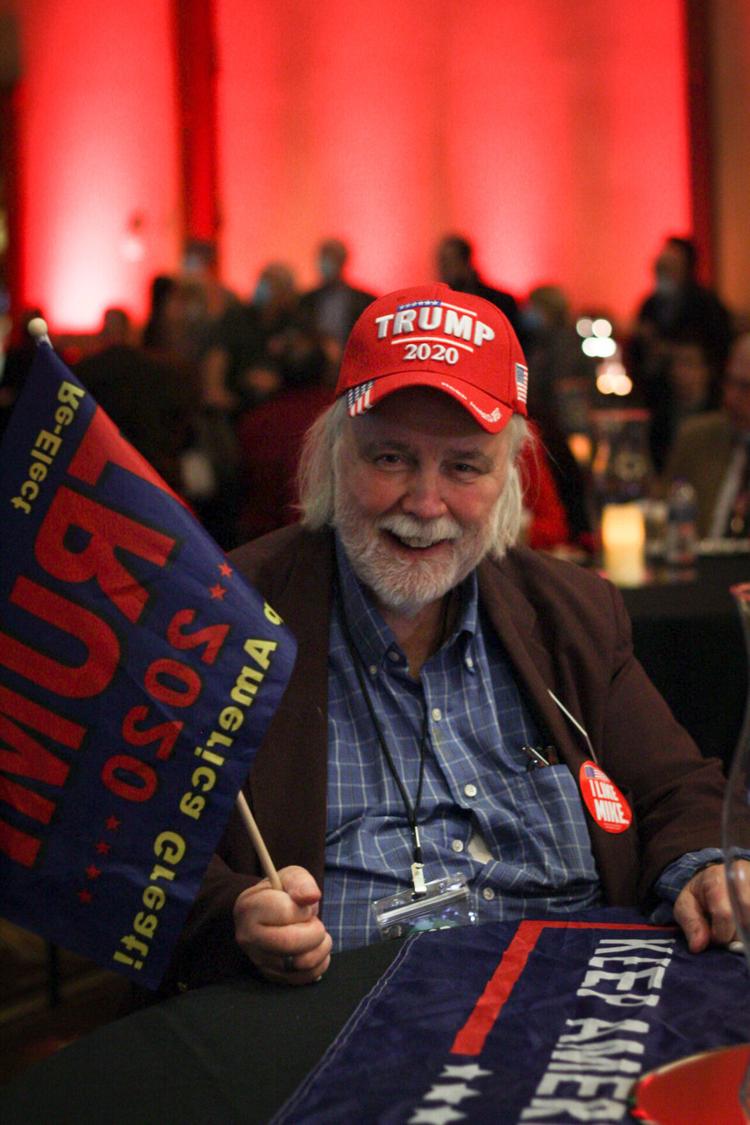 Due to COVID-19, there was an occupancy limit of 250 for the event. A room for overflow was available, paired with a line outside to get in. In addition to occupancy limits, guests were required to wear masks.
Mark Maynard, a Trump supporter, has a history with politics. 
 "I got involved in politics when I was in high school and college, and I like to work hard and hope to get a victory," Mark Maynard, a guest at the event said. "It is fun to be around all the people. I feel that it shows us as a Springfield community."
Audible cheering could be heard throughout the night whenever a state was announced to go to incumbent President Donald Trump. Fox News was displayed on two screens in the conference center. Additionally, mumbles and silence were heard whenever Joseph "Joe" Biden took the lead in some states. 
Monica Grady, a guest at the watch party, voiced her support for Parson and Trump to The Standard. 
"He's (Mike Parson) really been doing a great job with COVID-19 and has done everything the president has suggested," Grady said. "He started reopening when he should have, give or take, and reopened the schools to give children the education they deserve." 
Grady discussed Parson's handling with COVID-19. He closed the state down on March 21. He reopened fully on June 16 as part of the Show-Me Recovery Plan, according to the Missouri governor's website. 
In late March Parson ordered a statewide lockdown and on June 16 reopened the state fully, as part of the Show-Me Recovery Plan, according to the Missouri governor's website.
Grady said Trump has done a lot for many different communities. 
"For what he's (Trump) done for the Black community, for the veterans, peace with Israel...he's done stuff that no president has ever done in the history of our president, and it's just incredible." 
Missouri District 8 Congressman Jason Smith announced that Trump won the state of Florida around 8 p.m. 
Throughout the night Smith reassured guests of Republican victories. 
"If you want to see some mascara rolling on news reporters tune in — to CNN and MSNBC — they're crying," Smith said.
In addition to Smith, there were other speakers including Christy Shawan, vice president of Saint Francis Medical Partners Operations Southwest. 
"Parsons was truly our quarterback; we knew that we could depend on him," Shawan said.
Regardless of the election's outcome, Maynard said, "I am not against anyone or anything, I am just pro-Trump." 
According to the Missouri Secretary of website, Gov. Mike Parson led in the race for governor against Nicole Galloway with nearly 50% of precincts reporting. This led Parson to give a victory speech at the end of the event.  
"I believe in the American Constitution," Parsons said. "I believe it is our time to preserve the American Dream, and I believe in securing freedom for the next generation." 
At the time The Standard left this event, the United States President and Vice President were not announced.