Two Missouri State students, both of different years and majors, have never met but have something in common: They didn't imagine joining Greek life in college.
Quinn Tasset, freshman theater, design, technology and stage management major, was encouraged by their mom to participate in sorority recruitment and said they anticipated dropping out the first day. But they ended up connecting with Gamma Phi Beta, a sorority they felt "at home with."
Tasset is non-binary and uses they/them pronouns. 
Liam Hill, junior merchandising and fashion product development major, was approached by Delta Sigma Phi in the Plaster student Union during the spring 2021 semester.
Hill said he never imagined joining a fraternity, but after attending a few recruitment events, he felt the "friendship sparks" among himself and the others.
Despite feeling connected with their organizations, Tasset and Hill weren't initially sure they would be able to join.
A space for non-binary students in Greek Life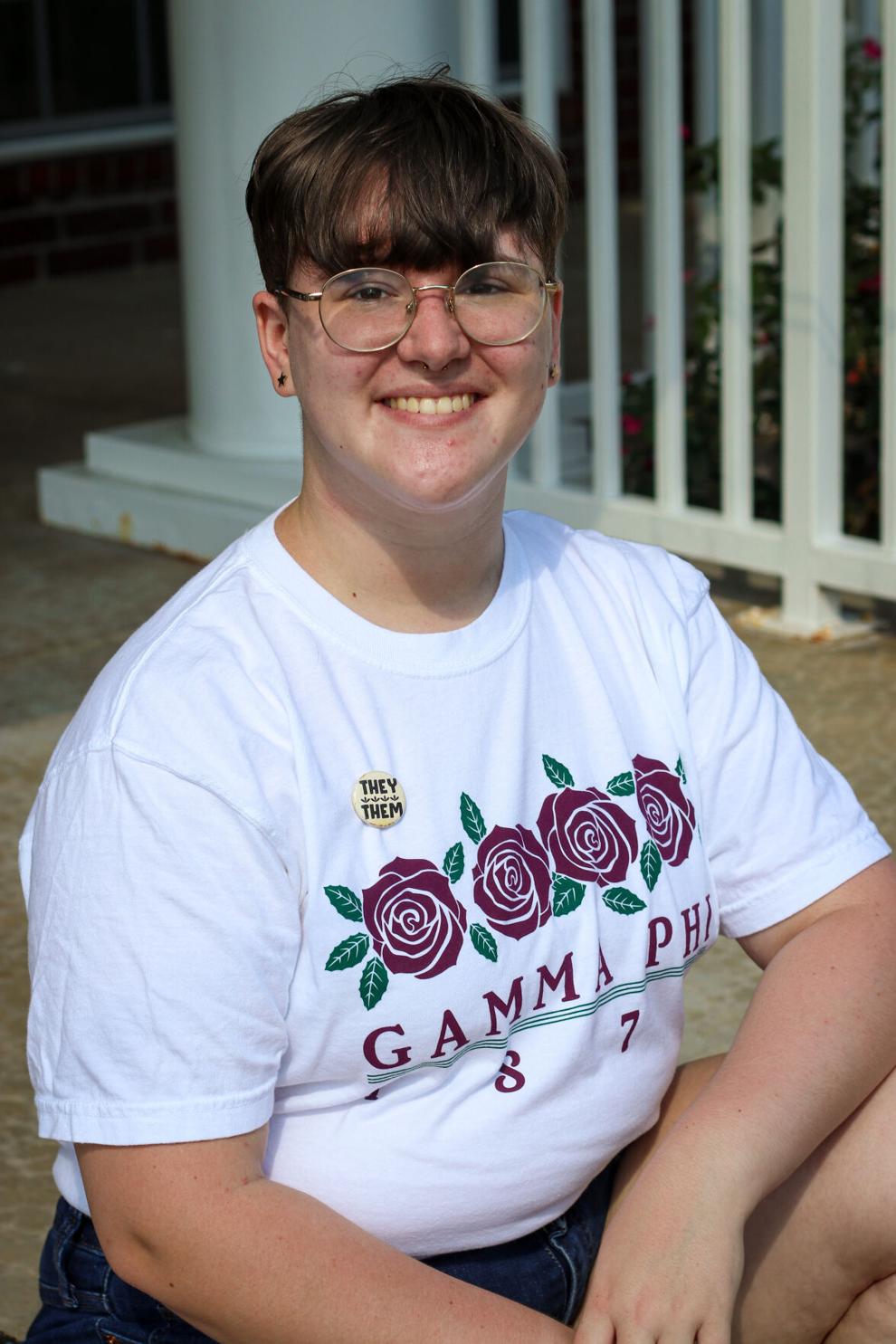 Tasset said they worried their gender would inhibit them from joining a sorority. However, Tasset said their panhanhellic counselor, a sorority member who disaffiliates from her sorority to aid potential new members during recruitment, supported them throughout the process.
"I asked my (panhanhellic counselor) day one, 'Hey, I'm non-binary. Is that something that's going to mess everything up?'" Tasset said. "She told me, 'Don't worry about it. It's completely fine, and if you have any problems with anyone discriminating against you, come to me and I'll deal with it.' I felt super supported."
According to Fraternity and Sorority Life Advisor Carlye Genisio, the Fraternity and Sorority Life Office "does not currently have policies that govern the topics of gender, transgender membership and discrimination for membership in a fraternity or sorority."
Rather, all but one chapter at Missouri State are affiliated with international or national organizations, which have their own policies and guidelines for membership.
Gamma Gals, Phi Friends, and Beta Buddies
Since sororities are traditionally for women, members in the same sorority often identify as "sisters."
"I didn't think about it at first because I was so busy with everything else, but then through recruitment I thought, 'Is this going to be a problem?'" Tasset said. "I was assigned female at birth, so I didn't think it would be a problem, but I got worried."
Despite their anxieties, Tasset said their fellow members have been "super supportive" and receptive.
Besides identifying as a "sister," Tasset said the sorority offers a variety of gender-inclusive terms, such as Gamma Gals, Phi Friends and Beta Buddies.
Stephanie Douglas, Gamma Phi Beta's belonging, equity, diversity and inclusion chair, said the sorority uses inclusive terms to create a welcoming environment for all members, no matter their identity.
"We have worked to remove gender language from our bylaws and implement non-dscrimination policies to protect LGBTQ+ members," Douglas said. "We have also worked to educate members on LGBTQ+ issues and on how they make sure LGBTQ+ members feel accepted and comfortable within our chapter."
Inclusivitiy of transgender students in Greek life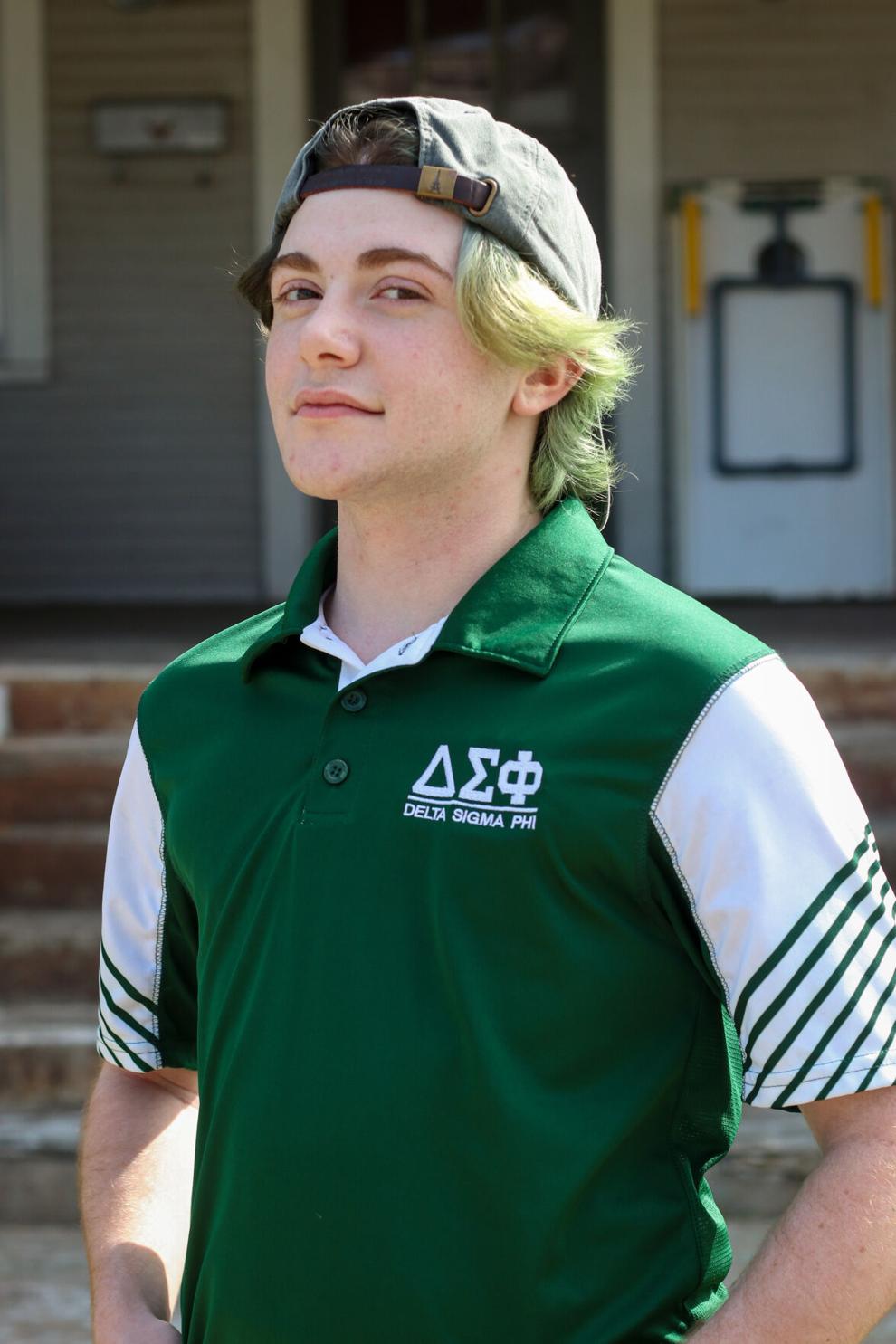 After meeting a few Delta Sigma Phi members in the PSU, Hill was sent an email invitation to attend spring recruitment events.
"They sent me an email that said, 'Hey, come to our recruitment event,'" Hill said. "And at first I was like, 'Oh heck no.' So, I replied and said, 'I'm transgender. I don't know if I'm allowed to do that.'"
Hill received a response from the fraternity's president, Jack Phillips, who encouraged Hill to attend the events if he was interested.
Phillips, a junior socio-political communications major, said the Delta Sigma Phi bylaws state that membership is open to "any undergraduate man enrolled at Missouri State University."
The chapter decided to interpret "man" as "anyone whose gender identity aligns with the ideas of manhood," Phillips said. The national organization allows individual chapters to accept members based on their own definition of "manhood."
Hill said after attending the first recruitment event, he felt connected to the members.
"I never knew being in a fraternity was something that I'd ever do, and then I ended up really liking the people," Hill said. "It wasn't even being in a fraternity that drew me to it. It was just the fact that I really enjoyed the people that were in the fraternity."
Hill said his brothers have been "overwhelmingly supportive," especially over the last few months, since he had top surgery in June, a procedure to remove breast tissue.
I didn't want anyone to see me at first because I couldn't shower, I didn't feel good, so I just wanted to be at home alone, but whenever I was ready to see people, everyone was basically busting down my door wanting to see me," Hill said with a smile.
Educating about the importance of diversity and inclusion
This fall, Delta Sigma Phi created a Diversity, Inclusion and Equity chair position, which Hill holds.
"We wanted to provide space, educational opportunities and resources to all of our members to learn about the intricacies of our multicultural society, as well as ensuring that we are operating with diversity, equity and inclusion at the core of our operations," Phillips said. 
In his position, Hill oversees event planning to ensure the chapter is accessible to diverse groups and leads educational discussions during chapter meetings.
Hill said representation of and discussion about inclusion of the LGBTQ+ community in fraternity and sorority life is important because it tells students the community is available to them.
"I wasn't interested in fraternity and sorority life when I first got to Missouri State because I didn't think it was an option," Hill said. "I think the visibility is really important to let other people know, 'Opportunities are opening up for other people and there are people who are trying to open these doors for you.'"
While the fraternity and sorority life office does not have a list of each organization with a diversity, equity and inclusion chair, Genisio said many chapters have positions with similar responsibilities.
Breaking stereotypes
Phillips said he thinks the fraternity and sorority life community "remains hostile" to members of the LGBTQ+ community, but it is the responsibility of the community to educate themselves and take action.
"Chapters which are especially welcoming to LGBTQ+ students are faced with a lot of scrutiny and shaming … especially those who have LGBTQ+ representation within their leadership," Phillips said. "LGBTQ+ diversity has really enriched (Delta Sigma Phi's) fraternal culture. It allows members to expand on their perceptions and gain a better understanding of the world around them, which is a major goal of any Greek organization."
In her position in Gamma Phi Beta, Douglas said her goal is to implement policies that create equity in terms of finances. She also wants to provide educational events on issues affecting marginalized communities for the chapter, as she believes the stereotypes around fraternity and sorority life stem from its history.
"Historically, sororities were all straight, white, cis-gendered women, and they largely excluded anyone who didn't look like them," Douglas said.
Tasset and Hill echoed each other's praise for their experiences within the community.
"I learned that sororities are taking a lot more strides to be inclusive than people think," Tasset said. "The stereotypes are definitely just stereotypes, and I think more people should give them a chance. I did and I don't regret it at all."
Follow Greta Cross on Twitter, @gretacrossphoto
Subscribe to The Standard's free weekly newsletter here.