Kartoffelpuffer in Germany, Bramborák in the Czech Republic, Draniki in Russia, Latkes to the Jewish community and potato pancakes to those who aren't acquainted with them. This amazing pancake dish is served in most European countries, especially where I first ate them; in Germany. I love them and it is one of my favorite foods in the world. Hopefully, after you make this delicious dish you will love them just as much as I do. 
For this recipe you'll need:
5 russet potatoes

1 small onion

4 eggs

75g or 1 cup of Panko bread crumbs

Kosher salt

Vegetable oil

Optional 10g of hot paprika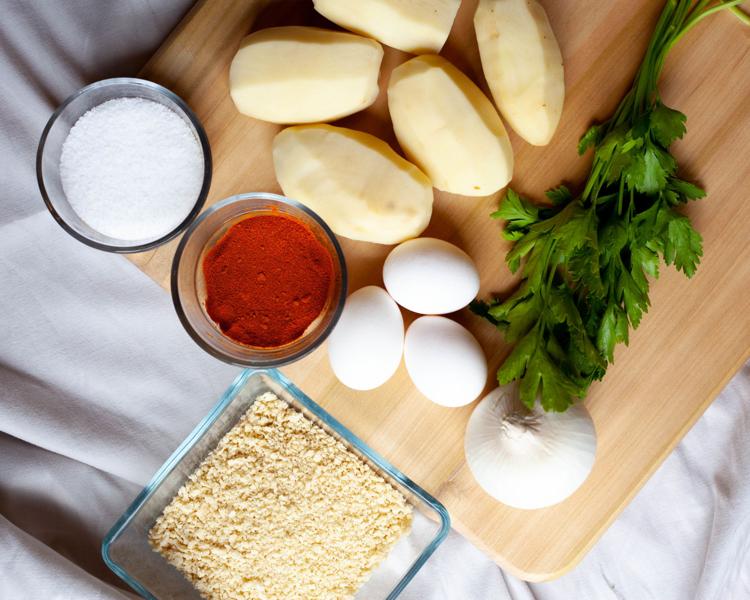 If you want to make this recipe you can substitute the eggs with ⅓ cup of flour, 1 tbsp of cornstarch, ½ tsp of baking powder, 3 tbsp of unsweetened non dairy milk. If you do this you can forget about the panko. 
To start, you will need to peel and grate all of your potatoes and the onion. I decided I wanted bigger pieces of potato but you can go a more traditional route and grate them finer.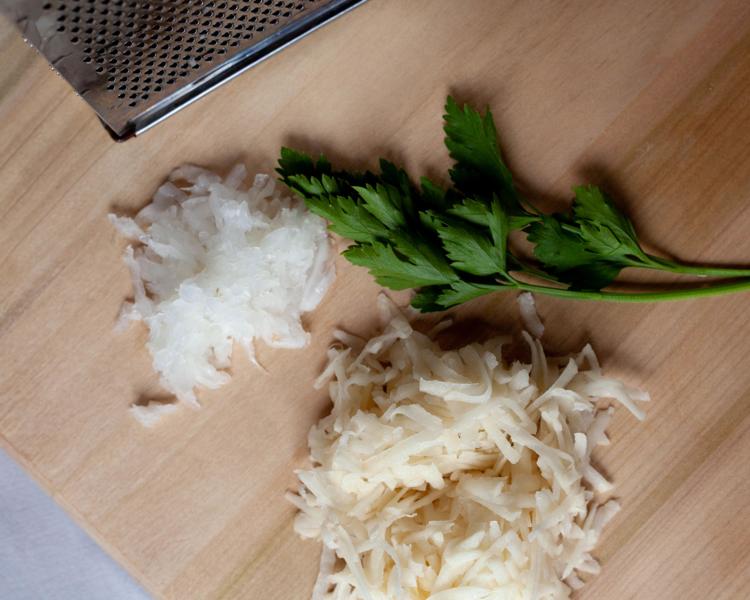 My dad, who inexplicably has an opinion on this, says that the potatoes need to be puréed. He is wrong; do not do that. 
Keeping the onions and potatoes separated, dump the potatoes onto a clean kitchen towel or cheese cloth and give it a little squeezy squeeze to get all of the starchy water out of the potatoes. Make sure you save this water, as you will wait for the water to separate from the starch. Separate the water and starch, and mix all four eggs into the starch.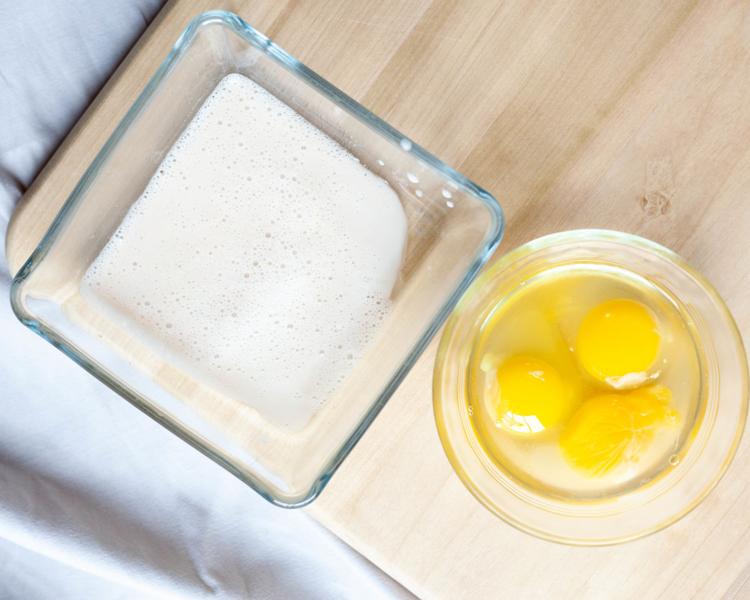 Beat them like crazy until the starch and eggs are completely mixed. 
In a mixing bowl, mix the potatoes, eggs, panko and the optional paprika by hand. There's no way to say this nicely, but get dirty. It'll be so worth it. Mix until all the ingredients are fully incorporated and the mixture holds its shape.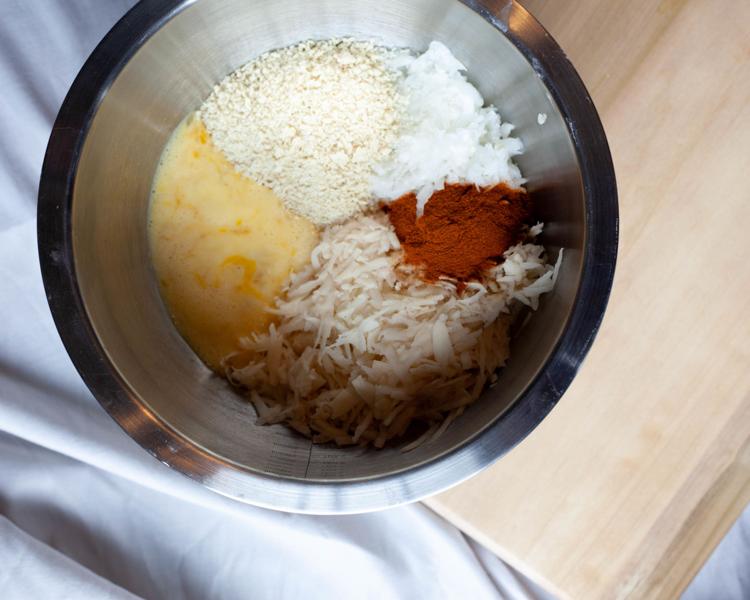 In a dutch oven or nonstick skillet, heat up an inch of vegetable oil to 350°F. While the oil is heating up, form the pancakes. Take this next part with a little bit of exception because this is where you can deviate from the recipe a little bit.
First, form balls with the mix however large you'd like. Next, smash and make them flat. I like mine a bit thicker, but you do you.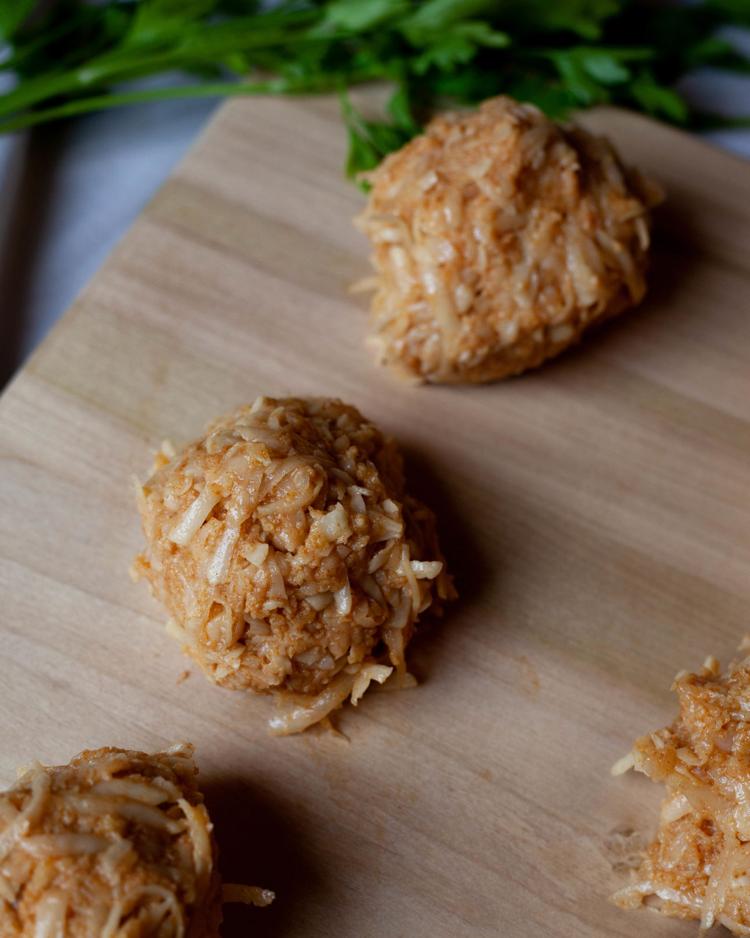 For the record, my grandma said mine were too thick and they needed to be a lot flatter. This is a more traditional Latke and I didn't want that. Sue me. 
Finally, it's time to cook these big boys. Place the formed balls into the oil and try your best to not get hit with hot oil. You'll definitely fail and it'll hurt. I definitely failed.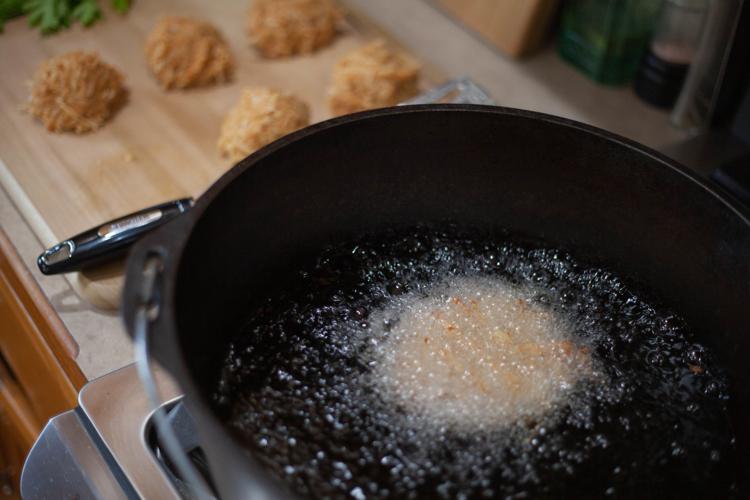 These big boys will cook for around 4 minutes per side. If you went thinner, it'll be a shorter amount of time. Fry until golden brown on the outside.
The most important part of this is to sprinkle a dash of kosher salt on them as soon as they come out of the oil. Please, please, please use kosher salt. Don't use table salt.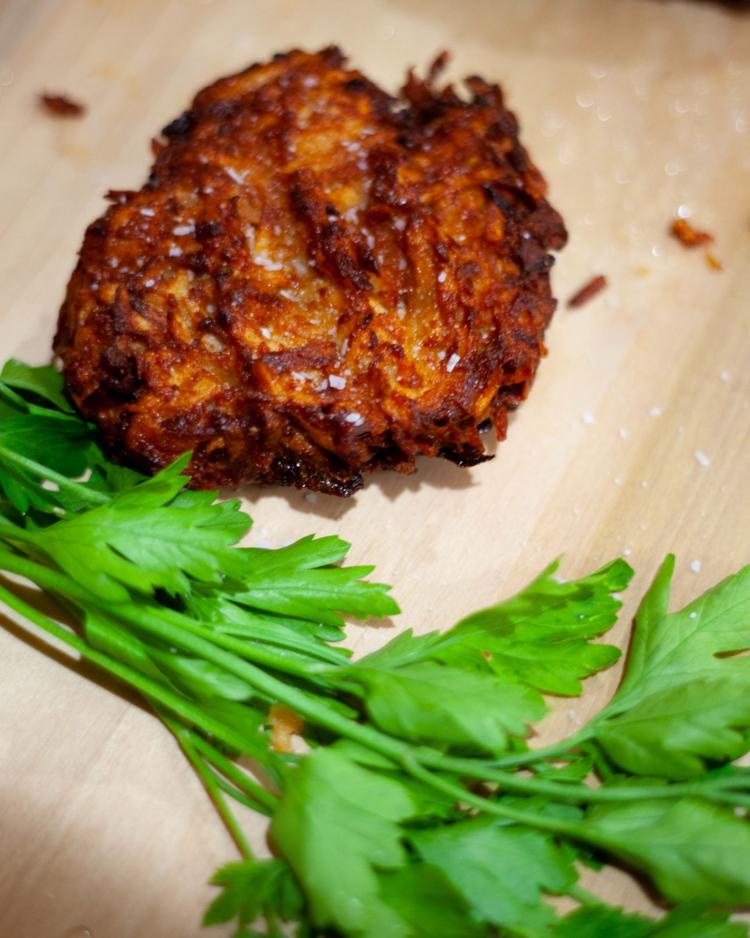 The last and most extra step is the plating and topping. I decided to get super extra and top two of them fit for a king. The other two are topped with the traditional applesauce and sour cream.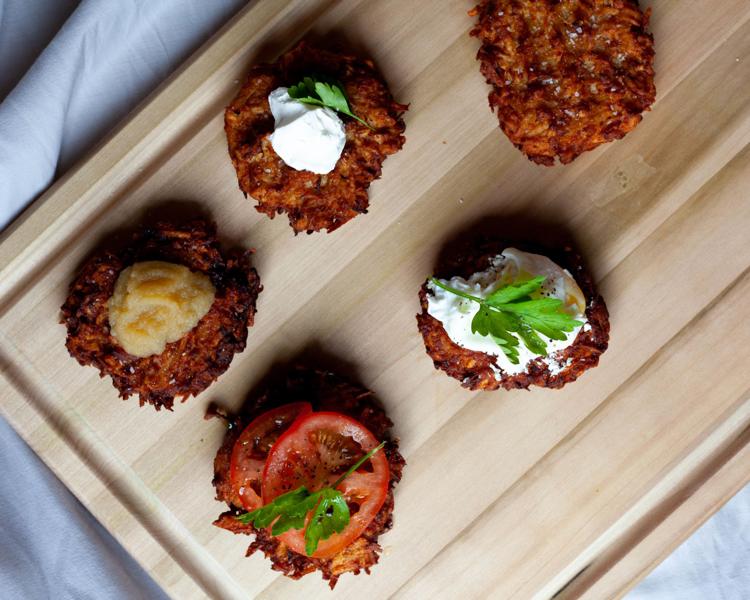 My favorite topping is to add a poached egg and goat cheese on top. The other topping I thoroughly enjoy is sliced tomato and a balsamic and truffle oil mixture and can be drizzled on top of the tomato and Latke. Both of these options are absolutely divine but by all means go nuts and tag The Standard on social media with your favorite toppings.