On Sept. 3, in the unholy year of 2020, McDonald's announced that for the first time since 1992, a celebrity's name would be featured on their menu. This celebrity is the rapper Travis Scott.
A McDonald's press release, published on Sept. 9, described  the contents of the meal, but who the hell reads press releases except nerds….Oh that's me, isn't it?
The meal itself, a glorified Quarter Pounder with a medium fry, barbecue sauce, and Sprite, was announced to the wider public on Sept. 8 via a YouTube video that has since garnered 2,447,731 views.
A hashtag, #TravisScottMeal, on Twitter was also launched into the internet's orbit. A Google search for the "Travis Scott Meal" yields 4,400,000 results, among them pieces in the New York Times, GQ, Buzzfeed (of course), the Chicago Tribune and many, many, many more. 
The burger is a single patty in between two slices of cheese, bacon — which I was salty to realize was absent from my burger when I ordered this to review, lettuce — also absent, onions, ketchup and mustard. It's nothing special. In order to get the full experience, I made some bacon and put some shredded lettuce on the burger.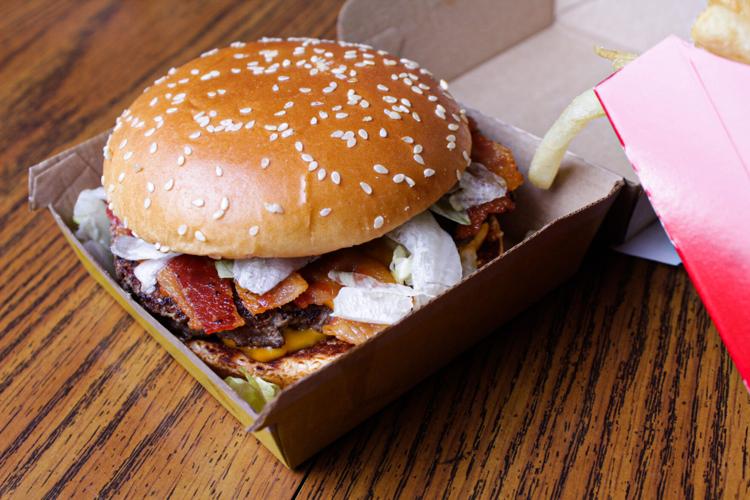 In addition to the meal, Scott created a limited edition merch line consisting of McDonald's themed shirts, shorts, and other oddities. All of which are currently sold out. The most interesting item was a chicken nugget body pillow. That was selling for $70. 
All in all the burger was fine. It's a normal McD's burger. The merch is interesting to say the least.
However, what I personally find interesting is the choice to not really change the burger at all. The fact that they just slapped Scott's name onto a burger meal and it can gain this kind of attention epitomizes the way viral marketing and late stage capitalism function. Give the appearance of innovation and change while doing virtually nothing.
In addition, the shirts in the line are just normal shirts no better in quality than the $15 shirt I'm wearing while I write this. But, the fact that they have Scott's name and McD's branding makes them skyrocket in price. The brand precedes the product.