Springfieldian Kaylinn Clotfelter has given nearly 200 tattoos over four years, but not in the tattoo parlor environment one may imagine. Rather, Clotfelter and her clients — usually friends or others who reach out to her via social media — sit together on a couch or over a dining room table as she freehands a custom design.
Clotfelter's equipment is simple: professional sterilized tattoo needles and permanent tattoo ink. Dipping her needle into an inkwell, Clotfelter prepares to perform repetitive poking passes on her client, which will result in a stick-and-poke, or stick 'n poke, tattoo.
Stick-and-poke tattoos are a form of non-electric tattooing; ink is applied to the skin by hand. Through repetitive single-dot poking motions, the artist can create simple or complex designs.
Where and when it all began
The artistic practice of stick-and-poke tattooing dates back over 5,000 years ago, originating from tebori, meaning "to carve by hand" in Japanese.
According to Tattoodo, an online tattoo community including educational resources and a global tattoo booking platform, tebori was inspired by the carving of images into wood, dipping them in ink and stamping the designs onto paper. Tebori designs are intricate, often including many layers. 
The practice of tebori is similar to today's stick and poke.
"When performing tebori, artists rest the shaft of the nomi (metal stick) between their thumbs and index finger to guide the needles as they use their other arm to drive it in through a series of repetitive motions," according to Tattoodo. 
Clotfelter began giving stick and pokes in 2017 while in high school. She said she followed a few Springfield locals on social media who gave and had the tattoos. As a teenager, she thought they were "cool and edgy." It didn't take long for her to purchase professional-grade equipment online.
Clotfelter said her first two stick and pokes were done "poorly" because she didn't go over the first round of dots more than once, which left spotty designs. Over time, Clotfelter learned more about the practice from machine tattoo gun artists and stick 'n poke Instagram accounts that posted behind the scenes videos. She would begin tattooing her friends before asking clients for payment.
Although Clotfelter does not frequently practice stick and pokes anymore, she said she still enjoys giving them to herself and friends.
What is 'professional'?
Ken Childers, owner of Dogwood Vintage in Springfield, started giving themselves stick-and-poke tattoos in high school but always with professional-grade equipment.
"This was the first one my mom saw, even though I had others," Childers said while pointing to the word "Ruckis" tattooed above their kneecap. "We were at Walmart checking out and she noticed it and said in front of everybody, 'Do you have a prison tattoo? Where did you get that? What have you been doing?'"
Ken said some don't see stick and pokes as professional tattoos, not necessarily because of the art form itself, but due to the potential lack of professional training.
"I feel like most everyone has or knows somebody who has, in middle school or early high school, done a stick and poke with pen ink and a sewing needle, and to me, that's the thing that makes them quote unquote 'bad,' because if you're thinking about it, that's not at all a tattoo; that's just stabbing yourself with random things," Clotfelter said.
In the state of Missouri, all licensed tattoo artists must complete at least 300 hours of an apprenticeship and 50 completed procedures with an already licensed artist, according to the Missouri Office of Tattooing, Body Piercing and Branding.
Aubrey Harrison is a tattoo artist at Body Creations Ink, where she recently earned her license in February after over a year as an unpaid apprentice.
"The biggest benefit of the apprenticeship is getting to learn from professionals and becoming a part of the shop family," Harrison said. "I've always been self-taught and have never taken an art class, so professional advice every day really improved my work."
As far as stick and pokes go, Harrison said she worries about how stick and pokes represent the tattoo industry.
"(Stick and pokes) too often are done unprofessionally and give people the idea that tattooing is easy," Harrison said. "There's a reason apprentices stay apprentices for roughly a year.
"Tattooing is a lot like sewing in a way. Machines are like sewing machines and stick and pokes are like hand sewing. Hand sewing can be done well, but machines are quicker and more precise. Also, tattoo machines let you control needle depth, avoiding blowouts or inconsistent lines."
Madisyn Oglesby has been working as a tattoo apprentice for nine months at Sacred Art Tattoo. Oglesby said she was always fascinated with the art form and application of tattooing and used the downtime of the pandemic to send her portfolio to shops around town.
"It's a long, grueling process," Oglesby said of a tattoo apprenticeship. "You have to work unpaid almost full time for the first however long. It's painful and monotonous and boring. But when you start tattooing, it gets better."
Despite the difficulties, Oglesby said a tattoo apprenticeship allows for exploring a new medium, meeting new people and "learning so many new things."
As an apprentice with 10 to 20 more hours to complete before she receives her license, Oglesby said she does have stick-and-poke tattoos and has given some.
"I feel like, if done safely and responsibly, (stick and pokes) can be done well," Oglesby said. "It can be said that some stick-and-poke artists are miles above actual tattooers with a machine. It's really just a matter of if it's their craft or their idea that they just miraculously had one day.
"I respect stick and pokes for the memories, laughs, the good times that are usually shared over them. I just wish people would be more cautious about cleanliness."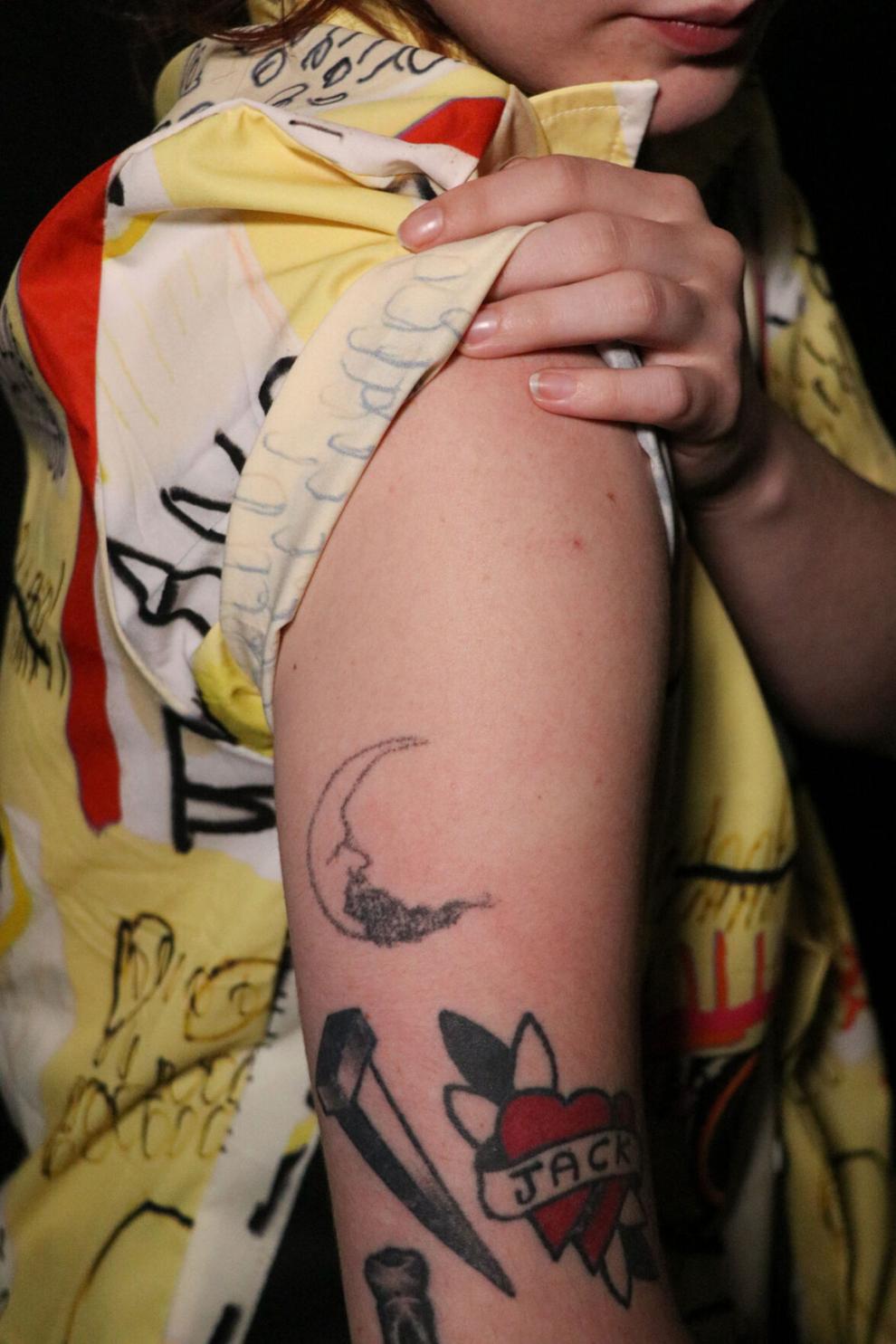 A sense of intimacy
Springfield resident Bradley Balsters has four stick-and-poke tattoos, all done by Clotfelter.
Balsters said he had an idea for a simple, single-line tattoo and knew he could get it done quickly at no cost from Clotfelter, with whom he is close friends.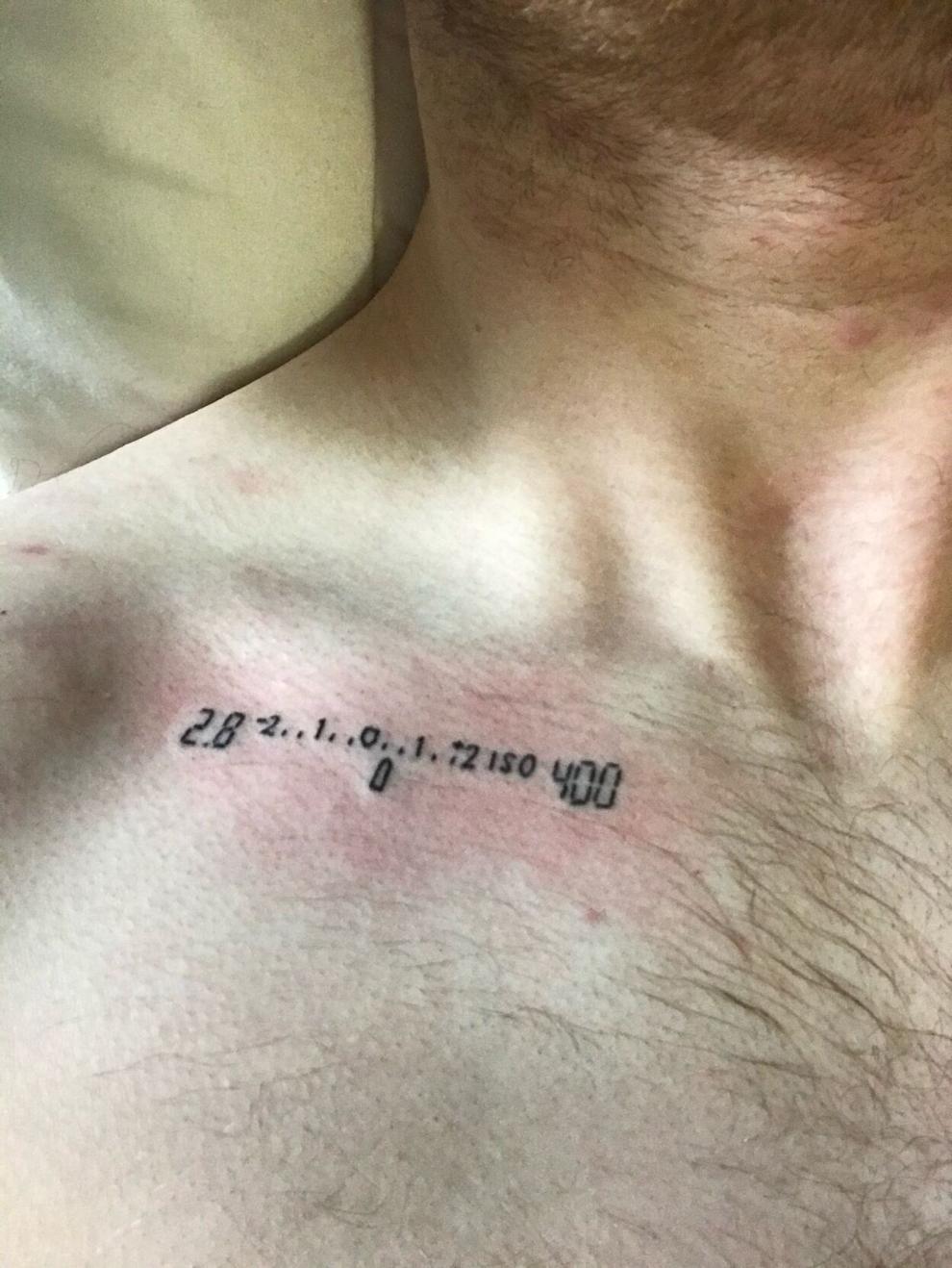 Balsters said he enjoys stick-and-poke tattoos for their look and accessibility but also for the memories one makes while receiving one. Compared to the experience of a tattoo parlor, stick and pokes frequently occur in intimate spaces, and in Balsters' case, with friends.
On the other side of the needle, Childers — who has given about 10 stick and pokes — said they enjoy the connections made while giving one. 
"As I did it more on myself and other people, I found it was just a really good way to connect with people because you're going to be sitting there — even if it's just two centimeters — for at least an hour," Childers said. "It's a good, casual, chill way to talk to someone, make friends."
Outside the stencil
So, is the art style, the time spent with friends, or cost and accessibility that draws current college students in? Data is showing the younger the generation, the more tattoos one has.
According to The Harris Poll, an American market research and analytics company, 47% of millennials — those born between 1981 and 1996 — in the United States had at least one tattoo in 2015. And 36% of Gen Xers — born between 1965 and 1980 — and 13% of Baby Boomers — born between 1946 and 1964 — had at least one tattoo.
Morgan Green, freshman acting and communications major at Missouri State, has a single Kermit the Frog stick-and-poke tattoo located on her hip.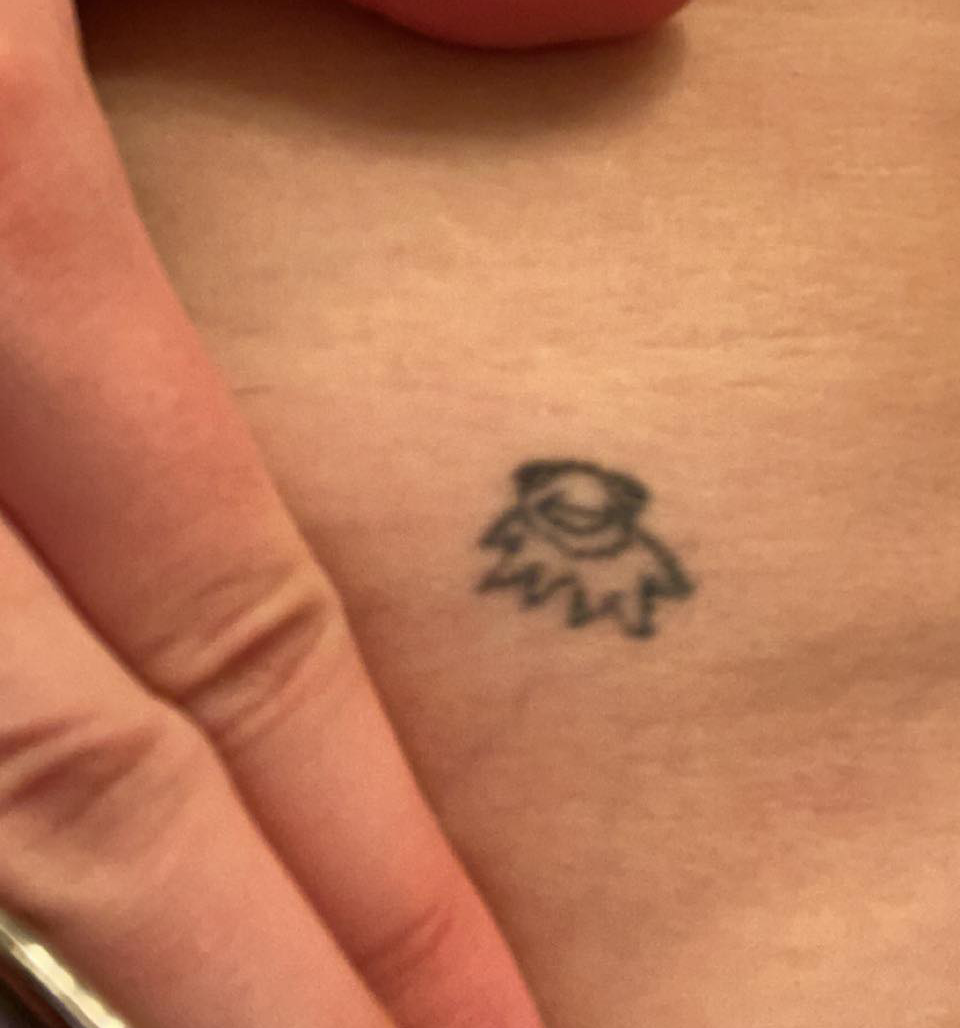 Green said she thinks younger generations, Generation Z specially, put a lot of pressure on themselves to be different due to the prevalence of social media.
"I think a lot of people in (Generation Z) suffer from a lack of identity, and something as simple as a Kermit the Frog tattoo can just make you feel like you're set apart from other people and have something special about you," Green said.
To Clotfelter, the generational resurgence in the tattoo industry is what has led to the increase of the DIY-style of stick and pokes.
"I think (Generation Z is) the first generation that's kind of fully broken out of the stigma against tattoos," Clotfelter said. "As a generation, I think (Generation Z is) super open to (all) alterations of our appearance, whether it be temporary or permanent."
For those interested in trying stick-and-poke tattooing, both Clotfelter and Childers agree pen ink and sewing needles are not sanitary materials and should not be used for at-home tattoos. Both recommended proper research and purchasing professional equipment online for the best results and to avoid infection.
Follow Greta Cross on Twitter, @gretacrossphoto
Subscribe to The Standard's free weekly newsletter here.