A student's chosen study environment is just that: the student's choice. Noise and light levels all depend on what the student prefers. Missouri State aims to help students study by providing engaging areas to study all across campus.
In 2017, the nonprofit association Educause outlined 10 different strategies for higher education. The association is dedicated to helping higher education through the use of technology. The first of these strategies was on the use of active learning classrooms.
"Active learning classrooms (e.g., student-centered, technology-rich learning environments) was the top technology this year," Educause reported. "As institutions transform the student advising and planning experience, they are focused on another component of student success: improving learning."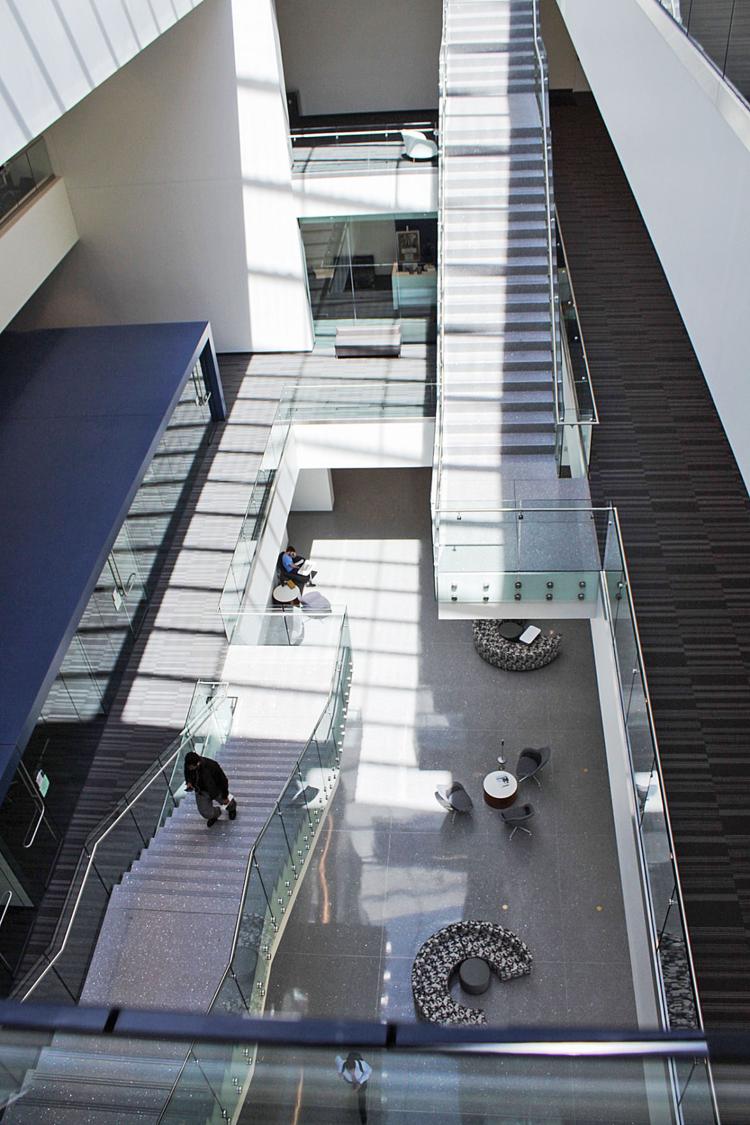 One of the most notable buildings with active learning classrooms is Glass Hall. Originally opened on Oct. 8, 1987, the building was renovated in 2017. The recent renovations included lots of natural lighting, strong wireless signals and a range of active learning classrooms.
David Meinert, dean of the College of Business, said that MSU partnered with Dake Wells Architecture and Perkins+Will to complete the renovations to Glass Hall.
Meinert said as part of the planning committee, he wanted to make a space that students would want to use. He consulted students on what they would like in a learning environment, and he said he made sure to deliver.
Meinert said that the first three things students wanted were better Wi-Fi, a food service, which became the Einstein's Bagel Bros, and more touchdown spaces. Meinert said that Glass Hall may be the strongest Wi-Fi spot in the city of Springfield.
"We're probably the densest Wi-Fi on campus and maybe even in Springfield," Meinert said. "Finally was the touchdown space. We've got space all over the building where students can have time before, between and after classes."
The project took over $5 million to finalize. Meinert said this funding came from multiple places.
"It was a mix," Meinert said. "It came from gifts from donors. We also got some state match money. We bonded a portion of the funding, and also we had built up funds from the college, from various sources."
Glass Hall is home to the College of Business, offering majors such as accounting and cybersecurity. The accessibility and features of Glass Hall don't go unnoticed by students all the way from Brick City.
Madisyn Oglesby, senior graphic design and illustration major, said buildings for art are darker than those for business.
"There's not a lot of natural light," Oglesby said. "So, we're kind of holed up here for most of the day, and it's easy to forget what time of day it is."
Brick City consists of five buildings located in downtown Springfield. Once belonging to a refrigeration company, the buildings were bought by MSU on Jan 23, 2019. All five were renovated within the last 10 years and house the MSU Art and Design Department, each one dealing with a separate area.
The first building also houses the University of Missouri-Kansas City Pharmacy.
Since the buildings were once used for refrigeration, they are built from brick and mortar, giving the area its name. But these bricks also block views to the outside. Senior Lindsey Holbert, graphic design and illustration major, said the buildings needed more windows, feeling that it's "like a dungeon" inside the classrooms of Brick City.
Another recent article provides a reason why windows and natural light are so popular.
Edutopia, an educational foundation formed by director George Lucas in 1991, aims to help education to further students. In a 2016 study, Dr. Melina Uncapher said hormones controlling sleep in the brain respond to blue lights.
"Even more importantly, all light is not the same," Uncapher wrote. "While the presence of any light can influence hormonal secretion via this non-visual system, blue light has the most powerful effect. People are more alert and less sleepy when exposed to blue light versus other wavelengths."
Natural lighting can help students wake up faster, cutting the need for coffee. Windows allow this natural light inside and help stimulate a student's brain.
But windows might take a few years to be added to Brick City.
This summer, MSU, Vecino Group and the City of Springfield are planning to renovate IDEA Commons. This 88-acre area houses Brick City, but construction will mainly focus on other things like sidewalks and building expansions.
There is no confirmation on construction to Brick City in the near future. However, for updates one can visit the IDEA Commons section of either the City of Springfield website or the MSU website.