Lace up, find center balance and hit the concrete.
Roller skating is making a comeback after a video of a young woman dancing and skating to Jennifer Lopez's "Jenny from the Block" went viral on TikTok in late April.
The woman, Ana Coto, @anaocto on TikTok, is a Puerto Rican actress based in Los Angeles, California with over 100 videos, including more of her roller skating, featured on her profile.
With over 13 million views, Coto's viral video has encouraged people to buy their own pair of roller skates and zip around their neighborhoods during the quarantine. 
The comeback
Kylie Outlaw, senior film production major at Missouri State University, said she first started roller skating about three weeks ago. Having never roller skated as a kid, the idea of starting in her 20s made her anxious, Outlaw said.
Despite her anxieties, Outlaw said she always wanted to learn.
"When I had to go into quarantine, I thought about it a lot more, and I kept seeing video after video of people roller skating on TikTok," Outlaw said. "When I saw all these girls who were white, black, skinny, fat, young and old, I had the courage to do it."
Outlaw said she spends about 40 to 60 minutes, four days a week, skating around the Brick City parking lot, trying to increase speed and learn how to find center balance.
When she's not practicing alone, Outlaw said she can be found skating with her friend Baylee Roy, a senior art education major.
Roy started roller skating around the same time as Outlaw, as the two purchased their skates within the same timeframe.
Strapped in a helmet and protective pads, Roy said she practices between one to three hours a day, either in her living room or a parking lot.
"I might look silly wearing all of my protective gear, but it truly gives me the courage to try more things in my skates," Roy said.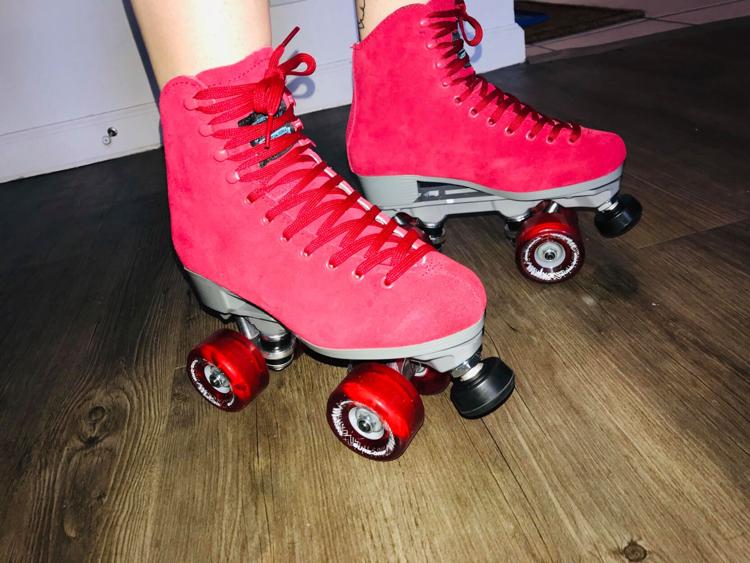 Roy added that she believes the recent social media trends are definitely a factor for the widespread interest in roller skating, but the skaters — roller skaters and skateboarders — also create a sense of community for everyone.
"(The skate community) ignites something in people's souls when there is a group of people, especially women, who are so supportive, helpful and positive — especially in times like these," Roy said. "For me personally, I'm so excited to be part of an uplifting community of strong women."
Roy said roller skating has brought light and joy into her life and recommends the sport for everyone.
"I would highly encourage anyone who has been thinking about getting into skating to just take the jump," she said.
Despite the recent increase of popularity around roller skating, the sport has been around for over three centuries.
Evolution of roller rink culture
Roller skates were invented in 1735 by Belgian John Joseph Merlin, but today's typical, four-wheeled skates were not introduced until 1863 by James Leonard Plimpton, according to Skate Lakeland, a roller rink in Lakeland, Florida.
Roller skating became increasingly popular between the '70s and '80s during the disco era, the rink's website states.
Debbie Beckwith, a Jefferson City resident, said she first started roller skating in fourth grade when she bought her first pair of skates.
Beckwith said she started by skating around in her parents' garage, and as a fifth-grader around 1979, she would start frequenting Jefferson City's roller rink with her best friend.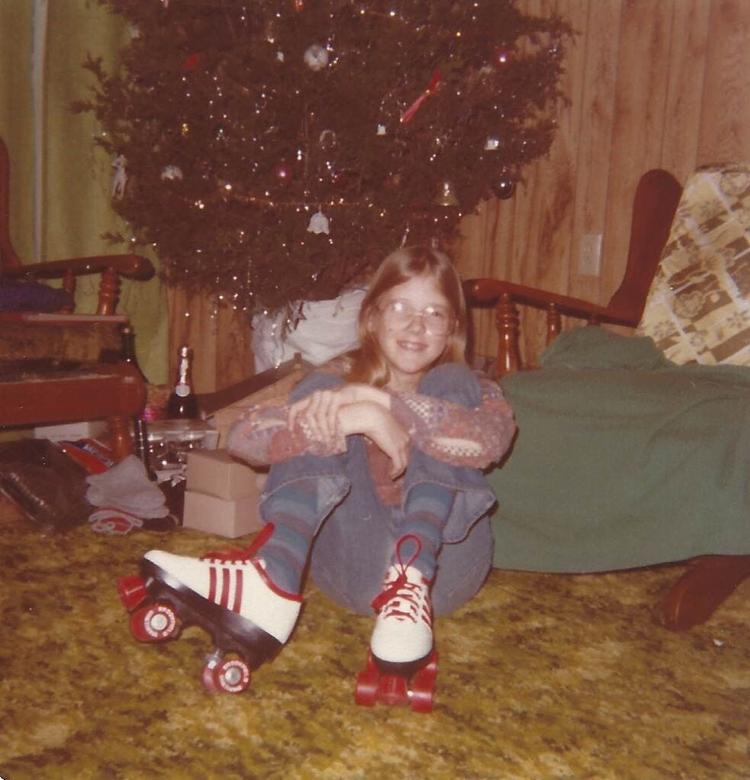 Beckwith said the biggest difference she has noticed between the '80s and today's roller rink culture is the music. However, the atmosphere, games of limbo and closing with "YMCA" by Village People are traditions that remain the same.
Mitch Pirtle, a Fulton, Missouri resident, echoed Beckwith regarding the changes in culture and said he doesn't believe the change in music has impacted the roller rink environment.
"(Skating) is still (skating)," Pirtle said. "I have seen people of all ages — 3 to 95 on skates at the same time dancing to the music."
Pirtle, who as a teenager worked at a roller rink in Sedalia, classified roller rink regulars as "Rink Rats."
As an employee, Pirtle said he DJed music, helped younger kids learn how to skate and, of course, skated a lot himself.
Pirtle said he still skates when he has the opportunity and is happy to hear it is making a comeback.
"It is great fun for all ages," Pirtle said. "Skating will always be a fun way to relax and get exercise."
Old Dogs, New Tricks
Roller skating may be making a comeback with the younger generations, but some college students have been skating regularly since childhood.
Claire Lednicky, MSU alumnus, said she first started skating at six years old when her father took her and her brother to their local roller rink in Lee's Summit, Landmark 2, for roller skating lessons. Lednicky said she continued to roller skate throughout her childhood.
About three years ago Lednicky was reintroduced to the sport when she decided to attend Landmark 2's New Year's Eve party while home over winter break, away from her friends at school.
"I hadn't been there in a good while, so I thought, 'why not?' It took a while to get my skate legs back, but once I did it was great," Lednicky said. "But man, I felt the pain in my legs the next day."
Lednicky said she's continued to attend the rink's New Year's Eve party when she's home over break and enjoys the atmosphere more compared to a typical college-aged party.
Even though she doesn't roller skate as much as she did as a kid, Lednicky said she would like to continue building on her skills, being able to skate backward and turn in more quick, swift motions.
Whether it was in a roller rink in the '80s, boogying with friends or just getting your bearings in a parking lot down the street roller skating is truly a sport for anyone, no matter age, race or gender.
On Monday, June 1, viral skater Coto posted a video on TikTok from inside a roller rink, echoing this idea with the caption, "I stand in solidarity with Black Lives Matter now & always. Hate can't skate here! Link in bio to places you can donate $ and help right now."