Steven Gindler, a New Jersey-based portrait photographer, has worked with 10 models from five countries in the last few weeks. The pandemic has locked a lot of creatives indoors, but Gindler is making do.
Gindler sets up his phone or laptop, connects with a model via FaceTime video call and starts photographing, all from the comfort of his home.
But Gindler doesn't use a DSLR camera. Rather, he uses FaceTime's live photo button or screenshots the images on his device.
These video call photoshoots, commonly known as FaceTime photoshoots, are becoming increasingly popular among photographers on Instagram due to nationwide stay-at-home orders.
Creating again
Gindler, commonly known as @cvatik on social media, first heard about the FaceTime photoshoot concept via Instagram amid the coronavirus pandemic.
"At first, honestly, I was on the fence," Gindler said. "I was a little skeptical. I was like, 'Is it really a photoshoot? How can you really say they're your photos?'"
Eventually, Gindler decided to try out the concept himself.
Over FaceTime video call, Gindler connected with a model from Australia. Although the two could understand each other's English well, there is a 14 hour time difference between the U.S. east coast and Australia.
During these video call photoshoots, the model typically props up his or her device or uses a phone tripod to steady the video, Gindler said.
However, the model's boyfriend was present during the photoshoot to angle the model's device where Gindler desired.
"I shot through him," Gindler said. "I told him to put the camera in places where she couldn't have put it herself or where it would have been obvious that she's holding it and it would have looked too much like an arm extended selfie."
That's the trick to video call photoshoots, Gindler said. If a model were to hold her device, the photographs may appear as if she is taking the photos herself. Instead, the model is tasked with placing the camera in a location where it appears the photos are taken by an in-person photographer.
Since his first FaceTime photoshoot, Gindler has worked with nine more models, improving not only his skills as a photographer but as a communicator.
Gindler said he has photographed models from Barcelona, New Zealand, Brazil and Russia, along with the first model from Australia. 
"I'm learning a lot of different languages through Google Translate," Gindler said with a chuckle.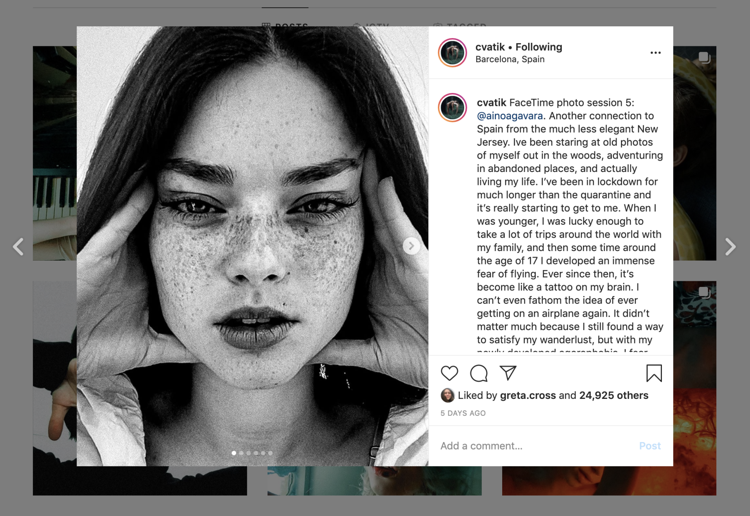 Though Gindler was skeptical at first, he said through more experience he has learned the concept is not much different than an in-person photoshoot, as the photographer still needs to effectively direct the model and frame the shot to his or her liking.
"In a way, it's not unlike shooting film, where you get what you get and you have to take it from there," Gindler said. "The colors are where they're going to be basically. You really have to think a lot more about each photo because you're not going to have that maneuverability that you do with a digital, RAW image."
Gindler said with his DSLR camera, he typically captures 42 megapixel RAW images, while with his phone or laptop, he is capturing only 1,200 pixel JPEG images.
For quality comparison, one million pixels make up one megapixel.
RAW files are uncompressed collections of data from a camera's sensor. JPEG files are compressed within the camera, making them smaller in size with less detail than RAW files.
When photographers edit RAW files, they are able to change the data itself. When editing JPEG files, photographers are adding adjustment layers on top of the original image, which reduces the image quality even more.
Gindler said he typically uses Adobe Lightroom to edit his high quality images and is continuing to use the software to edit images from his FaceTime photoshoots.
One of the problems Gindler has faced is capturing the images themselves.
While video calling, FaceTime offers a live photo button, which can be used to capture the other person's screen.
When Gindler is working with a model via FaceTime, he can use the live photo button to capture a screenshot of the model's video from her end. Gindler then receives the photo in his photos app on his phone or laptop. 
Gindler said capturing photos using FaceTime's live photo button, instead of screenshotting the video call on his end results in higher quality images. He said he has had issues with receiving the live photos he takes, though.
"So, you have an option of, if you take a screenshot you definitely have the photo but it's definitely going to be much lower resolution or you can take the gamble and do a FaceTime photo, but it might not send to you at all if there's poor connection," Gindler said.
Gindler said he enjoys FaceTime photoshoots because he is challenged to think differently about portraiture, but he really appreciates the concept because he has been stuck inside, on his own, months before the start of the pandemic.
Since September 2019 Gindler has been struggling with agoraphobia.
Agoraphobia is a type of anxiety disorder in which individuals fear places or situations that might cause panic or the sense of feeling trapped, helpless or embarrassed, according to Mayo Clinic. 
Gindler said FaceTime photoshoots have allowed him to work with models once again.
"I plan to continue doing these shoots until I can get some mental health help and be able to leave the house again, even when this is all over," Gindler said.
The importance of the hashtag
In Glasgow, Scotland, photographer Francesca Morrison's video call photoshoot portraits are gaining immense traction.
According to her Instagram analytics, on April 9 — the first day she posted a series of photos from a video call photoshoot — Morrison had 300 profile visits to her Instagram page. 
Since posting more of her video call photoshoot content, Morrison has seen a spike to around 3,000 visits on her page per day.
Instagram profile visits are determined by how many people visit an account in a day. For example, if Morrison had 300 profile visits on April 9, 300 other Instagram users visited her page.
Morrison, known as @fmphotosx on Instagram, currently has a little over 2,700 followers, as of April 27, and said she receives new follower notifications everyday.
Morrison said she was first introduced to the video call photoshoot concept about three weeks ago when a friend told her to look at Demi Lovato's recent post on her Instagram.
On April 14, Lovato posted a photo gallery of images from a FaceTime photoshoot with celebrity photographer Angelo Kritikos, @angelokritikos on Instagram.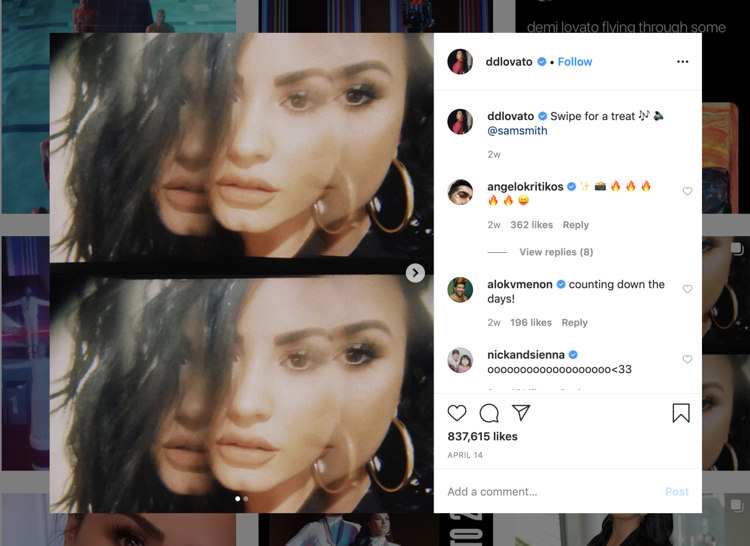 Instantly, Morrison started research and decided to collaborate with a model for her first video call photoshoot.
Morrison said the biggest difficulty during the first photoshoot was connection, as she kept losing video signal with the model.
For Morrison, Google Duo, a video calling app from Google, has worked better than FaceTime, but she recommends photographers test out multiple video calling softwares to see what works best for them.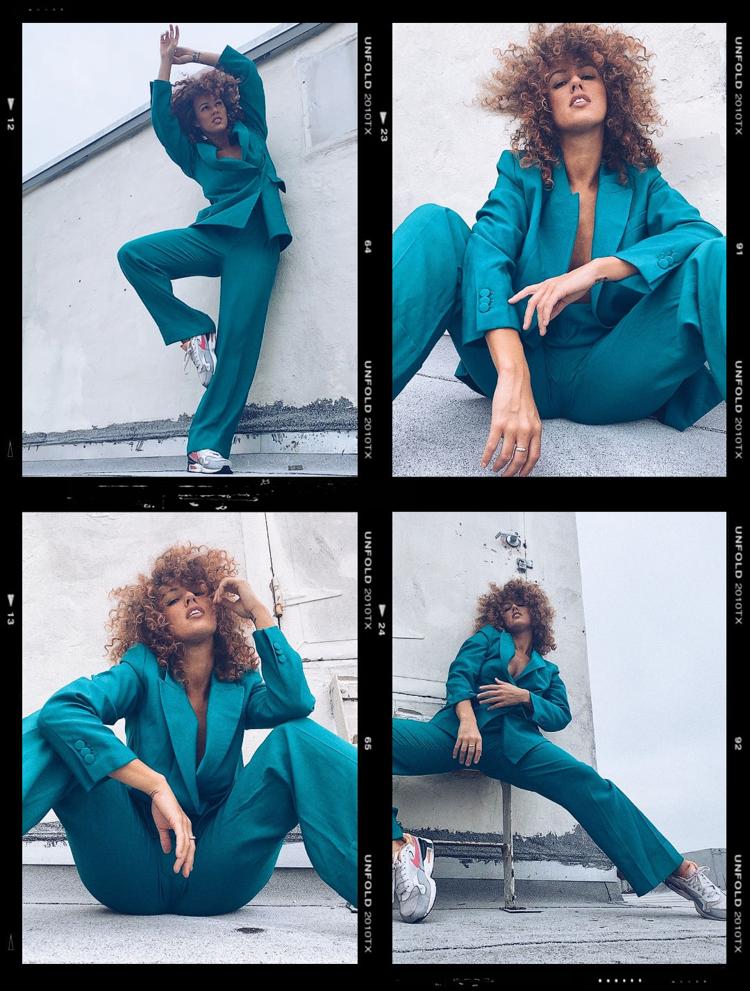 Initially, Morrison tried photographing her MacBook's screen with a DSLR camera, but the image quality was poor. Now, Morrison screenshots her MacBook's screen, exports the photos to her phone and uses the VSCO photo editing app to touch up her photos before uploading them to Instagram.
"Obviously, with the quality of images you're never going to be able to blow them up," Morrison said. "I feel like that's okay because I'm just using them as part of having some fun and creating something during lockdown."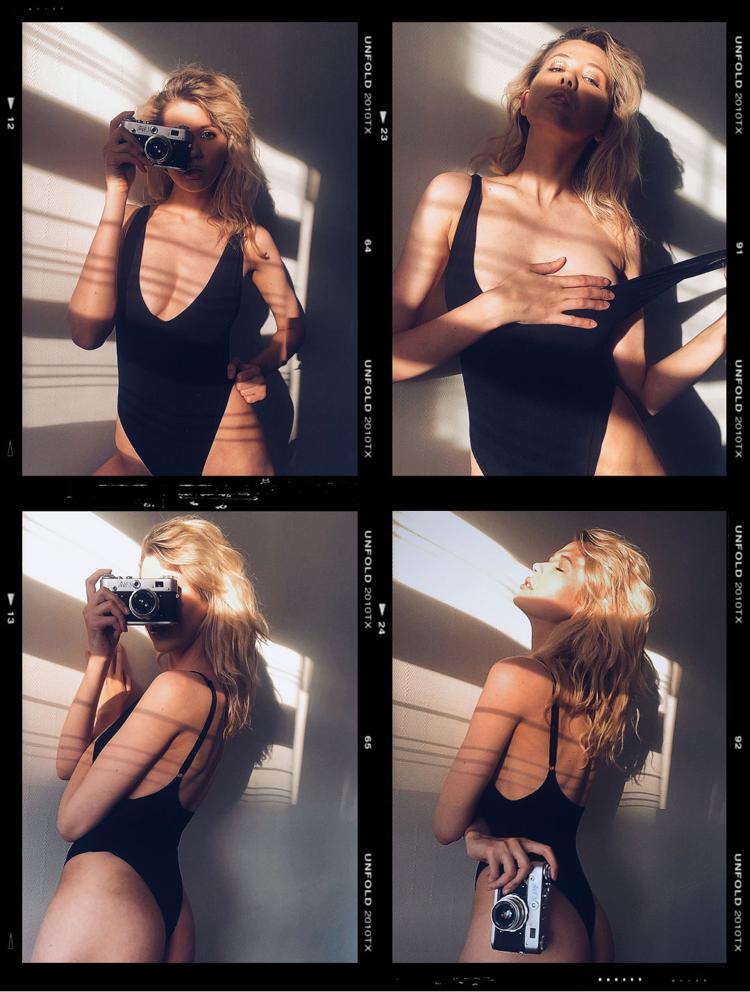 As of April 23, Morrison has completed 20 video call photoshoots and is frequently receiving messages from models and modeling agencies locating in countries such as Costa Rica, Canada, Russia, Egypt and the United States.
"Working with a Russian model, that's insane. When would I ever be able to do that?" Morrison asked hypothetically. "It's very overwhelming but I'm really appreciative that people want to work with me."
Morrison said she plans to continue doing video call photoshoots, even after the conclusion of COVID-19.
"I think COVID-19 is definitely going to change how the photography community is," Morrison said. "It's going to change a lot. I think a lot of people are going to be doing this and it shows that you can work through FaceTime."
Photographer or director?
Although video call or FaceTime photoshoots may be trending on Instagram, not all photographers believe in the concept.
Victoria Frizell, a junior photography major at Missouri State University, said her initial reaction to the concept was confusion.
A photographer earns the title by taking photographs with a camera and controlling lighting, vantage point, depth of field, focus and exposure, which cannot all be done, or done easily, while video calling, Frizell said.
"I'm sure that by having someone help, it would make it easier to see more of the subject and you'd also be able to decide more about where the camera goes," Frizell said. "However, you are still just seeing what the handler lets you see. I feel like this would call for a different title, such as a director.
Steve Tran, a junior electronic arts video studies major at Missouri State, agreed.
"This doesn't work well because technically the photographer isn't even the photographer," Tran said. "They're just the director. The model acts as both the model and the photographer."
Tran said he doesn't believe FaceTime quality and film quality are comparable because when all of the settings are correct, film images can often turn out better than digital ones.
"It's not the 'you get what you get' mentality,'" Tran said. "After you screenshot, you can just open up your photos, see if you don't like it, then reshoot if you want."
Neither Frizell nor Tran said they have interest in trying a video call photoshoot.
"Even after I (would) edit the images, I would still feel like the photos are not mine because I didn't use a camera to capture them," Frizell said. "I would have had little creative control. Whoever handles the device that takes the photo is partly in credit as the photographer."
A different style
Many photographers participating in FaceTime photoshoots are creating editorial or conceptual portraits with models. However, Tristen Rouse, a junior journalism major at University of Missouri, tried a different style.
This year, Rouse is on exchange at the Danish School of Media and Journalism. As a photojournalism student, Rouse contributed a photo essay to a magazine project for the Spring 2020 International Photojournalism One program.
According to Rouse, the magazine, "It wasn't supposed to be like this," was his class' take on the first week's impact of COVID-19.
"We covered it from five different angles that culminated in one collective story about how COVID-19 was affecting us and our host city, Aarhus, Denmark," Rouse said.
The photos throughout the magazine were taken on DSLRs or film cameras by Rouse and his classmates.
The final page of the magazine, which features eight portraits of the students who contributed to the publication, were also taken on DSLRs but were captured via FaceTime photoshoots.
Rouse said each student paired with another whom they photographed via FaceTime. For consistency, each portrait was taken similarly. The student's placed their phones on a patterned surface and photographed them using a 50mm lens.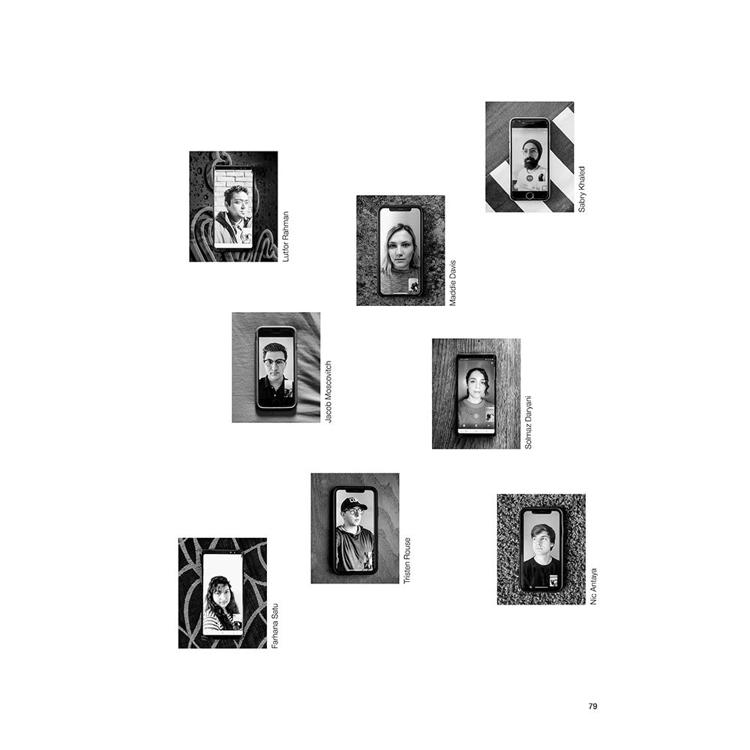 For these staff portraits, the phones themselves can be seen in frame, which is stylistically different from what most photographers are trying out with FaceTime photoshoots.
Rouse admits that virtual photoshoots are the safest way to capture portraits at this time, but he does not plan on doing another in the future.
"I think that portraiture is all about creating an intimate and collaborative space between the photographer and the subject," Rouse said. "The fact that you're photographing through a video chat disrupts that space and creates a lesser portrait."
Rouse and his classmates are not the only photographers to try out different styles though, as the new concept is constantly evolving.
To see the variety of work from global photographers trying FaceTime photoshoots, check out these hashtags on Instagram: #facetimephotoshoot, #facetimechallenge, #isolationphotoproject and #isolationcreation.
Disclaimer: Steve Tran previously worked for The Standard