Brian Bulger knew Tessa was the one. He loves her as a wife and he loved her as his fiance. But as a young man about to enter a lifelong commitment, he was afraid of his dreams slipping away at the spry, fresh age of 20 as they planned their marriage. In the back of his head, he questioned if his dreams would prevail as their love grew.
"Oh, but what about my dreams?" Brian said in an interview at Coffee Ethic in Springfield, Missouri, long before COVID-19 put coffee shops on restricted access. He was expressing a thought that shot through his mind before his marriage.
Brian, a senior English literature major at Missouri State University, started writing music at age 13. He said his outlet became music throughout his tumultuous childhood. Music was something he couldn't think to part with beginning a new life with Tessa.
"I think there are some relationships that I've witnessed where they get married and the aspirations of both people are gone because one person kind of smothers (the other) or they both give up because there is a comfort of being with someone," Brian said.
Tessa isn't like that. As music pours out of Brian, Tessa's encouragement pours in. A senior at MSU, she's studying to be an art teacher. The two met as neighbors in Springfield's Phelps Grove Neighborhood. They lived across the street from one another. She rejected him — twice.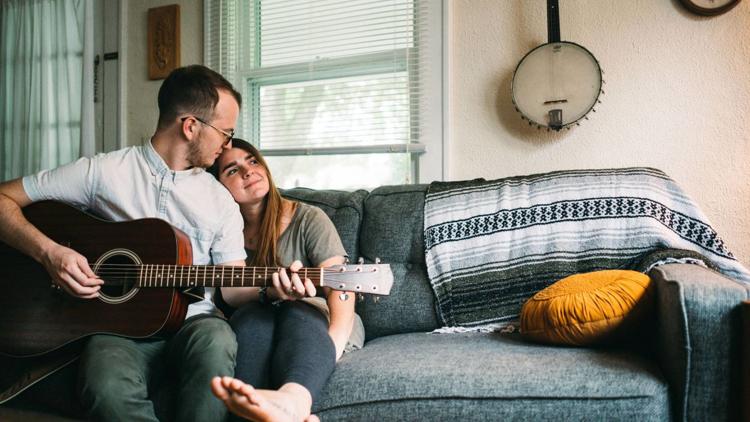 Brian said he felt Tessa was fearful to start a relationship, but he understands fear well.
Growing up, Brian said his father was full of fear. The family, with 10 children in all, moved frequently. Born in Tennessee, by age two Brian's family moved to Florida. At age seven, Springfield, Missouri. Years 12 and 13 were spent in St. Joseph, Missouri, and Excelsior Springs, Missouri, respectively. By age 18, he was back in Springfield.
"There were moments when the fear was overwhelming for (my father) and for one reason or another he thought that the best option would be to run away. So I do think a lot of the moving was running away," Brian said.
This fear trickled down to Brian, the ninth of 10 children, which happens to be the name of his latest album: "Nine of Ten." As a young adult entering college, Brian remembers sitting outside, smelling cigarette smoke and talking in circles about the meaning of life with friends.
On that bug lit porch,
where we first met,
I think I caught the restlessness,
Your words were stuck inside my chest,
the narrow path of the cigarette.
You're dead to my truth.
His latest release from this spring, the single "Youth Truth," explores healing from the fear he experienced as a child and now as an adult. The lyrics above from this new song "Youth Truth" describe how the fear isn't always rooted in his family ties. He wants to let go of fear his friends influenced him with as a young adult, in those restless, dimly-lit porch conversations.
"We just talked about all these theological issues and all these deep thoughts," Brian said. "And it seemed like we were really getting to something but we never really were, and it was just like wasted breath. So it actually just made me more confused about who I was and what I was doing on this Earth and my faith."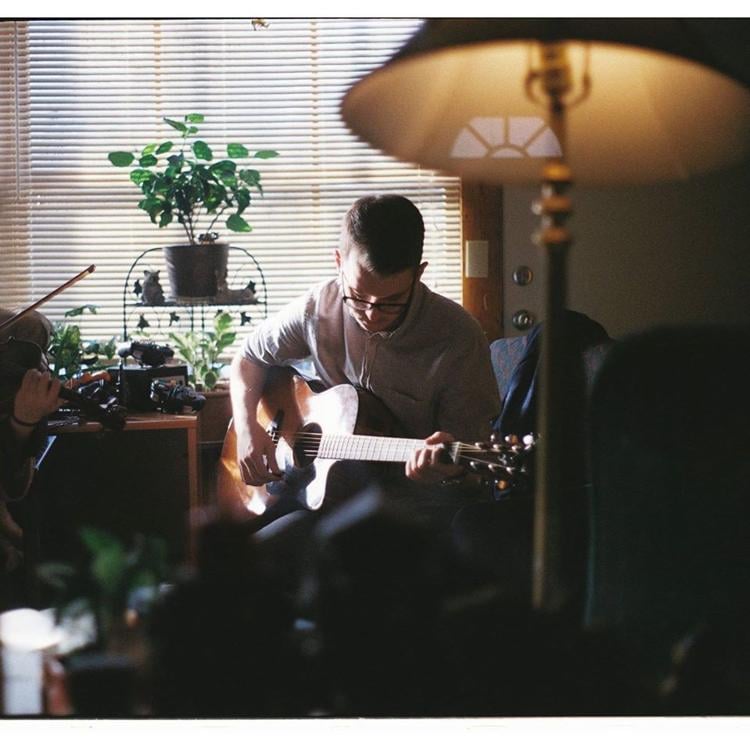 His upcoming album focuses on abandoning false truths learned growing up — concepts and words that shaped Brian into a fearful, searching person. The album speaks to this, but also seeks to express feelings of comfort and security from his youth he wants to feel again.
"The first song on the album is going to be called 'Lightning Bolt,'" Brian said. "It's basically about my wife who — like when you're having an existential crisis and you have no idea what you're doing on the Earth and you're just scared. I have those mini freakouts and (the song) says, 'Your arms are a lightning bolt. I don't feel so lifeless anymore.' So it's about how her love is helping me feel secure again and feel like I've been shocked back to life."
While the two can bond over fear, Brian said their relationship is not built on it. The couple has been married for two and a half years, and they fell in love with each other's best selves.
"It's not that we fell in love over our troubles," Brian said. "It's more so we fell in love with who we really (are) and we're just constantly trying to pull each other back into that reality."
Brian's music is just like that. He wants to be seen, heard — he wants the tenderness in his songs to help others face their own vulnerabilities. He said that's the impact he wants to make.
"Brian is such a prolific writer," said Ephraim McFarland, friend and producer to Brian. "Songs fall out of him on any given day."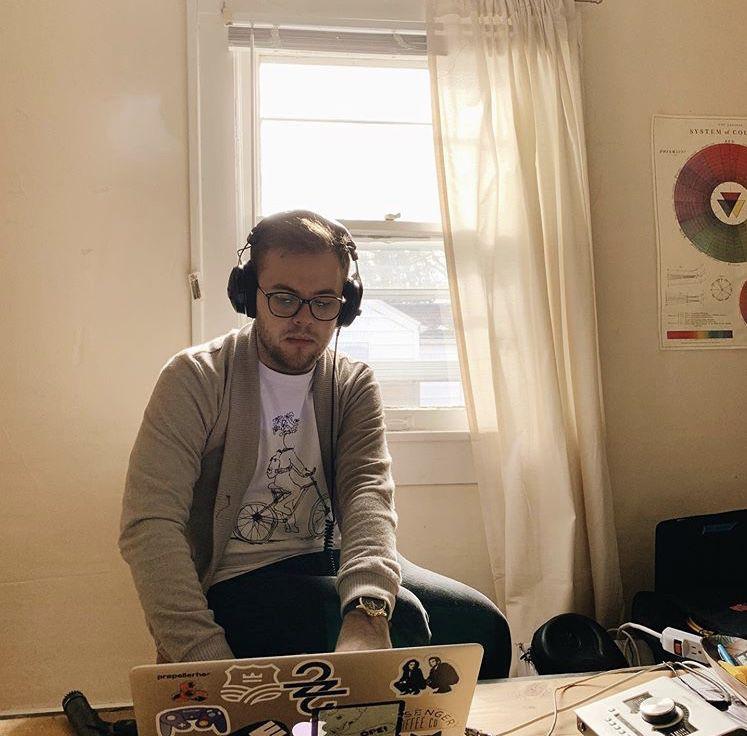 McFarland lives in Kansas City but met Brian through a mutual friend and fellow musician, Hudson Freeman. McFarland drives to Springfield to sort through ideas, record and put projects together with Brian. But the two are best friends first, McFarland said.
"It comes from a place of community and friendship because you really have to know somebody in a special way to work on your art together," McFarland said. Brian's music is something anyone can relate to, McFarland said. "It's still so universal because he's so vulnerable. That's why his music is special, because a lot of people can latch on to it," he said.
Brian said his music is a conglomeration of genres like alternative, folk, indie — he doesn't believe a musician should strive to find his voice completely, because voice and style evolve.
"Sometimes it feels like someone or something is giving me a song," Brian said. "It's incredibly random. It's like, I have no control over the process."
He starts with a feeling, not lyrics or specific notes. He can't explain why the feelings are triggered or where they come from — he knows when it's time for a new song. The feelings are vague; music helps him sort them out into a coherent mess — something Brian can share and grow from.
The whole pre-chorus of "Youth Truth" poured out of him all at once. The song is not supposed to be angry, more of just a reluctant and frustrated letting go, a release.
McFarland helps Brian sort these feelings out on his frequent trips to Springfield.
"Whenever I have the chance to come down I'll bring my gear with me and a couple microphones and we'll try to sketch something out, get the outline of the song," McFarland said. "And then I'll take it back to my little bedroom/studio in Kansas City and I'll play with it. I play bass and electric guitar and keys so I'll just start playing with ideas."
The process would not be as fluid without the trust built between the two friends. McFarland said he's tried to go full-time with his music, but it hasn't worked out the way he's wanted it to because he only wants to work with those he trusts to create the best content he can.
McFarland was out of work several months ago and decided he was going to make the leap: he was solely a musician from then on. After that, he couldn't afford his bills.
"It started to stress me out, trying to find more music projects and I was trying to work with people that I didn't really have that strong relationship with and I was like, 'You know what, if I just get a job, I can work with the people that I love like Brian and Hudson and I can continue doing the thing that I love for the reason that I love it and not just because I need to make money," McFarland said.
The two want to go big with their music to make an impact. Brian dreams of touring the country sharing his vulnerable lyrics with engaged crowds, but keeping his home base Springfield. There is something comforting about Springfield, he said. He's drawn to it.
One aspect of his songwriting, though his lyrics expose the root of his character and identities, was never and is never meant to hurt his family, though they have been through a lot, he said. When he first started writing about his childhood, it was difficult. Brian said it was difficult to describe how his childhood hurt him and molded him in unfavorable ways, while not criminalizing his parents.
Instead of blaming his parents for the challenges of his youth, his music is meant to simply state what happened to him and how he's growing from it.
"One thing I want to say is I've never intended for my music to be talking bad about my parents or even about my childhood … it's never supposed to be talking bad about them to bring them down. Both of my parents are super supportive of my music and they also understand it," Brian said.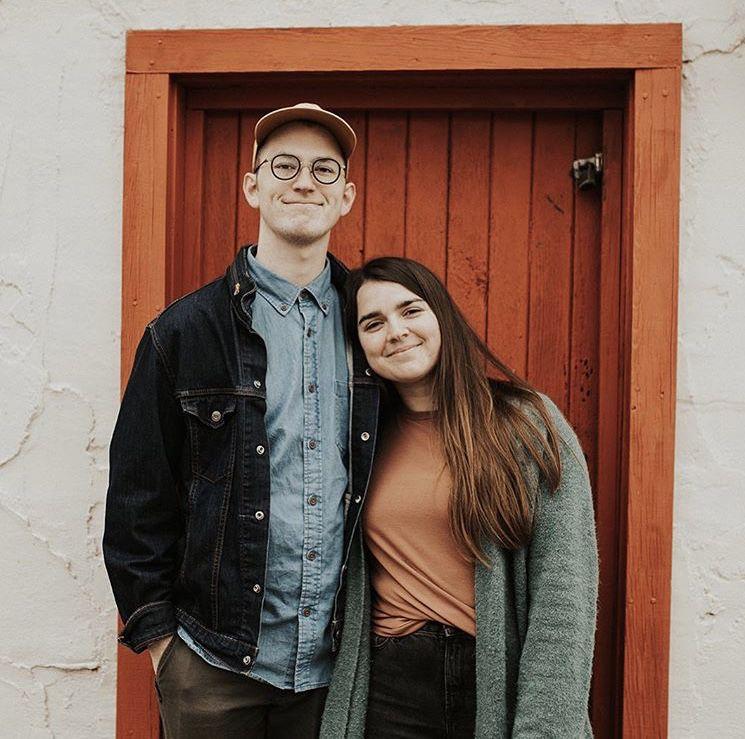 Brian said he's forgiven his parents for the fear and for the trials. He's found Tessa. He's moving forward. Brian wants his music to impact people by encouraging listeners to face their wounds and the ways they've been burned in life, rather than ignoring that pain.
"I've been spending my entire adult life so far healing," Brian said. "Not that that is bad, but I have a lot of experience in healing. I have a lot of experience with hurt and a lot of experience with healing.
"I don't think (my parents) are bad people, they just made mistakes. And I'm moving on from the mistakes. And they are healing, they are growing and they are changing (too)."
See his music: https://open.spotify.com/artist/6230s0aJBj5dFkL81kVWQR