Mask up Bears, but in style.
Last week, Vonda Yarberry, Missouri State art and design department head, sent out a mass email to all art and design students, challenging them to create custom-designed face masks before the start of classes.
Using print-on-demand online stores, students can upload their designs and place them on face mask options provided by the stores — along with a variety of other printable items. Once their stores are live, students can send a link to their custom face mask to Yarberry via email to be entered into the challenge.
Yarberry recommended print-on-demand stores such as RedBubble, Threadless, PIXELS and Society 6.
Yarberry said all submissions will be displayed on the art and design department's blog to promote the work of each student. Students, faculty and staff and community members will then be able to vote for their favorite designs on the art and design's social media profiles.
Along with the promotion and presumptive sales of their mask, the chosen winner will also receive a gift card to the Missouri State Bookstore or Art Shop at Brick City.
Yarberry said she's spent the majority of her summer working with art and design faculty and staff to prepare for the fall semester in relation to university policies.
In his Clif Notes, university president Clif Smart announced a draft mask policy, requiring masks to be worn in all academic buildings and spaces, in response to the Springfield-Greene County Health Department's mask ordinance, which went into effect July 16.
"Our students come from all different backgrounds and not everyone is going to embrace mask culture as a good thing, and so what we were thinking about was the influence of students on students," Yarberry said. "If we could find a way to start integrating masks into the culture of our students before the semester started, we would have a better time once classes started."
Yarberry said the challenge not only encourages students to participate in proper masking but engages them as entrepreneurs and individualists.
Mitzi Kirkland-Ives, art and design professor, said projects like the mask design challenge allow students to express themselves, specifically in response to what they are observing around them.
"In a year like this, when there is just so much going on, actually getting involved and making a statement is a way to feel less helpless and passive, to take control a bit and really participate in the community, rather than just watching history happen," Kirkland-Ives said. "We might as well express ourselves somehow while we do it — give it some creative flair, Bear spirit, humor or panache."
The challenge begins Saturday, August 1, but Yarberry said she has already received four student submissions.
One student, Brittany Wise, senior art education major, said she was eager to participate because she liked the idea of creating something useful while showcasing her art.
For her design, Wise photographed a linoleum block print of black and grey sunflowers she made in her printmaking class and uploaded it in a pattern onto the mask.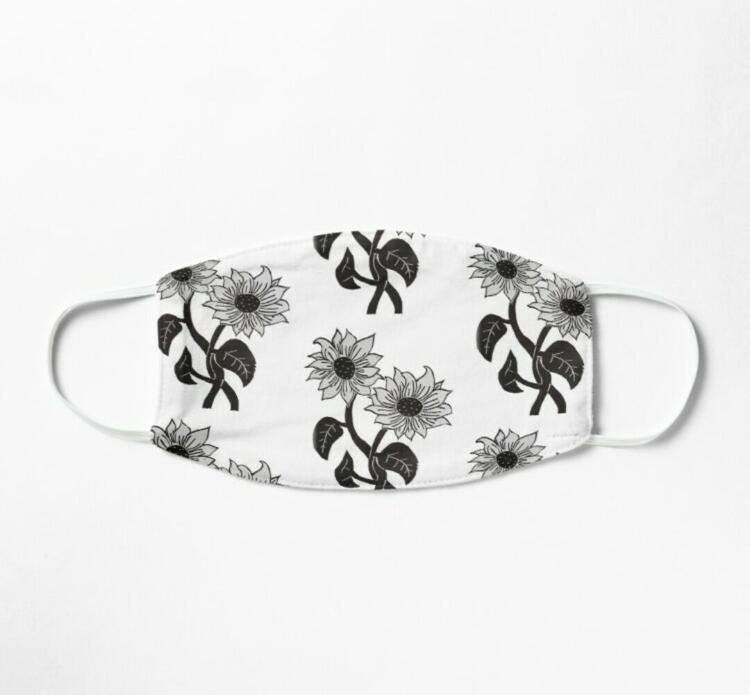 "When you're wearing someone else's design, it shows that you connected with that piece in some way," Wise said. "I think that's incredible and very meaningful to the artist."
Students interested in participating can submit a URL to their face mask on their online shop to Yarberry at VondaYarberry@MissouriState.edu
Yarberry said she will be accepting submissions until the first day of classes, Monday, August 17.
As for Missouri State's mask ordinance, according to his Clif Notes, Smart said faculty and staff will be allowed to determine whether to require masks in their private offices. The policy also states that off-campus offices and non-academic buildings, such as Plaster Student Union, will not be required to enforce masking.
"I encourage all campus offices in non-academic buildings to determine as soon as possible whether to require masks," Smart said in his notes. "I anticipate most will require masks be worn."