This time last year, Taste of SoMo was selling tickets for their all-day downtown event — over 30 food vendors offering samples, live music and other activities for visitors to partake in during a Saturday afternoon celebration of local food and community.
Taste of SoMo is carrying on again this year, but with some changes. This year, it's going digital.
Taste of SoMo: The Virtual Edition is scheduled from June 19 to 27. Organized by the Downtown Springfield Association, this year participants can purchase gift cards in $5 increments to go toward participating businesses.
"You can order $5 for coffee or $100 for up to 20 different restaurants; it's just how much you want to spend and how many restaurants you want to support," Rusty Worley, executive director of DSA, said. "There's lots of flexibility." 
Worley said restaurants in the area have been resilient during the COVID-19 quarantine but still need help from the public.
John Tsahiridis, owner of downtown restaurant Greek Belly, said the key to adapting to COVID-19 was experience and added guidance from DSA.
"My approach to dealing with all this is the same as dealing with everything else in the restaurant industry," Tsahiridis said. "You have to adapt and adapt fast. There are so many things that can happen, and making fast, smart choices is what keeps you going."
Tsahiridis said he wouldn't miss taking part in Taste of SoMo, regardless of this year's  format. 
"It's a great event that showcases many of us from around here, and it's for a great cause," Tsahiridis said. 
With the gift card format adopted this year, those who are still cautious about going out to eat or buying food can support businesses immediately while waiting a bit longer before redeeming their card.
Taste of SoMo is also selling a commemorative t-shirt this year, with all sales going to Ozarks Food Harvest, a local food bank serving southwest Missouri.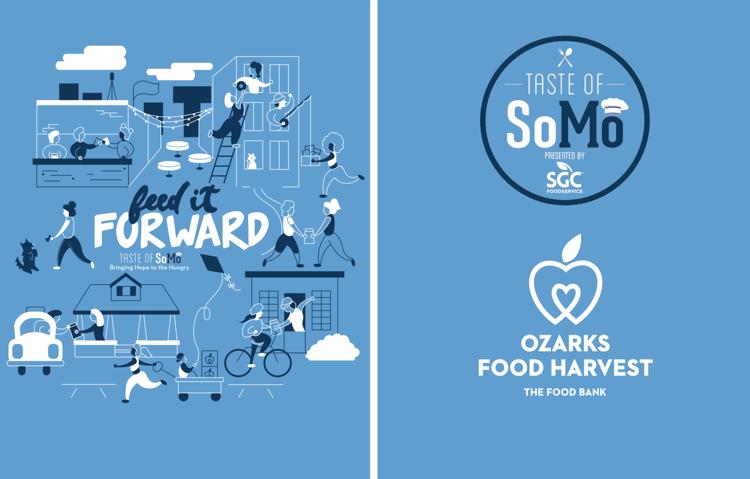 Worley said the event had to be adjusted not just for the safety of participants, but for businesses that have been struggling to adjust to operating during the pandemic since it began.
"(The businesses) spent the last few months figuring out delivery, curbside, or online ordering or modifying dining rooms," Worley said. "The last thing they needed (to deal with) was something that needed staff to be off-site." 
Worley said this new digital approach will be an easy way for the community to reach out and support small businesses in the area. 
This year, Taste of SoMo is working with KOLR10 and Ozarks Fox AM to both advertise the event and give business owners the opportunity to reach out to the public more directly, hosting a series of interviews and live segments with participating businesses throughout the week of the event. 
Taste of SoMo is anticipating a variety of local businesses to participate in the week-long festivities, estimating a total around 35, from The Order, which won "Best Appetizer" at last year's event, to other local businesses like Greek Belly. 
"This is a chance to try places you haven't been before," Worley said. "One of the great features of Taste (of SoMo) is we all get in routines, but this is a way to see and check out places you haven't found your way into yet." 
The gift cards will go on sale on June 19 and be available until the event ends on June 27, with commemorative t-shirts currently available for pre-order. Visit their website, found here, to learn more about buying a gift card, shirt or more about the event.