"Send Nudes." is a message quilted in pink, brown and floral print letters hanging boldly in the Brick City East Gallery. The patchwork quilt is part of McKenzie's Phelps' installation, which also includes two large faceless, naked women wearing only high heels.
In her artist statement, Omaha, Nebraska-based artist Phelps said she uses the traditional woman's art form of patchwork quilting to explore the relationship between traditional and contemporary conceptions of femininity.
Phelps said patchwork quilts date back to the era of the homemaker and remind us of the resourcefulness of women, who could make something beautiful with leftover scraps. However, quilts also remind us of an outdated era — "a time when women were confined to the home and cornered into the world of craft," she said.
Phelps is one of six artists included in "Textiles: A Social Media," the latest exhibition at Brick City Gallery.
Jodi McCoy, director of exhibitions at the gallery, and Amanda Smith, art and design assistant professor, curated the exhibition together. 
McCoy said they wanted to create an exhibit that would enhance and support the work of Marie Watt, a visual artist based in Portland, Oregon who was supposed to host two workshops and a lecture at the Springfield Art Museum April 1-3.
Unfortunately, Watt's visit has now been cancelled because of COVID-19, according to Smith.
Smith said although textiles are often perceived as women's work, intended more for function than art, she said she believes nearly everyone has a personal relationship with them. 
"Think of a beloved family heirloom quilt, a sweater that your grandma made 40 years ago that has been passed down to you or learning to use a sewing machine with your dad to repair outdoor equipment," Smith said. "I think lots of people who visit the exhibition can relate personally to the techniques involved, while also marveling at the unique contemporary vision and creativity of each of these artists."
Along with Phelps, artists Erin Castellan, Yvonne Osei, Amy Jarding, Kayla Mattes and Sherri Lynn Wood are included in the exhibition.
Amy Jarding — who lives in Sioux Falls, South Dakota — created a new piece for the exhibit called "Buzz."
Jarding creates large, brightly-colored abstract weavings using new and recycled materials. She said when McCoy asked her to be a part of the exhibit, she had just finished a small-scale exploratory piece of a new pattern.
"I thought that would be the perfect opportunity to develop that idea and push myself in terms of size and technique," Jarding said. "I have this weird opposition to showing the same work more than once, so I typically try to pass on old pieces to private collections and to keep pushing myself to consistently create."
Along with "Buzz," Jarding's largest weaving, "Hugo," is in the exhibit. She said she enjoyed seeing the two pieces together because of their different intentions.
According to Jarding, "Hugo" was a personal meditation on symmetry, while "Buzz" is made up of random scrap yarn pieces, which restricted her to only use materials she had on hand.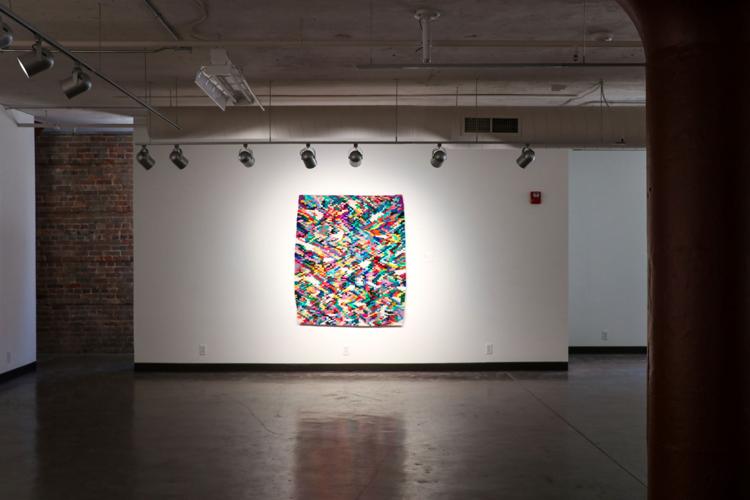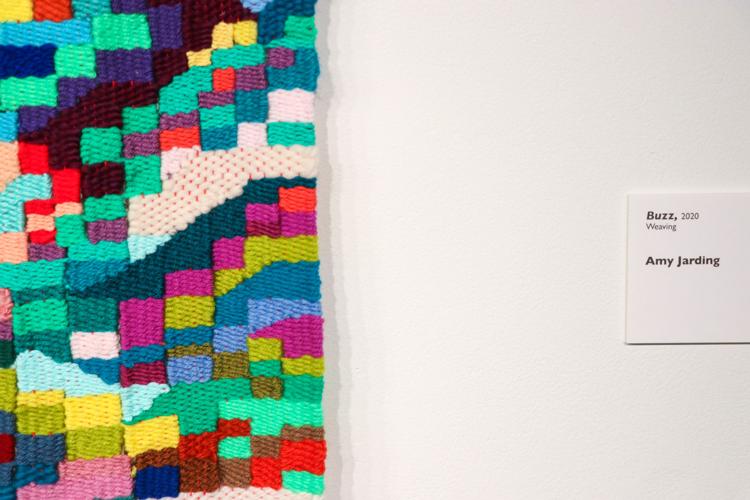 The majority of work in the exhibition includes physical textile installations. However, Yvonne Osei, a Ghanaian artist, shows her work in a different way.
In a triptych of videos via monitors in the gallery, viewers can watch Osei's performance project "Africa Clothe Me Bare." In each of the videos, Osei is dressing and undressing nude female sculptures found in Western countries in West African clothing styles.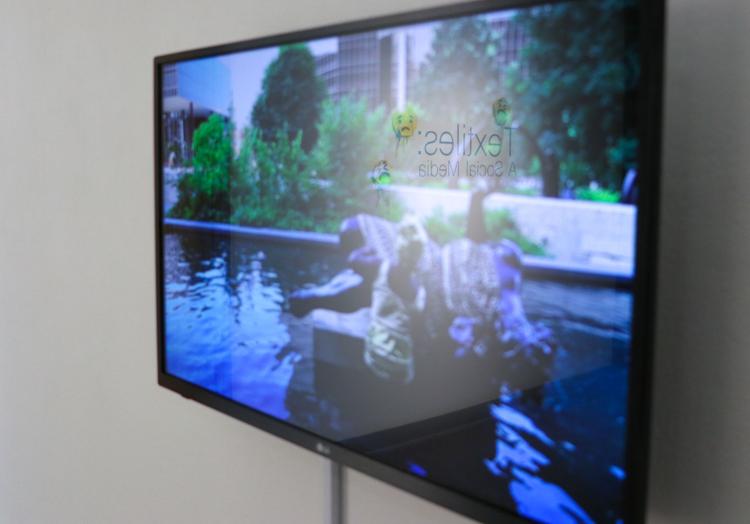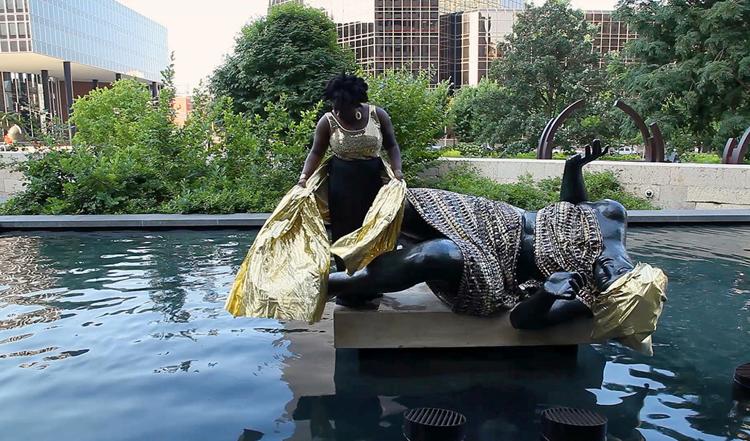 "These performances reflect a reverse in colonial power structure and the dismantling of the white-savior complex, which usually dominate historical narratives," Osei said. "The series exposes an inherent exploitation of female bodies as objects of possession. The act of clothing and unclothing transforms their status from mere objects of viewing-pleasure to subjects of heightened humanness."
Jarding said she made the eight hour drive from South Dakota to Springfield to see the exhibition for the opening reception. 
"It was empowering to see my work alongside such talented artists and left me inspired and invigorated to get back to the studio," Jarding said. "This show left me reflecting on the inclusion of varied techniques and media within the fiber and soft sculpture community and the importance to recognize the medium as relevant in a fine art setting."
"Textiles: A Social Media" will remain open until April 10. However, the gallery is closed for Missouri State's spring break from March 13 to 22. 
The Bachelor of Fine Arts Senior Exhibition will follow from April 27 to May 9.
Those interested in attending the gallery should check the Brick City Gallery Instagram for updates regarding modified hours and schedule changes due to COVID-19.