Stepping out of their daily shoes and into high heels, a large crowd of male students gathered for a march through campus carrying signs in a protest against sexual assault and gender-based violence.
"We walk because we support ALL women," one sign said. Another read "violence is never okay."
On Wednesday, April 10, Missouri State University Student Government Association hosted the inaugural Walk a Mile in Her Shoes event.
According to the National Sexual Violence Resource Center, one in five women and one in 16 men are sexually assaulted while in college.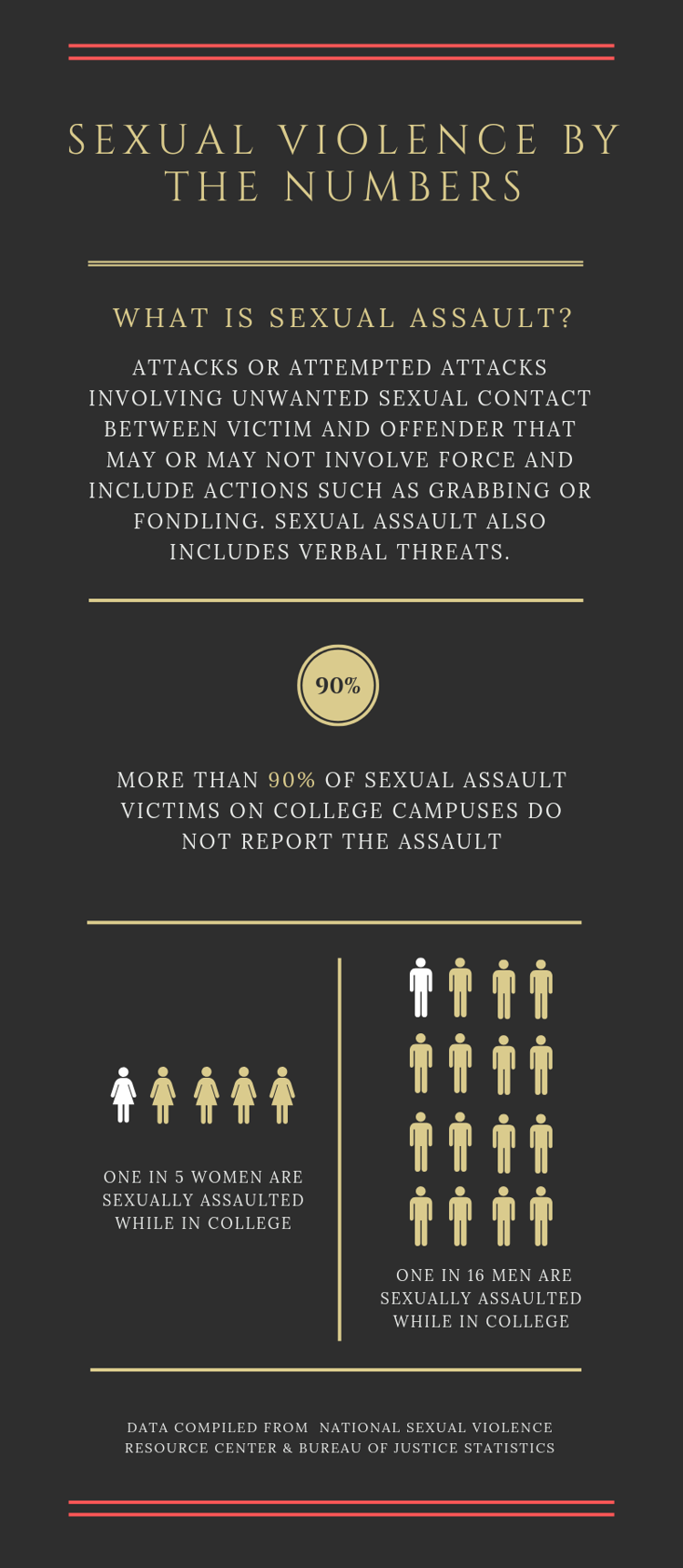 Inspired by the common saying, "You can't really understand another person's experience until you've walked a mile in their shoes," the event encouraged men to actively speak out for sexual assault prevention in a march around campus wearing high heels.
The Interpersonal Violence Prevention Commission of SGA helps maintain a safe environment at Missouri State, free from sexual harassment, gender-based violence and sexual assault.
Working with the Title IX Coordinator, Title IX investigator and Green Dot Coordinator, the commission organizes educational events about sexual assault prevention.
Meaghan Duda, the interpersonal violence prevention commissioner for SGA, focused on empowering men to engage in the conversation this semester.
"My hope is that Walk a Mile in Her Shoes will break the barrier and stigma regarding talking about these serious topics and open the door to future conversation about sexual assault prevention," Duda said.
Students had an opportunity to address this heavy topic in a unique and light-hearted way.
Coordinators of the event encouraged all students, not just men, to come support the march.
Students who prefered to participate without marching enjoyed the assorted activities including featured speakers, a photo booth and community tables with free giveaways.
"If even one student gains something from the event — whether that be a takeaway from our speakers, information on a new resource from one of our community tables or a sense of encouragement from seeing all the students come out in support — then it will all be worth it," Duda said.
Thomas Lane, associate vice president for student life and dean of students at MSU, opened his talk saying, "I want to thank SGA for allowing me to stand a little taller today."
Lane himself wore a pair of silver heels and marched alongside the throng of students.
He expressed his hope that students will continue to be a part of the solution.
Weston McConnell, outreach case manager for Harmony House, also spoke to the crowd before the march began. He encouraged the participants to think about why they were walking and who they were walking for.
Harmony House provides shelter, advocacy and education to survivors of domestic violence.
More local organizations, such as The Victim Center and The Rebound Foundation, held tables at the event to present available resources near campus for sexual assault prevention, intervention, counseling and educational services.
Connor Barth, vice president of the Interfraternity Council and a walk participant, said that Fraternity and Sorority Life at MSU is on the front line of standing against this issue.
Barth actively uses his platform to spread awareness of sexual violence prevention. He took part in the making of the FSL consent banners that hung outside chapter houses this past Halloween. This year, he helped organize "Walk a Mile."
"For me, the reason that I've been such a strong advocate on our campus about sexual assault is from having women close to me go through being a victim of sexual assault," Barth said. "So for me as a man, I want to do whatever I can to make sure that others don't have to go through such traumatic experiences."
Barth expressed his hope to shed light on the daily struggles that many women face.
"From the many organizations coming to sponsor this event, I hope they can better educate everyone on how to speak up against this type of violence and ways to prevent it from ever happening," Barth said. "I'd like this to not be seen as a sympathy event, but more toward the empowerment of women and what IFC men specifically can do to help support them."
The event invited men to become part of the solution and ignite change on campus and in society.
Hearing words of encouragement shouted from nearby supporters, the marchers accomplished their mile-long walk, despite briefly stumbling, in stilettos and pumps.
"I do know that it is impossible to eliminate all gender-based violence on our campus with one event," Duda said. "But I think it is crucial to have large campus events like this so that we can create a campus climate that is adamantly opposed to any and all acts of sexual violence."
Harmony House's 24-hour SAFEline can be reached at 417-864-7233. The National Domestic Violence Hotline can be reached at 1-800-799-7233.