At the Collaborative Diversity Conference on April 25, Rabbi Barbara Block, Rev. Phil Snider and Missouri State English instructor Mara Cohen-loannides spoke about how people unconsciously use hurtful language that subtly reinforces patriarchal, white and Christian dominant norms.
For example, Cohen-loannides said that as a Jewish woman, she has been told "I respect others' religions, even though they're wrong," and "How does it feel to be the token Jew?" Cohen-loannides said these people likely thought they were being nice, but they made her feel like an outsider.
Block said people need to be aware of their words and think about if those words are inclusive. For example, Block said, when organizations have events titled "Christmas in July," it does not resonate with everyone. She also said to speak up if you hear someone using hurtful or non-inclusive language.
"Your way of seeing things is only one way of seeing things," Block said. "That doesn't mean your way is the only right way."
As some attendees said during the open discussion, there was an uncomfortable feeling in the room. About 10 people walked out.
"This uncomfortableness you feel is what minorities feel like every day," Cohen-loannides said.
Conflict arose when the panelists and some attendees said Christians often shove their religions down others' throats and it makes others feel unaccepted and unincluded.
Others said they felt that since not all Christians do that, people should not label a group and judge one Christian for things other Christians do.
Mayra Ramirez, immigration services coordinator at Hand in Hand Multicultural Center, said people in dominant groups often take it personally when people talk about problematic things these groups do in general.
"Maybe if they had sat with me for a minute or two or talked about (these issues) before, they would have realized it's not just individual," Ramirez said. "It's systemic."
Ramirez said diversity conferences should be catered more toward white people because they need more practice understanding how to be more inclusive to everybody.
"Events talking about diversity and inclusion are important because they help people become aware of problems, and then they can learn tangible ways to fix those problems," Ramirez said. "They produce great conversation, and I think they can be even more beneficial and transformational if you focus on a group of people that doesn't talk about this normally."
On Thursday and Friday, master level social worker Dola Flake gave a presentation titled "Promoting Diversity and Inclusion: The System of Oppression."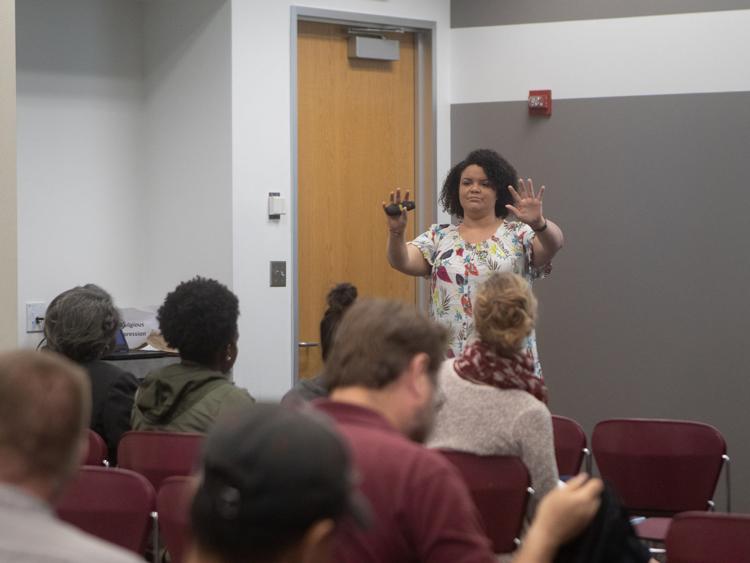 Flake said people with more privilege are born with more power, so they need to use their power to help minorities, fight injustice and promote diversity.
"If I'm starting 100 feet behind you and people are throwing rocks at me, maybe somebody can give me roller skates," Flake said.
After the presentation, Flake asked everyone to write down a time they had been oppressed and tape it to the wall for everyone to read.
Commerce Bank group manager Sherry Lynch said the workshop made her think about how people are oppressed every day in ways that she does not often think about. She wrote about a time she was buying a car and the owner told her to come back with her husband.
"As I listen to others, I can actually think of my own examples or people who are close to me who have had experiences that I don't experience," Lynch said. "It's really important to have that awareness. If we all think the same, we're not ever going to get better. We have to appreciate our differences and learn from each other."