With the construction of Holland House — Missouri State's new seven-story residence hall — older halls are left to maintain their current conditions.
Freudenberger House, also known as Freddy, was built in 1959, making it the second oldest residence hall on campus. The hall features two laundry rooms, a community kitchen, a grand lounge and additional amenities similar to the other community-style residence halls. However, Freddy lacks inclusive accessibility, compared to other residence halls and academic buildings on campus.
Freddy is the only residence hall on campus with a single elevator. The elevator is open for students to use during move-in weekend, but is closed throughout the remainder of the school year. 
"The elevator is more of a service car than it is for the typical, everyday student use," Director of Residence Life, Housing and Dining Services Gary Stewart said. Custodial staff has full access to the elevator for trash removal and supply deliveries. Students in need of the elevator must request special permission to access an elevator key from the Freddy Hall Director, currently Courtney Brewer.
"(Brewer) is probably going to check with us to see if there's a bonafide accommodation that's on record, or if it's a weekend thing and you just sprained your ankle real bad and you're on crutches and we know that you've gone to get a boot put on, she has the authority to check that out temporarily," Stewart said.
Freddy has three elevator keys that can be checked out to students who are allowed to keep a key as long as needed.
Senior physical education major Emilie Hanna lived in Freddy during her freshman year. After a knee surgery she had over winter break, Hanna requested access to the elevator because she was using crutches and lived on the fifth floor. Hanna said with a doctor's note she was allowed access to a key for about four months.
Junior global studies major Martina Mirbaha, a resident of Freddy her sophomore year, also requested an elevator key due to the use of a knee scooter. Mirbaha said she was not given access to a key until she provided a doctor's note.
The four steps leading up to Freddy's front doors are unavoidable to anyone entering the building. Other than the flat courtyard to the rear of the building, Freddy's only ramp is located on the east side of the building, facing Plaster Student Union.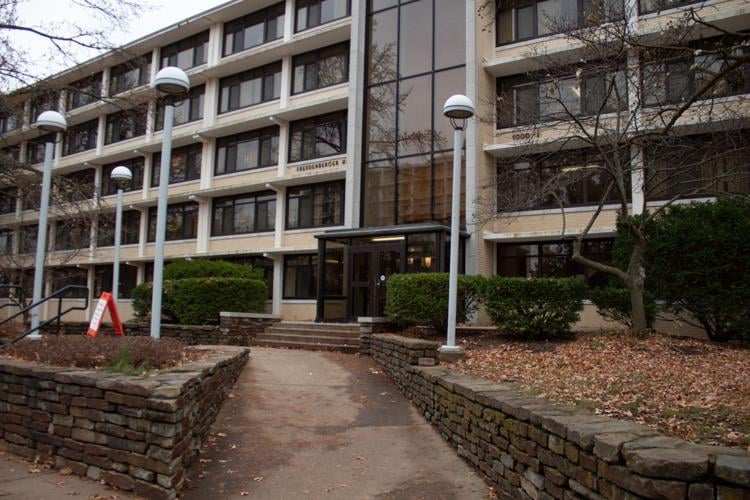 The singular ramp is available for use during regular class hours, but the side and courtyard doors of Freddy lock after 10 p.m., meaning students only have access to the front doors after this time.
A student can request special access to the east entrance door as they would for an elevator key to avoid the front steps. This access is added to a student's BearPass card digitally, rather than with a physical key.
Mirbaha said she gained access to the side door as well because she was often out of the building past 10 p.m. due to sorority meetings.
Stewart said he would "love to rip out the stairs in front of Freddy" and create a criss-cross ramp leading up to the front doors, along with adding a second elevator next to the existing one.
"There's another hole there in the shaft that we could install another elevator car to match the one that's there, but that stuff is so cost-prohibiting," Stewart said. "We've not been able to do that."
According to Stewart, Residence Life does not prioritize any accessibility needs, but rather works on what renovations and refurbishments they have prepared for.
"I kinda need to take a breath with how we are spending money because (Holland House) is a big chunk of change and there's a laundry list of things that need to be done," Stewart said.
Stewart said he is currently worried about overall residence hall roofing and the heating and cooling mechanics in Blair-Shannon House, which have not been updated since its construction in the 1960s.
He said he believes residence life does a good job of informing new and returning students of the accommodations within each residence hall. This being said, the Missouri State website does not include information about the special accommodations that must be requested by students within Freddy.
"I think we meet all of the requirements, it's just not as convenient," Stewart said.