"I can have a productive life."
This message glows above cars that swerve in and out — each driver desperate to get to their destination as quickly as possible. 
Springfield buzzes with energy as the day continues, but this message on the billboard above remains the same. The bold white letters stand out against an electronic black backdrop, and a teenager, portrayed to look determined in his hoodie, is pictured, sitting beside the message. 
Advertisements like these were created and paid for by Community Partnership of the Ozarks and placed around the city. There were eight billboards that played 386,518 times, Sherman said. 
Their purpose is to reach out to youth who may be living with a mental health challenge, and their families who may not know how to help their children. This is according to Samantha Sherman, CPO's mental health awareness training project coordinator.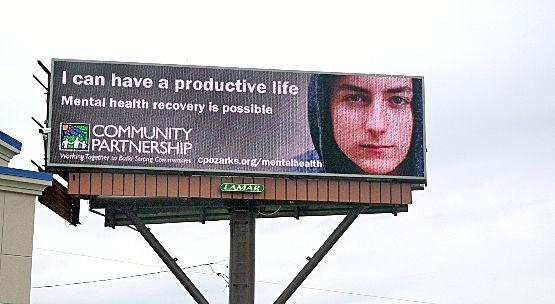 Reaching out to the community 
"The goal of the billboards was to spread them out into as many locations as possible," Sherman said. "There is so much negativity surrounding mental health, so just having (these) messages out in the community will hopefully get … conversation flowing."
CPO strives to support the community with mental health awareness training for any organizations or families interested, as well as talking about problems the region faces. 
"If there is an issue in the community, we bring the people around the table to address that issue," Sherman said. Programming scheduled by CPO includes substance abuse prevention, homelessness prevention and bullying prevention, as well as working with families with children living with disabilities, after-school programming and neighborhood development, to name a few. 
Other billboards read, "I need a trusted adult to talk to," and "Learn the signs of mental health disorders — you could make a difference," among others. 
The messages come at a time when youth in Greene County are disclosing suicidal urges and self-harming behaviors at higher rates than ever before. 
Youth mental health crises 
In a Sept. 3 Springfield Public Schools board study session, Director of Counseling Services Rhonda Mammen announced that in the 2018-2019 school year, 658 students in K-12 expressed to a school counselor or another trusted adult at the school they had seriously considered suicide in the past year. Another 598 students admitted to self-harming behavior. 
Mammen said there are several reasons that may be the cause of the uptick in disclosures — primarily being that students feel more comfortable talking about mental health now. 
"We've actually opened that door, giving them permission and encouragement to connect with an adult," Mammen said. "I think the increase is so much more … because they're thinking about it more … there is not as much stigma attached to asking for assistance."
A similar story has unfolded at Missouri State University, where the MSU Counseling Center's 2018-2019 annual report states, "Students presenting in crisis have been on the rise since 2010, however, the center has experienced a significant increase in the number of crisis appointments over the past three years, compared to previous years."
The Center's director, Rhonda Lesley, confirmed an escalation in the amount of students seen in just one year's time. Lesley said in the fall of 2018, the Center's specialists met with 249 total students for counseling and conducted 28 crisis counseling sessions. But this year so far, MSU counselors have met with 354 total students for counseling and facilitated 26 crisis counseling sessions. While the difference is a few less crisis sessions than last year, it is clear that the number of students seeking counseling overall has increased. 
Lesley provided a number of reasons she believes more students are seeking help, including increased student awareness about free counseling and "decreasing stigma" which, she says, has helped the public understand it's OK to talk to a counselor. 
"I also believe our fast-paced, screen-focused society puts additional pressures and challenges on everyone, and perhaps more people are dealing with symptoms of anxiety, stress and depression as a result of this, thus more mental health services are required," Lesley said. 
Sherman and Mammen also mentioned they hear from parents concern over young people constantly on social media. Sherman says this is true even at the undergraduate level. 
"The kinds of things kids are exposed to on a minute by minute basis … is very scary," Mammen said. "I don't think the adults know how to deal with it, really."
In a 2019 national survey by the American Psychological Association, four researchers found that since the mid-2000s, the rates of "serious psychological distress," episodes of depression and suicidal urges increased from ages 12-25. 
"The results suggest a need for more research to understand the role of factors such as technology and digital media use and sleep disturbance may play in mood disorder and suicide-related outcomes," the researches concluded. 
The 2018 Missouri Student Survey gives a statewide overview into self-disclosed rates of mental health crises, like suicidal ideation. From this survey, 14.1% of Missouri student K-12 disclosed they considered suicide and 10.9% made a plan to carry that suicide out. Additionally, 14% admitted to self-harming behavior, with the majority of those students being female. 
A human perspective 
Social media's impact is just a working theory, but that doesn't hinder the impacts of mental health challenges on students. Emily Daily is a fifth year student studying speech-language pathology at MSU. She said her anxiety started young, but came with another diagnosis. 
Daily was diagnosed with level one autism May 2019. "I suspected it for a long time but just didn't get a medical diagnosis until then," she said. "I was relieved that I could know, 'Hey, I actually have this,' instead of just questioning it the whole time."
Before her diagnosis this year, Daily sought counseling for anxiety her sophomore year of college after a roommate expressed concern. 
"Counseling has done wonders for me," Daily said. "I definitely do feel supported because they're essentially just willing to listen."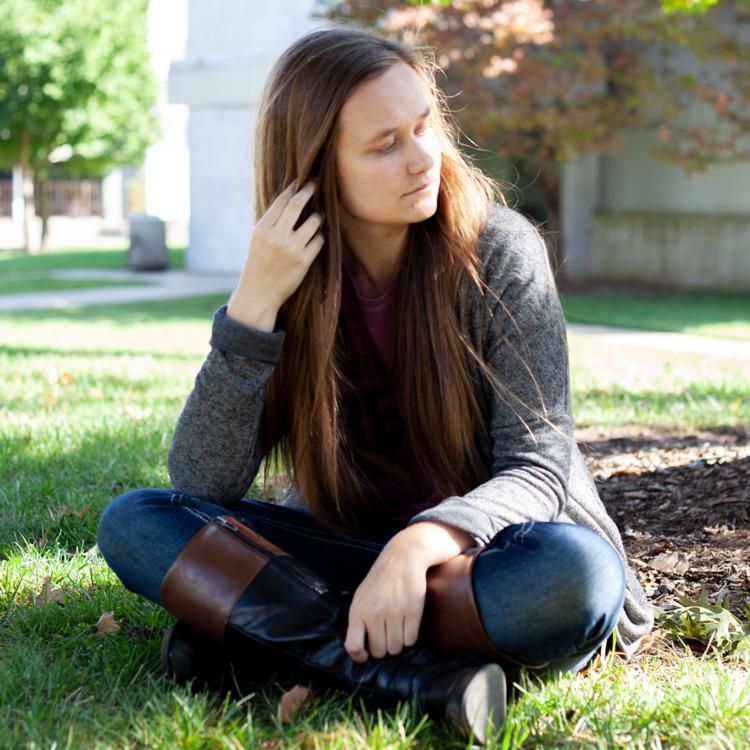 Daily decided after counseling to take a step back from certain relationships and organizations that were not benefitting her mental health. Her biggest piece of advice for community members is to listen and make sure you're referring people with mental health challenges to the right people if they ask for help. 
"There is nothing wrong with asking for help," Daily said. "Even the person who seems like they have it all together may need to still get help."
Faith Fraser is a senior communication sciences and disorders major and mental and emotional health advocate at the Christian Campus House close to MSU's campus. She said starting conversations about mental health could save lives. 
"When I was … 8 years old, I went through a time of about nine months … I had an eating disorder, I had depression, I was diagnosed with mild agoraphobia and of course anxiety that plays into that," Fraser said.
Fraser shared after nine months she made progress with the support of her family and professional healthcare providers, but she was left with an anxiety disorder that lasted into college — she said once a month her anxiety would boil over into an attack where she would sequester herself in a panic. 
"I pretty much had a miracle moment when I went to a college church camp," Fraser said. "That miracle — which I wholly believe it was — I have not had an anxiety attack in that way for about two years now."
While Fraser found her answer, she turned her miracle into a way to help others. She uses her story as a tool, she said,  to spread hope and awareness. 
"Hopefully I can teach others that it is OK to have those anxious feelings, it is OK to talk about anxiety attacks, it is OK to be depressed — but it is not OK to suffer in silence," Fraser said. 
Local support 
Sherman encourages readers to look out for each other — if you see someone struggling, don't be afraid to say something. Give that person tangible ways you can help. 
"Giving them some tangible ways that you can help can be (beneficial), because sometimes … if they're going through a crisis, they might not be able to think through what they really need," Sherman said. 
Lesley expressed desire for the MSU community to educate and take care of themselves to be a better example for others and be able to provide balanced support. 
Fraser reflected on this idea. She said by acknowledging your own challenges by taking positive action for yourself, you'll set an example for students living with mental health worries from children up to college level. She said knowing your friends well is an instrument that can be used to notice abnormal behavior in people we care about. 
"A lot of people will hesitate to do that, though, because they're concerned it will harm their relationship with that person," Fraser said. "But it is important to remember that saving a life is better than saving a friendship."
Resources: