The owner of Wheeler Work Trucks on St. Louis Street, Kirk Wheeler, has always been fascinated by Route 66. With retirement in the near future, Wheeler decided to turn some extra property he owns into a Route 66-themed food truck park and diner later this summer.
His property at 1530 E. St. Louis St. will be transformed into the Birthplace of Route 66 Food Truck Park & Diner. It will include 10 individual food truck sites with an indoor diner for customers to take their food inside to eat, as well as outdoor seating when weather permits.
"Most food trucks in this part of the country are seasonal," Wheeler said. "In this situation, they can work 12 months out of the year and have a place where their customers can go inside and sit down."
While the diner itself will not serve food, it will include a full-service bar. Wheeler said he plans to keep all the locally brewed beers on hand.
"I'm going to redo the building and make it resemble an old diner with neon lights and fun Route 66 automotive-themed decor," Wheeler said.
He plans on putting a small retail area in the front with Route 66 memorabilia for visitors.
"That corridor of Route 66 between Glenstone and National has just kind of been ignored," Wheeler said.
Wheeler said that strip has been known as a used car lot, and there is no place to get a drink or something to eat.
"Hopefully this food truck park and diner will be the first domino to fall, and it will bring more attention to the area," Wheeler said.
Cars have always been a hobby of Wheeler's. He said he restored his favorite car, a 1966 Chevrolet Malibu, that was passed down from his grandmother to his mom and eventually to him.
He said he and a friend are in the middle of a Route 66 trip. They went to Chicago in his 1966 Chevy pickup and drove the route back to Springfield. They plan on finishing the journey by driving from Springfield to Santa Monica, California, in June.
"I'm hoping that will bring more attention to the local people that that's part of history," Wheeler said. He said he hopes the food truck park and diner will become a dinner destination for locals as well.
"When the family can't decide where to go, I'll have 10 of the best restaurants basically in one parking lot," Wheeler said. He plans to have live entertainment there from time to time.
Food trucks in Springfield are preparing for the move to the park late summer.
Cody Davis, owner of the food truck Davalon, has owned his truck for 1 1/2 years and said he is anticipating the opening of the park.
"Right now we do Tex-Mex, and Japanese … and we're going to start introducing Korean and Vietnamese-style food once we hit the food truck park," Davis said.
Davis has had a passion for food for well over a decade — before opening Davalon, Davis was a chef at Ocean Zen for 15 years.
"I'm a foodie, so I'm going to start doing all kinds of crazy features, like I might even start offering sushi," Davis said. "For me, it's being able to play."
Davis said he only does events now and is excited to be able to serve the public.
Kenny Crow, location manager for the London Calling Pasty Company food truck, which has been in business for 5 years, said he is excited for the opening.
"What I'm most excited for is to be able to have more of the food trucks around — it is rather lonesome out here," Crow said. The London Calling food truck is one of the only ones parked at the food truck park on Glenstone Avenue.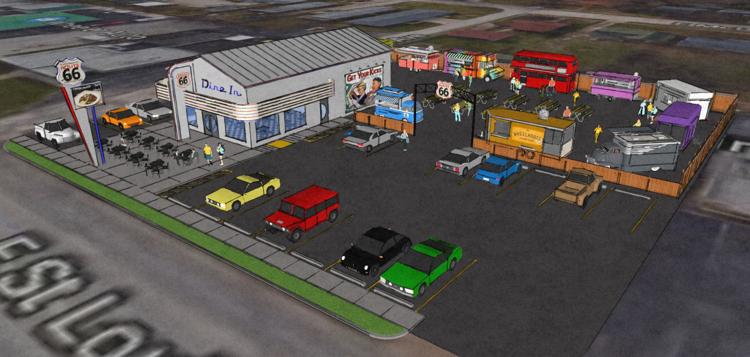 Crow said a lot of his food truck friends will be joining them at the new location.
"It's somewhat of a bringing our family together under the same roof," Crow said.
Wheeler said they are anticipating an opening sometime in late August or early September with all 10 food truck spots taken. So far five food trucks have committed, and Wheeler said he has five others seriously considering. The five trucks who have committed are London Calling Pasty Company, Davalon, The Wheelhouse, Olive Branch and Holy Cow Food Truck.
"It's going to be a large opening; we're going to be rolling out the red carpet … it just can't get here fast enough," Crow said.