While chanting phrases like "My body, my choice" and "My clothes are not my consent," about 75 people walked almost a mile to support sexual assault victims and protest victim blaming, slut shaming and sexual assault for Sexual Assault Awareness Month.
The PowerWalk, organized by Me Too Springfield, was April 7. It began at Jordan Valley Park and ended at Best of Luck Beer Hall. Me Too Springfield president Jordan Harris said she plans to host this event every year.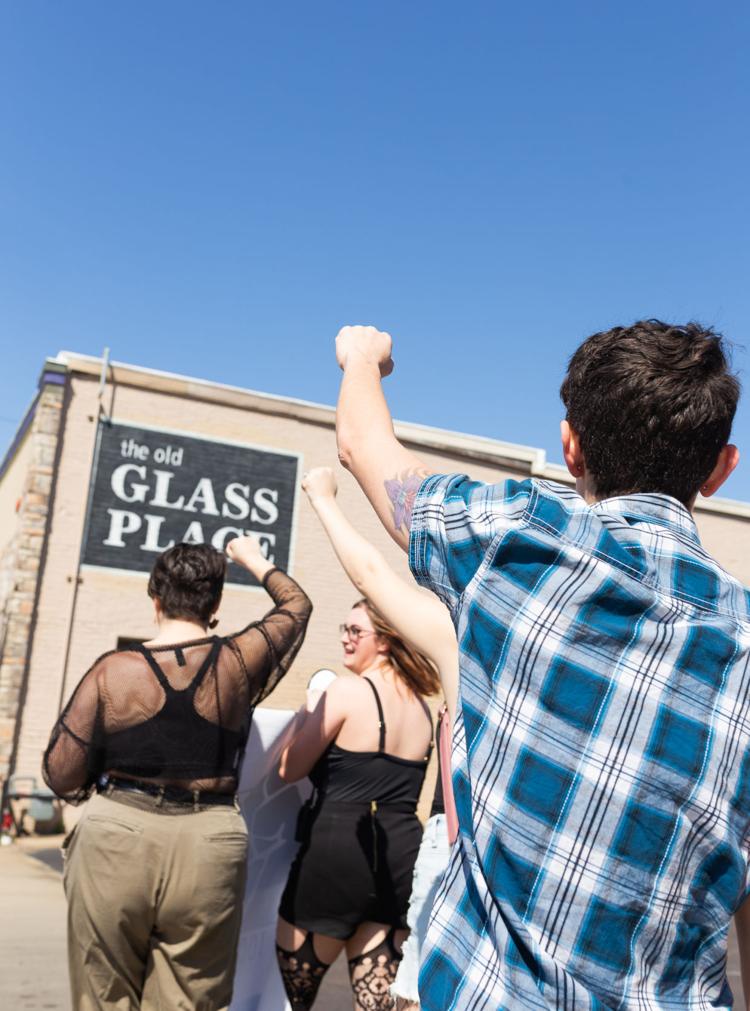 After the walk, Harris gave a speech about the importance of advocating against sexual assault and educating others. Harris said she thinks this event fills a need in the community.
"All over the world, women are constantly made to feel like victims," Harris said. "We are told that it's our responsibility not to get raped… Not only does this divert attention away from the real cause of the crime, but it creates a culture where rape is allowed to happen."
Harris said she is especially passionate about educating people about sexual assault from coercion. She said people who were sexually assaulted from coercion often don't realize it until much later.
"I was sexually assaulted from coercion," Harris said. "Educating people on what coercion is, how to be clear with consent and being there for the victims who weren't aware that what happened was sexual assault is really important to me."
There was also an exhibit at Best of Luck called "What Were you Wearing?" that showcased stories of local residents who survived sexual assault and the real clothes they were wearing when it happened.
Southwest Baptist University student Savannah Marie was in the exhibit. She was sexually assaulted by a family friend when she was 14. Marie said she appreciates how Me Too Springfield gave a voice to her and other people who survived sexual assault.
"It took me, personally, six years to get a voice, and now I get to stand for other people who can relate," Marie said. "Nobody in my family had a voice for me. Me Too Springfield helped me. Sexual assault survivors are often too scared to talk about it, and I don't want to live in a society where you can't talk about it."
Sophomore global studies major Kaylynn Wake attended the event to support Marie and her sister, who also had a display in the exhibit. She said it's important to her to stand withall the sexual assault survivors in the community.
"It's really easy to share something on Facebook for Sexual Assault Awareness Month or say that you support it, but it's important to actually bring that into your daily life and show the people in your life that you stand with them and believe them," Wake said.
Wake said she encourages everyone to go to marches like this, even if you're scared or have no one to go with.
"For me, it has always been super empowering to watch these people get a voice for the first time in their lives," Wake said.
Trysta Herzog, chief relations officer at Big Brothers Big Sisters of the Ozarks, said she attended the event to stand in solidarity with other sexual assault survivors and raise awareness about sexual assault.
"The more we say 'Me too,' the more people who come and are able to give voice about the things we've been through, the more that the public will see that this is a real issue and it's affecting a lot of people, including people they know," Herzog said.
Herzog held signs that read "One in 33 men are victims of sexual assault. We stand with male victims too" and "Every 98 seconds someone is sexually assaulted. Every eight minutes, that person is a child."
These statistics, and others about sexual assault, can be found on the website of the Rape, Abuse & Incest National Network.
Herzog said she is especially passionate about issues regarding children.
"I was sexually abused as a child, and we have so many children in our community who face similar circumstances," Herzog said. "If we can shine light to these issues, I think we can really make a difference."
Kelsey Nichol, vice president of Me Too Springfield, said she wants survivors to know that Me Too Springfield is there to help sexual assault survivors by advocating for them and helping them find resources.
"When I was sexually assaulted, I didn't think there was anything to help me," Nichol said. "I never came forward and never did anything about it because I felt really alone. We will do whatever it takes to help you and get you the justice you need."