Missouri State University sent out emergency alerts regarding shots fired around 6 p.m. Saturday, Nov. 21 at Monroe Apartments on Bear Boulevard.
The first alert sent out by MSU around 6:04 p.m. said an active shooter was reported at Monroe Apartments and advised students to run from the area, or otherwise hide.
MSU sent out another alert around 6:12 p.m. which said there were reports of shots fired at Monroe Apartments, but there was no active shooter threat at the time.
The Springfield Police Department said in a tweet at 6:25 p.m. four shots were fired and two hit the Monroe Apartments building.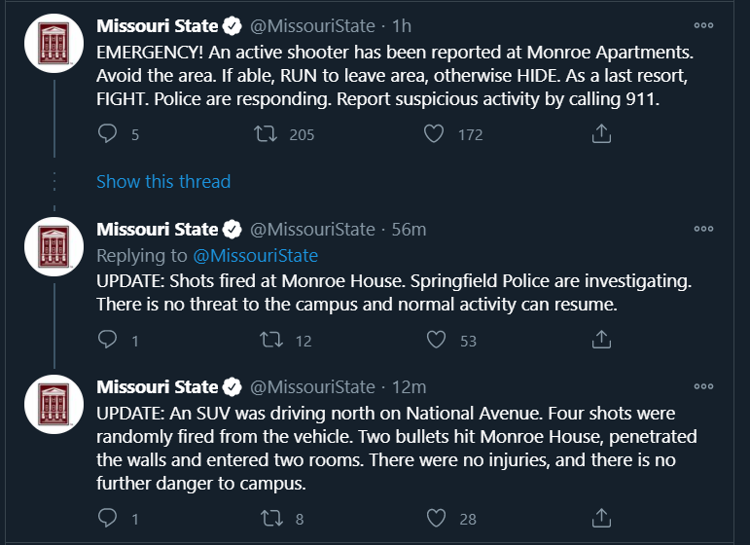 MSU has issued an all clear and said normal activity can continue, according to a text alert sent at around 6:27 p.m.
Around 7:30 p.m., MSU sent out another alert that an SUV driving north on National Avenue shot at the Monroe Apartments building four times. Two bullets penetrated the building and entered two rooms. There were no injuries.
After around 7:30 p.m., police left the scene.
Disclaimer: This is a developing story. This story will be updated when more information is available.
Follow Afton Harper on Twitter, @affie888
Subscribe to The Standard's free weekly newsletter here.