On Tuesday, June 9, Springfield Police Department officer Mark Priebe responded to a disturbance outside of the police headquarters in Springfield. 
When examining the exterior of the building, Priebe was hit by a car, driven by disturbance suspect Jon Tyler Franklin Routh. The accident resulted in Routh being shot. Priebe suffered significant spinal-cord injuries. 
Priebe has now been relocated to Craig Hospital in Englewood, Colorado to progress in rehabilitating. His wife, Heather Priebe, has given updates on his status on a Facebook page called, "PrayersforPriebe."
Mark has been at the rehabilitation hospital since he left Springfield on Thursday, June 18.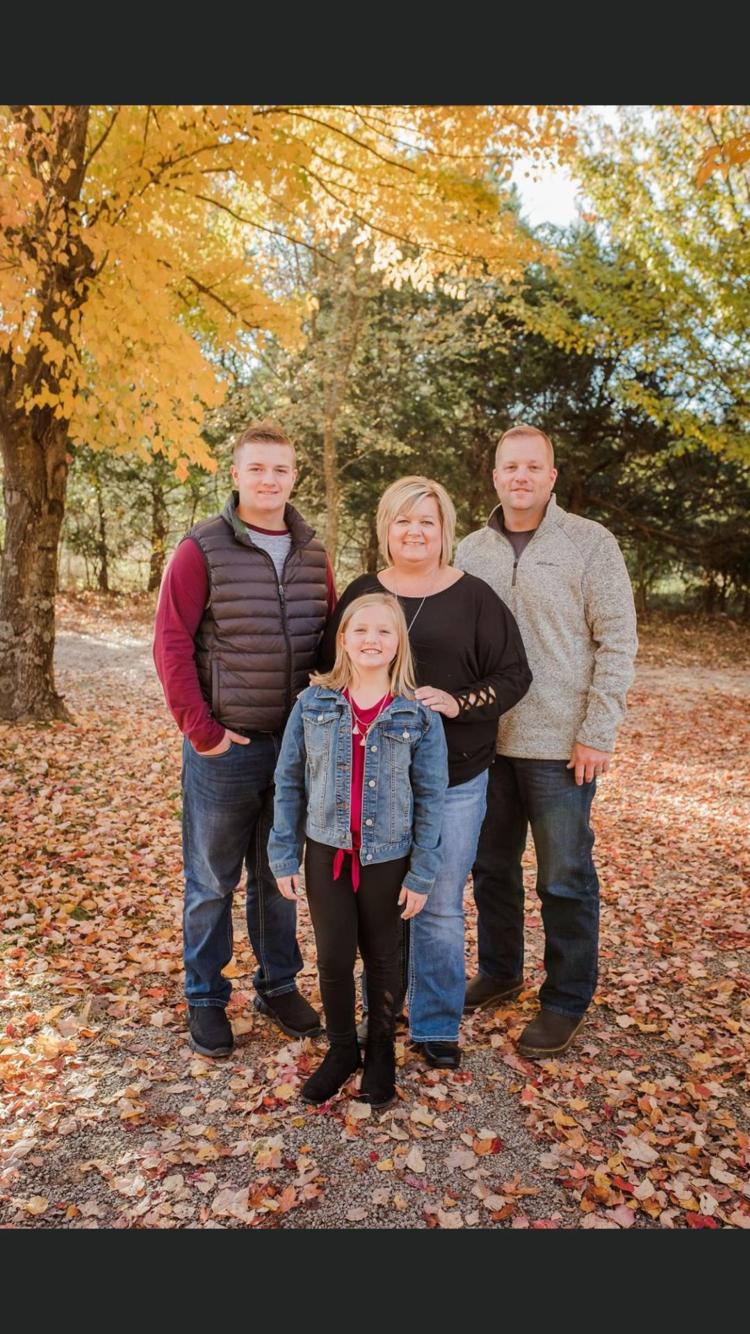 Jasmine Bailey, public affairs officer of the Springfield Police Department, posted on the Springfield Police Department Facebook when Mark and his wife left Springfield. 
"This morning we saw off officer Priebe as he left for Colorado for rehab. He and his wife made it there safely and his journey to recovery continues. Say a prayer for them and the road ahead," Bailey said in the post.
Upon arrival at the hospital, Heather said in an interview that Mark was hopeful for what he will be able to accomplish at Craig Hospital. 
"We have had hundreds of people reach out to us and tell us what a wonderful place Craig is," Priebe said. "Because of that, we have hope and we are able to see the positive side of this tragic event."
Aside from people reaching out to share their thoughts on Craig Hospital via the Facebook page, there has been ongoing support from the community for the Priebe family. 
"We have had an overwhelming amount of support from friends and family in Republic, the state of Missouri, across the US, as well as around the world," Priebe said. 
Bailey noted that this is not the first time the community has reached out for an officer that has been injured in the line of duty. 
"Whenever any of our officers are injured or killed in the line of duty, as what happened in March, the community does rally around them to show support, whether it is donating monetarily, bringing food to the department to make sure the officers that are working are taken care of or sending Mark and his family cards," Bailey said. "There are tons of people who have offered to make donations and to help in any way that they can."
On June 9, a Go Fund Me fundraiser called "Help The Family of SPD Officer Mark Priebe" was set up by Nathan Engelking and Ashley McGill for the Priebe family. As of June 28, the fundraiser raised $125,744, exceeding the original goal of $30,000.
The fundraiser reached nationwide attention after Donald Trump Jr. tweeted the page. 
"Help the Family of SPD Officer Mark Priebe," Trump Jr. tweeted on June 14.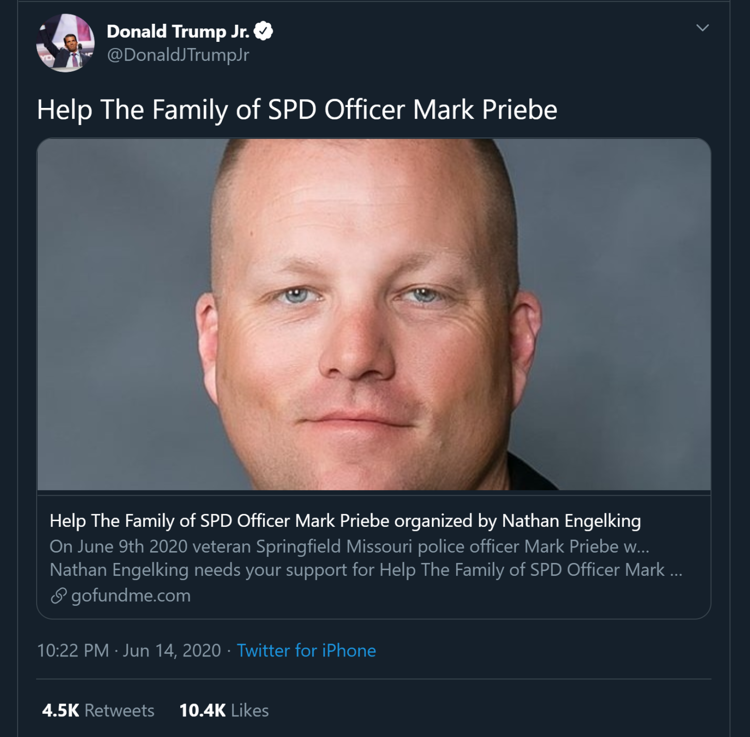 "Our son is a huge Trump fan, so this made his whole day," Heather Priebe said. "Not the way you want to be recognized by Trump Jr. by all means, but it was special."
Heather Priebe said Mark could be in recovery for two to three months, and their son and daughter are not with them in Colorado. They are planning to stay at home and go to school come fall. However, they are being updated on Mark's latest progress.
"We will continue to move forward together as a family, supporting Mark and encouraging Mark," Heather said. "We have always been a transparent family. There isn't much that we haven't taught or told our kids."
Heather will return to Republic in early July.
"It's going to be hard not being there to watch Mark as he moves forward in his recovery," Priebe said. "But I know he will do great things and as soon as I get back to him, he will be able to show me all that he has learned."
In a post on the "PrayersforPriebe" Facebook page on  June 26, Heather described what Mark has been learning in rehabilitation.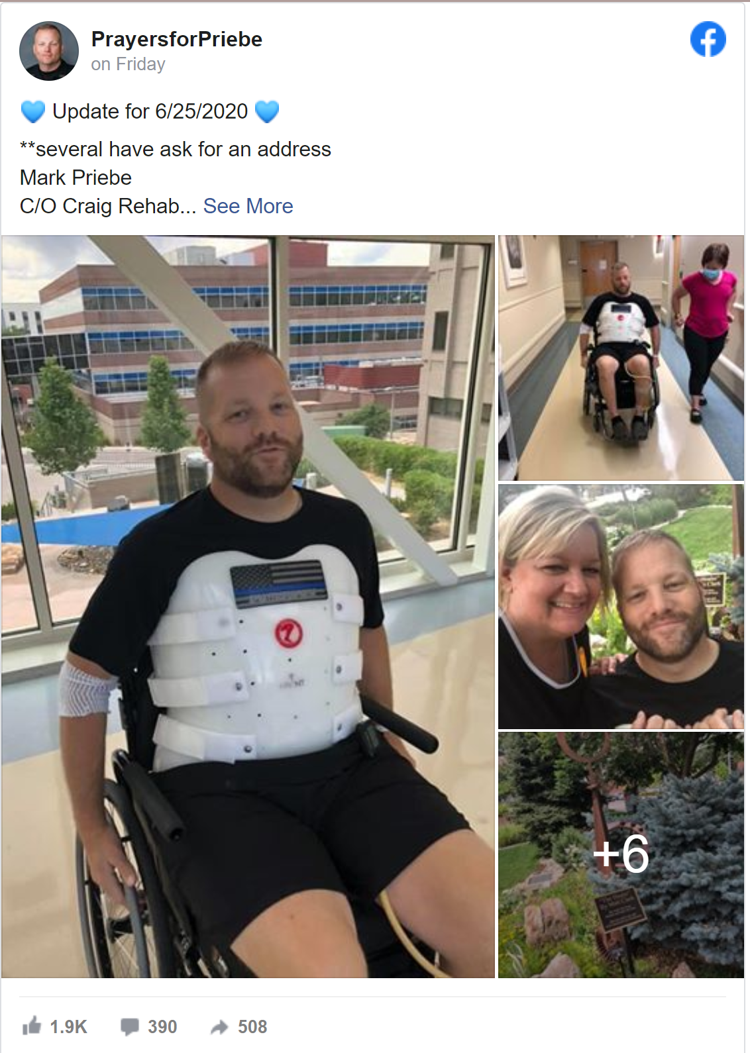 While Mark is recovering, the Springfield Police Department is still investigating the incident. The department has not released a new public statement.
"It is an active investigation and there are not many details the Springfield Police Department can release while we are looking into everything," Bailey said. 
The suspect, Jon Tyler Franklin Routh remains in custody in the Greene County jail, according to inmate booking, held on two charges of first-degree assault and second degree tampering with a motor vehicle. 
Heather said Mark and her want everyone to know their lives will be different forever, but they are thankful for the outgrowing support from the community. 
"What happened June 9 forever changed our lives," Heather said. "It has brought us closer together, not just as a family, but with friends, with Mark's Thin Blue Line family and with people all around the world that we have never met. Thank you for all the love and support you have shown our family.  We love you!"
For updates on the investigation, check the Springfield Police Department Facebook page.