A short torrential downpour didn't stop around 250 students from participating in a peaceful protest and march around campus Monday afternoon.
The Multicultural Students Against Systemic Racism protest began at 1 p.m. outside of Carrington Hall. Students were encouraged to wear masks and stand at least six feet apart from one another in the historic quadrangle.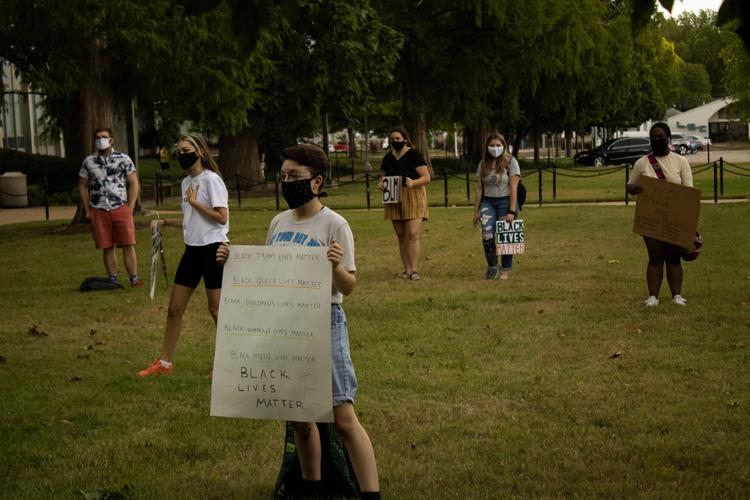 Signs reading phrases such as "Racism is a system, not an event," "Silence = Violence" and "If you're not livid, then you're not listening" were scattered across the quad.
Freshman Jentri Oitenger was one of the many students holding a homemade sign high above her head. Her sign showcased a fist rising up among the names of individuals who have lost their lives due to police brutality.
Oitenger said she learned about the protest via posters in her residence hall and wanted to show her support.
"White silence is complacency, in my opinion," Oitenger said. "We have to come out and show that we support our folks, that we support change and reform."
The protest was led by Britni Fletcher, junior literature and dance major, and Jocelyne Torres, junior social work major.
According to Torres, the protest had been in the works for about a month, before classes started. The two reached out to various campus organizations, including the National Pan-Hellenic Council, Sister Circle, Association of Black Collegians, Melaqueer and Generation Action, to spread the word.
"We didn't think it was going to get this big," Torres said as she recited the list of involved organizations. "We just thought it was going to be a couple of us, immediate friends."
But, it was more than just a few immediate friends gathered on the quad as Torres and Fletcher discussed the importance of coming together to make change happen on campus and within the Springfield community.
Fletcher outlined a list of demands to university administration, including the creation of a larger space on campus than the Multicultural Resource Center — currently split between a room on the first floor of the PSU and in Freudenberger House's basement — for students of color.
"We are no longer asking for change, we are demanding it," Fletcher said. "It is time we put ourselves in the frontlines, rather than in the back."
As the women began to conclude, the cloudy sky above let loose.
Squeals and laughter filled the air as the protesters rushed into Plaster Student Union for cover. single file, the damp group made their way into the PSU Theatre.
Apryl Myers, graduate student and Student Government Association chief of staff, took the floor.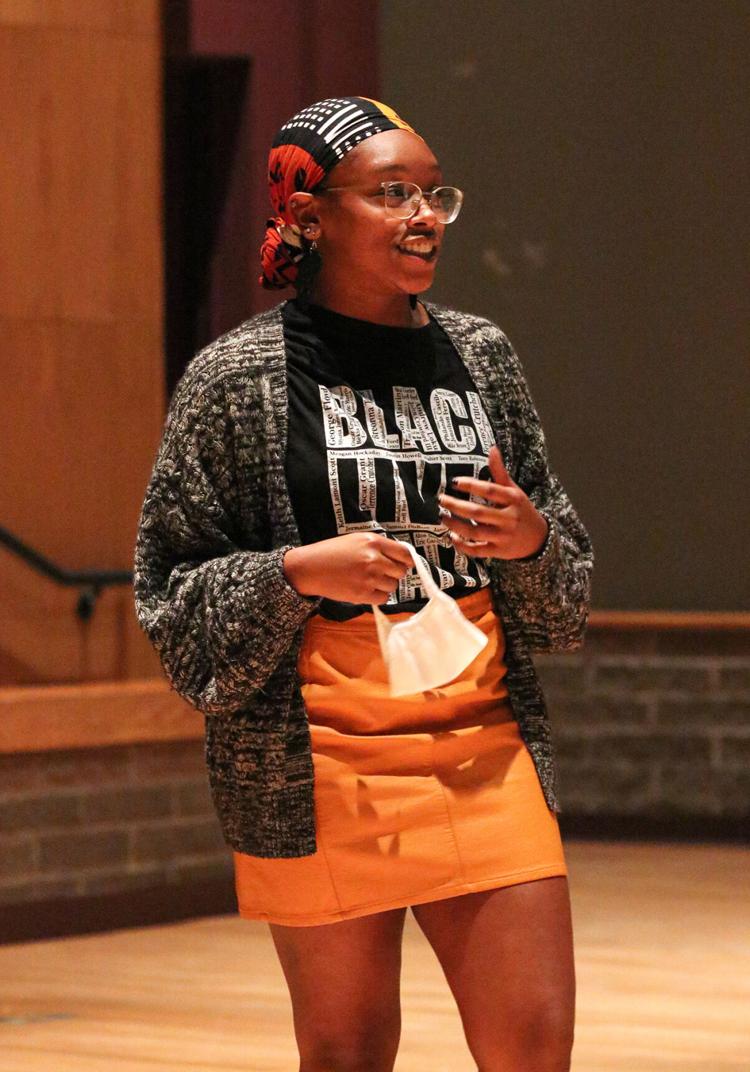 "These are two amazing women," Myers said, as she gestured to Torres and Fletcher. "Just watching them as a graduate now, watching how they progress has been inspirational. I know they look up to me, but I also look up to them. The fact that these two have been able to create something like this and bring us all together right now, that's awesome."
The theatre erupted in applause. After a few final remarks, Fletcher thanked her peers for their participation with dismissal. But, that wasn't the end.
With the clearing of the rain, the protesters decided to venture back outside. As the afternoon sun began to peek around the clouds, the group's energy blossomed.
With several megaphones among the students, a leader began a chant, followed by another. Then, they were marching.
"What do we want? Justice! When do we want it? Now!"
The pack of 250 students made their way around campus, gaining followers along the way, before landing at the bear head in the center of campus, near Robert W. Plaster Stadium.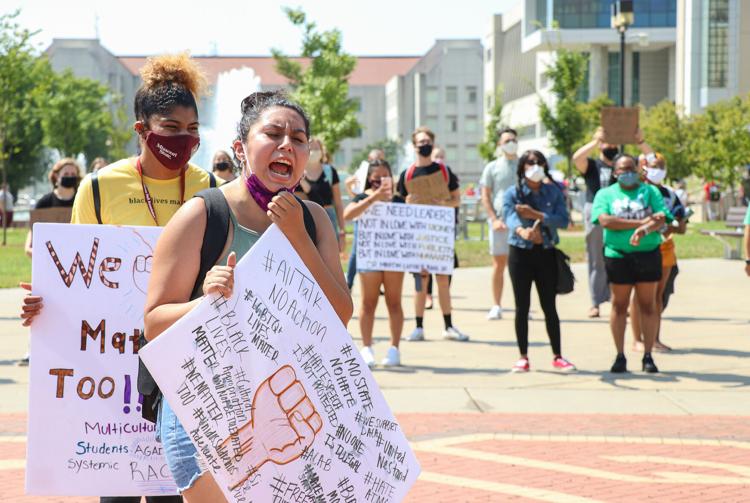 Chanting and cheering continued up until 3 p.m.
"I think there is strength in numbers, and when a lot of people come together, regardless of race, age and gender, the impact is greater," Fletcher said. "We have to do something because we are the community."
A second protest, led by freshmen James Wilson and McKenzie Mitchell, will be held outside of Blair-Shannon House tomorrow, Wednesday, Sept. 2 from 3-5 p.m.