As of Monday, March 16, the Centers for Disease Control and Prevention is recommending U.S. citizens to cancel any events or gatherings of more than 10 people.
Earlier this week, Missouri State University sent out a campus-wide email, which followed suit, addressing campus events for the remainder of the spring semester. 
"All non-academic and student events scheduled through the end of the semester are cancelled," the email stated. "This includes SGA, SAC and FSL meetings and events (including Star Awards, scholarship banquets and Greek Week activities)."
Students involved in different activities and senior showcases reacted differently across the board.
Greek Week
MSU'S Greek Week was scheduled for March 30 through April 4. Fraternity and sorority chapters have been preparing for the week's activities since January.
Lauren Spears, a senior public relations major, was the Greek Week Chair for Gamma Phi Beta. Spears said her sorority and fraternity pairing decided their theme and held Greek Jam auditions in January.
Greek Jam, held at the end of Greek Week, is a choreographed dance competition between teams of fraternities and sororities. Each team showcases a different theme through props and costumes.
Although she was anticipating it, Spear said she cried when she found out the week's activities had been cancelled.
"I cried because I have been heavily involved in Greek Week since I was a freshman," she said. "I was a dancer in Greek Jam for three years, I represented us as goddess the year before, so it's always been something that I've been very involved in and it's been one of my highlights of my time in FSL. I wanted this to happen more for the people who were involved in Greek Jam and those who had volunteered their time to represent chapters as god and goddess. I wanted those people to be able to experience the joy of that week that I had in years past."
Spears said she believes her chapter had already spent about $1,200 for Greek Week.
BFA Acting & Musical Theatre Showcases 
Mary Kim, a senior BFA musical theatre major, also sees compromises within her program.
Kim was supposed to attend the Los Angeles Acting Showcase in April and the BFA Musical Theatre Showcase in New York, which was scheduled for this week.
While both trips have their own agendas, they are similar. Both give students the opportunity to prepare audition materials, such as a resume, cover letter, website and headshot, and connect with industry-level agents and managers.
Kim auditioned for the acting showcase during the 2019 spring semester and spent the summer researching agents and managers in Los Angeles to invite to the showcase to watch her perform.
Kim began preparing for her New York during the 2019 fall semester, by rehearsing a solo act and a group number with the Missouri State jazz band.
This year, the musical theatre showcase was going to offer something new, an industry showcase. According to Kim, Missouri State alumni in New York have been working on a digital campaign to invite agents and managers in the area to a 50 minute performance, showcasing MSU's graduating musical theatre seniors.
Kim was on her way to the St. Louis airport with her friend on March 12 to fly out to New York, when the two received a text from their music director. The portion of the BFA Musical Theatre Showcase, which included the jazz band, had been cancelled.
"That was just a shock," Kim said. "I remember (my friend) and I were like, 'Holy s***. This is insane.' We were devastated. At that point, we were like, 'Is everything going to get cancelled?' We didn't know what was happening. We kept driving, just hoping for the best."
45 minutes later, they received an email announcing the entire showcase had been cancelled. 
"I pulled over on the side of the road and it was just wild," she said. "My friend and I just immediately hugged each other and were like, 'Okay, what is happening?' and immediately it went into, 'We need to change our flights (and) see if we can get money back.'"
On March 18, Kim received another email from the department announcing the cancellation of the Los Angeles showcase, along with all of MSU's spring shows.
"It (was) a sad day, but it's kind of a time where I'm just really proud to be a part of our theatre department family," she said. "I guess there is a sense of loss, but it's not with bitterness or that I've been robbed by someone specifically, because I understand what they had to do and why they had to do it and that's kind of how, as a collective, we've all felt."
Kurt Heinlein, theatre professor and coordinator of the BFA acting program, said although he is disappointed the showcases were cancelled, the department is planning to reschedule them both for next fall.
"The faculty and administration are committed to fulfilling these experiences for our students," Heinlein said. "In this light, faculty can direct seniors towards successful graduation, garnering summer industry work and re-convening in the fall in New York City or LA to perform their industry showcases."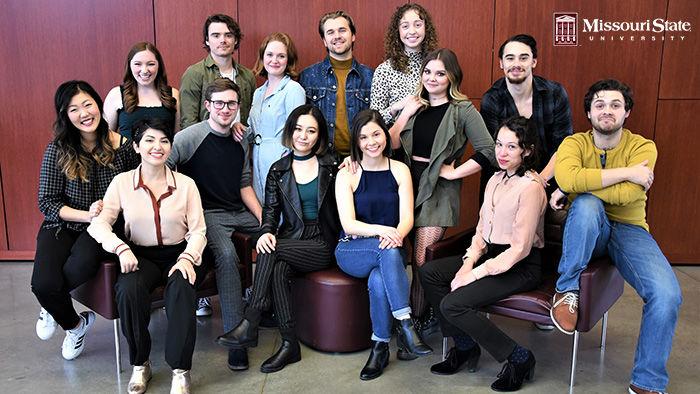 Aerialist Showcase
The Aerialist Club at Missouri State assists students in learning aerial arts on silks, lyra and hammock, according to Rebecca Harris, a senior majoring in creative writing. Harris has been a member of the aerialists since September of 2018.
The Aerialist Showcase was intended to be held on April 3 from 6:30-8 p.m. in the PSU Theater.
Although the aerialists perform multiple times throughout the year, the showcase is their largest performance and how the club receives the majority of their funding, besides inside help from the Student Organization Funding Allocation Council, Harris said.
The club began preparing for the showcase in early February by choosing an overall theme, which was going to be "Masquerade." Each performer chose a song and type of apparatus, or material, for their routine during this time too.
Harris said many of the performers had already purchased pieces of their costumes and the club's president had already secured the PSU Theatre for the entire day.
"My group and I were concerned it would happen," Harris said regarding the cancellation of the showcase. "I was at work when I saw the email. I was super upset."
Harris said the showcase was supposed to be her first "real" aerialist performance because she had a knee injury in the past. 
Harris said her biggest concern is how the club will move forward. Many of the performers have decided to stay home for the remainder of the semester and rescheduling the showcase to summer would leave seniors without their final showcase.
"Overall, it is really disappointing," Harris said. "However, I'd rather protect my parents and my friends and their families, as many of them have autoimmune disorders and are very susceptible to contracting the virus."
Interior Design Senior Showcase
Many students are involved in extracurriculars, which have cancelled their spring semester events. However, some students are seeing the impact within their major's program.
Amanda Link is a senior interior design major and received an email Tuesday morning, informing her the Interior Design Senior Showcase was cancelled. 
The showcase was supposed to be held on Friday, March 27.
According to Link, 30 seniors prepared for the showcase, building and designing a booth to showcase their best interior design work.
"I was very upset that the show was completely cancelled and not even rescheduled," she said. "I've been buying and building my show since Thanksgiving. I personally have spent almost $1,000 on my set and everything was already built and ready to go."
There are countless other campus events which have been cancelled for the spring semester. Students interested in learning more, should stay in contact with instructors and activity committee members.