Hundreds of tealight candles lined and surrounded the Park Central Square fountain last night, Sunday, June 7, as protests continue nationwide.
The candlelight vigil saw people come together in solidarity to mourn not only George Floyd, who was killed by a Minneapolis police officer two weeks ago today but also all of those who had been killed due to police brutality. Names mentioned included the recent Breonna Taylor, who was killed during a police raid when officers entered the wrong home, to Trayvon Martin, whose murder began the Black Lives Matter movement in 2013.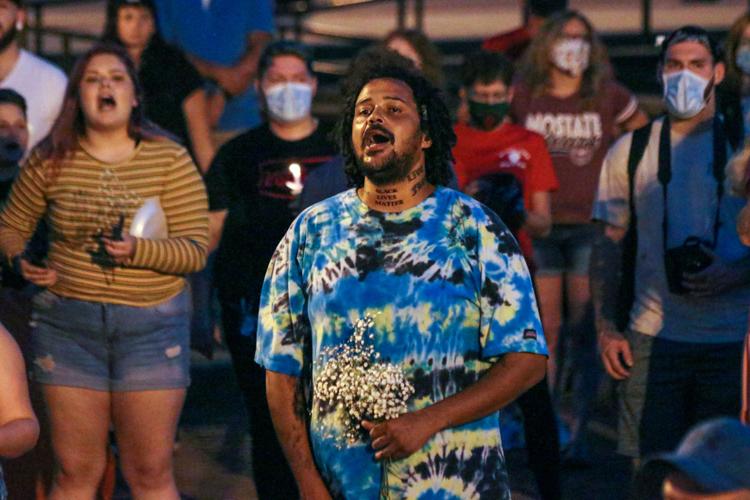 Co-coordinator and primary speaker at the event, Jordan Whitaker, stood on the base of the fountain, guiding the crowd to get candles and paper sky lanterns and leading them in chants.
"This is something we are doing to be at peace and at one with everybody," Whitaker said. "We're out here to come together as a community, to commemorate and mourn all of those who have been lost to police brutality."
As the sun set, people released paper sky lanterns, which were provided. As the last one set off, the crowd erupted in cheering.
An organizer for the first George Floyd protest, May 29 in downtown Springfield, Isaiah Burnette, was in attendance and among the first to go up and speak to the crowd.
"Just a few days ago I was pulled over, and I started to fear what might happen," Burnette said. "It's messed up that I feel that way. Not one of us deserves to feel that way."
Dmitri Trujillo, a Missouri State graduate, was present for the candlelight vigil, as well as nearly all of the previous police brutality protests in Springfield during the past couple of weeks, including Saturday, June 6, when he ran a hydration station.
"Yesterday's protest was very peaceful but powerful in the sense that so many people were there to call for change," Trujillo said at the vigil. "This (candle lighting) feels like there is a lot of love, and it helps us realize that we as a community are ready for that change."
Towards the end of the event, community members were encouraged to join Whitaker on the fountain to share their experiences and thoughts.
"George Floyd was not the wakeup call," Whitaker said. "He was the one that broke that barrier of tolerance, and now none of us can sleep on this problem anymore."