With temperatures remaining below freezing, another roof is sheltering members of the homeless community in Springfield.
On Friday, Feb. 12, Eden Village, a tiny home community for chronically disabled homeless individuals, opened their community center as a cold-weather crisis shelter. Eden Village, which opened in 2018 and houses approximately 30, is an entity of The Gathering Tree non-profit.
The new shelter, located at 2801 E. Division St., opened in partnership with One Door, a community outreach program in the Ozarks.
According to the Community Partnership of the Ozarks website, One Door "serves those who are homeless or at immediate risk of homelessness throughout Greene, Christian and Webster counties."
The American Red Cross provided 25 cots, available to both men and women. Pets are also welcomed at the shelter, according to Eden Village Community Coordinator Kelbi Schlueter.
"It's a big deal because a lot of times people won't seek shelter because they don't want to leave their animals (outside)," Schlueter said.
Due to COVID-19, shelters can only house at half capacity to ensure proper social distancing. Schlueter said this created a scenario where members of the Springfield community had to step up. 
As of Friday, Feb. 19, the shelter was full every night for the first week of its opening. Schlueter said homeless individuals are transported to the shelter from the Veterans Coming Home Center around 8:30 p.m. Once checked in, individuals may take a warm shower and receive snacks.
Now a streamlined, staffed process, this was not the case for the shelter's opening night, or so Schlueter thought.
Giving back
"When we opened last Friday, One Door said to us, 'Hey, we don't have anybody to work tonight. We'll staff it with volunteers (moving forward), but would you find some volunteers for us tonight?'" Schlueter said. "I put out a little social media plea, and we did have a huge response to that, but what started happening here was my residents started saying, 'Oh, I'll help with the shelter.'"
Schlueter said about 12 Eden Village residents stepped forward.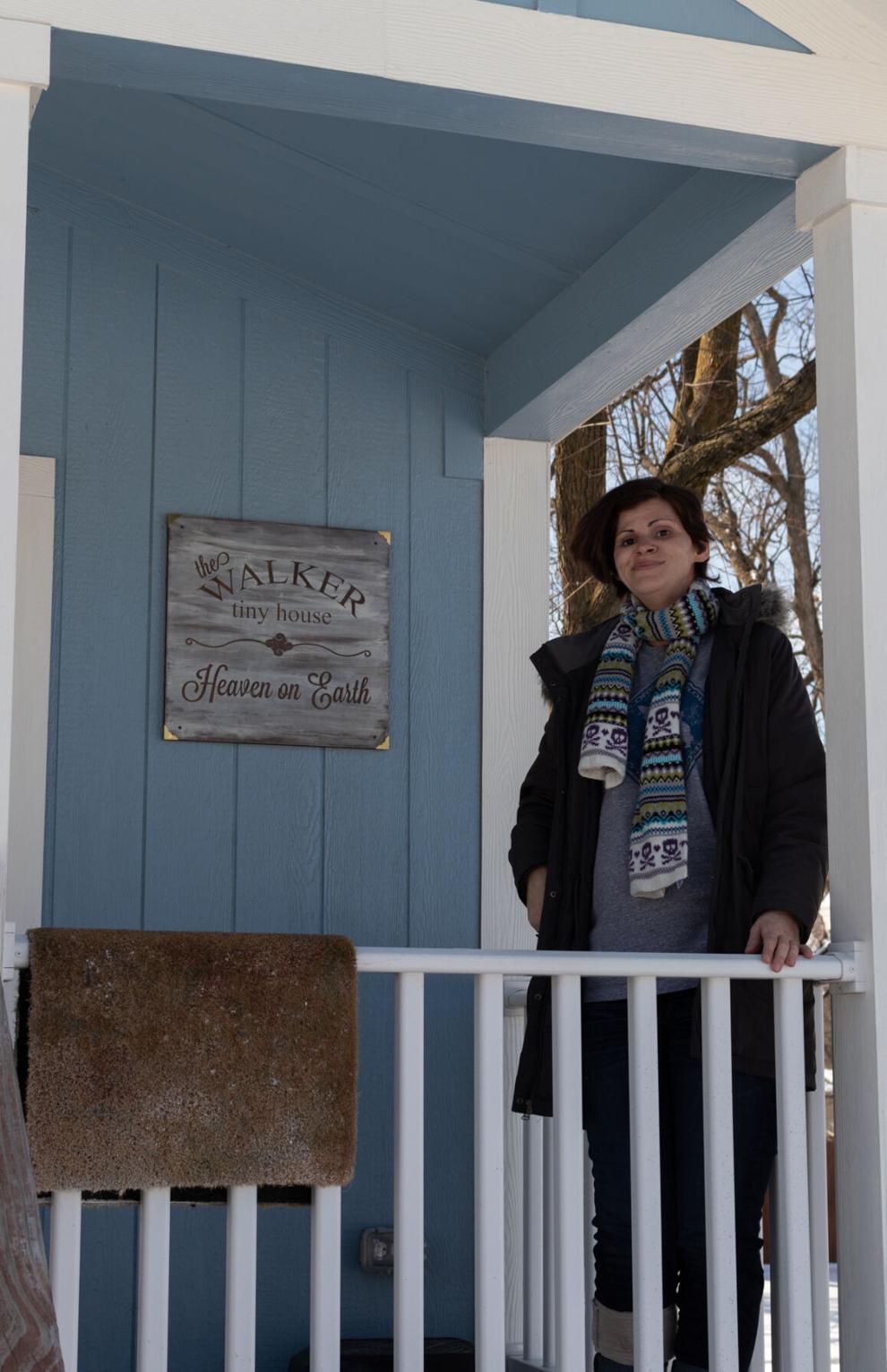 "Usually when somebody volunteers at a shelter, you either have to stay up all night or you have to have at least a partner to be on duty with you," Schlueter said. "It's a pretty big sacrifice to ask people to work at a shelter because they're sacrificing their sleep."
However, due to the extra hands, Schlueter creates 2-3 hour shifts for each resident over the course of the night.
One volunteer is resident Miranda Barrows, who has lived at Eden Village since October 2019.
Barrows works the first shift, which is typically more involved, as these volunteers are responsible for check-in and getting individuals settled in the space, but Barrows said she enjoys it.
"I was just happy we could provide 25 more spaces," Barrows said. "It's 25 more people who are off the street at night. I am happy we can do what we can to help."
Eden Village has three rules: no alcohol, no drugs and be kind. Barrows said she works hard to implement them all, but especially the latter.
"It was just such a beautiful thing to see naturally unfold," Schlueter said. "Their willingness to want to help and give back … Once they were homeless; they lived in survival mode. Now, they're here, they're safe and settled and they're in a completely different position in life. Now, they can give back. It gives me a lump in my throat because they've really stepped up."
According to Schlueter, the cold-weather crisis shelter at Eden Village will remain open through March when temperatures are below freezing.
Revive 66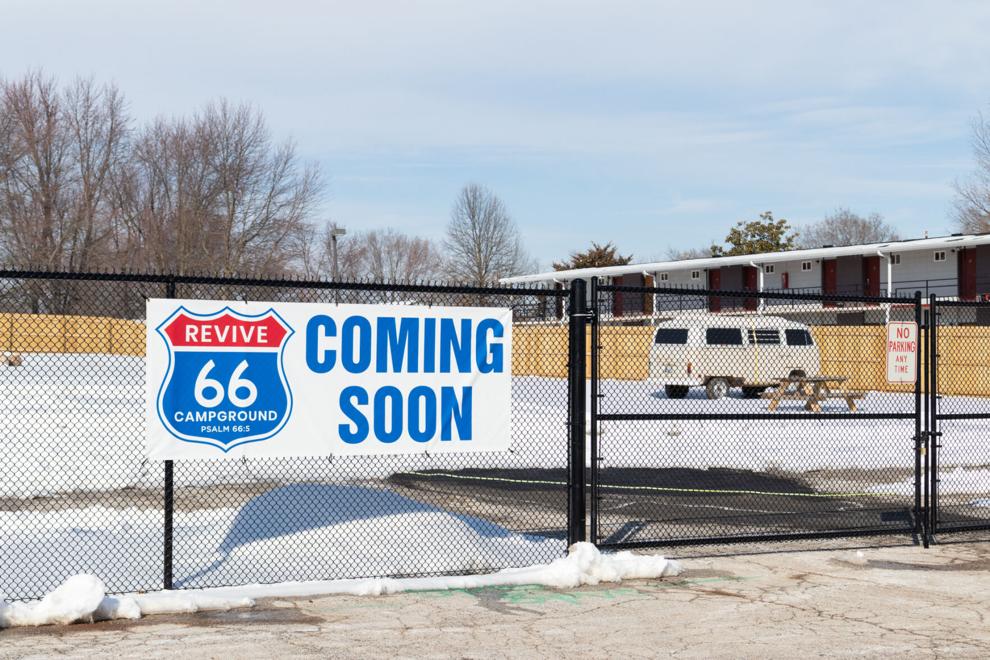 In addition to the 25 beds available at Eden Village's community center, five more beds — in the form of teardrop trailers — are also available.
These trailers are just five of what will be a 51 trailer campground located at 3839 W. Chestnut Expressway. Named in relation to its location on U.S. Route 66, the campground, Revive 66, is a project in progress.
"What we do at Eden Village is permanent housing, so everybody that lives here is chronically homeless … they can live here the rest of their lives," Schlueter said. "But we recognize there's this gap between people who are still on the streets and then before we can get them into Eden Village. There's a whole demographic of people who are just waiting."
The trailers will be available for nightly stay for $10, but Schlueter said anyone can make donations or sponsor a stay through One Door, who The Gathering Tree is partnering with to create the campground. In addition, anyone can sponsor a trailer, which is about $6,000.
According to Schlueter, the teardrop trailers can fit a bed, personal belongings, and a heater or fan — depending on the weather. The campground is also equipped with a shower and laundry trailer.
Currently, however, the campground is serving as a cold-weather crisis shelter, similar to Eden Village's community center. Therefore, payment is not required.
Once the campground opens officially, it will be open five nights a week. Schlueter said she hopes to play outdoor movies for entertainment in the spring and summer months.
As of Feb. 19, the campground does not have an official open date.
Those interested in volunteering at Eden Village's cold-weather crisis shelter should contact One Door at 417-225-7499 or sign up directly here.
For a complete list of homeless shelters in Springfield, click here.
Follow Greta Cross on Twitter, @gretacrossphoto
Subscribe to The Standard's free weekly newsletter here.