Everyone knows Ellen DeGeneres for her longtime running talk show, "The Ellen DeGeneres Show." She is also known for publicly announcing herself as a member of the LGBTQ+ community on an episode of her '90s sitcom "Ellen."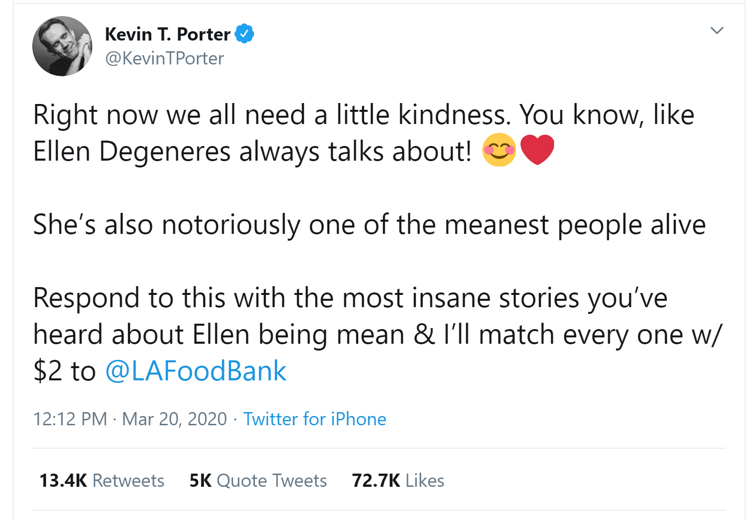 On March 20, comedian Kevin T. Porter tweeted, "Right now we all need a little kindness. You know, like Ellen DeGeneres always talks about! She's also notoriously one of the meanest people alive. Respond to this with the most insane stories you've heard about Ellen being mean & I'll match every one w/ $2 @LAFoodBank." 
This tweet, which has raised $600 for the Los Angeles Regional Food Bank, served as the official spark of "the people versus Ellen." A combination of production staff, as well as previous celebrity guests, have come forward with stories of a toxic and hostile environment. 
In April of this year, reports of outrage from her staff came to light as they remained unnotified on what their pay would be at the beginning of the COVID-19 lockdown, along with where the show stood. 
The cherry on top was that an outside crew was hired to help film DeGeneres' talk show from her home. This outside crew is separate from her typical staff on set.
Beyond the growing issues between the show and its staff, DeGeneres has made two controversial statements over the last few months.
During lockdown, DeGeneres compared the experience of lockdown to spending time in jail. This doesn't make much sense considering DeGeneres resides in a multi-million dollar home.
Furthermore, at the beginning of summer, amid the nationwide fight for Black Lives Matter, Ellen tweeted, "For things to change, things must change." The tweet is ignorant and meaningless and has since been deleted.
As the summer progressed, ex-employees of the talk show continued to detail DeGeneres as a challenging boss to work for.
I think for any long time fan of DeGeneres, this was shocking in numerous ways. DeGeneres has always been portrayed as this trailblazing woman of power who served as a role model and also a giver within her work. 
On July 27, WarnerMedia announced they would partake in an internal investigation into "The Ellen Degeneres Show."
For me, this is when the entire controversy surrounding DeGeneres became legitimized. Claims are claims; however when the company that owns her show gets involved, you know that's serious. 
A few days later, DeGeneres sent an apology letter to her staff about the conditions of working on her show and the poor treatment they received.
"On day one of our show, I told everyone in our first meeting that 'The Ellen DeGeneres Show' would be a place of happiness — no one would ever raise their voice, and everyone would be treated with respect," DeGeneres said in the letter. "Obviously, something changed, and I am disappointed to learn that this has not been the case. And for that, I am sorry." 
Even more baffling, the same day she sent this letter, several former staff members stepped forward, alleging that the show's top executive producers had multiple accounts of sexual misconduct. 
These allegations were against the show's head writer and executive producer Kevin Leman, as well as other executive producers Ed Glavin and Jonathan Norman. Weeks later, DeGeneres issued a second apology to her staff via Zoom while announcing the departure of Leman, Glavin and Norman from the show. 
"We have identified several staffing changes, along with appropriate measures to address the issues that have been raised, and are taking the first steps to implement them," Warner Media said in a statement. "Warner Bros. and Ellen DeGeneres are all committed to ensuring a workplace based on respect and inclusion. We are confident this course of action will lead us to the right way forward for the show."
The fact that the top staff members working on her show have sexual misconduct claims against them elevates this entire situation to a staggering level. Not only was DeGeneres a potentially challenging boss to work for, but she also either ignored what was going on behind scenes or chose not to do anything about it.
I also think DeGeneres' continued apologetic efforts stem from a guilty conscience and trying to save face. 
Another factor in this controversial investigation is the celebrities both for and against Ellen.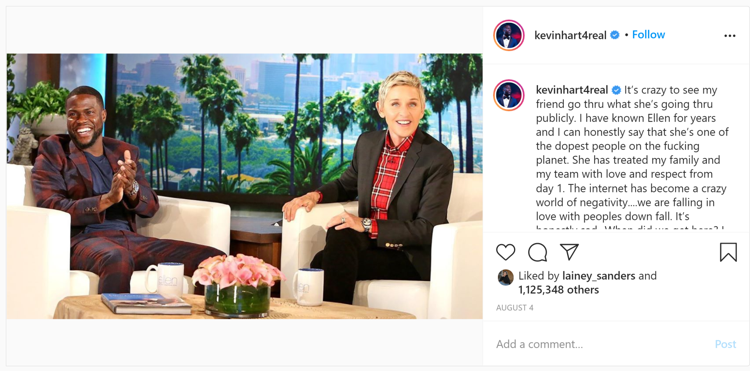 Kevin Hart shared a photo with Ellen on his Instagram, showing his support. 
"It's crazy to see my friend go through what she's going through publicly," Hart said. "This post is not meant to disregard the feelings of others and their experiences....It's simply to show what my experiences have been with my friend."
Other celebrities publicly defending DeGeneres are wife Portia de Rossi, as well as Katy Perry, Jerry O'Connell, Diane Keaton and "The Ellen Degeneres Show" DJ Twitch.
I love that these celebrities are speaking in defense of their friend; however, I think there comes a point when a number of complaints add up to mean something. Not to mention, it's not like Hart has the best track record.
However, there have also been celebrities against DeGeneres, including Brad Garrett, Lea Thompson, Eric Andre and former Ellen DeGeneres show DJ Tony Okungbowa.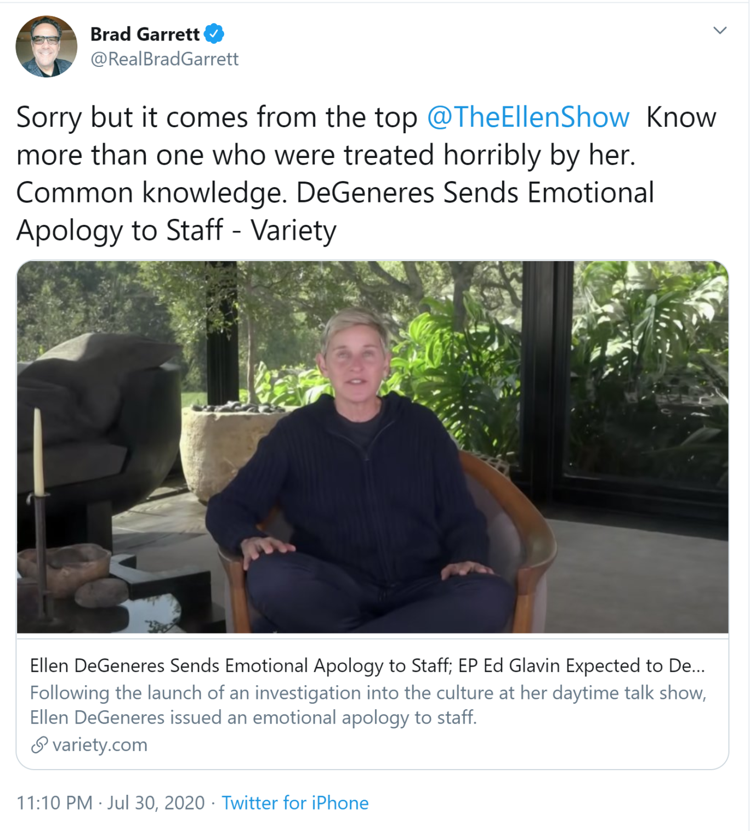 "Everybody Loves Raymond" star Brad Garrett tweeted, "Sorry but it comes from the top @TheEllenShow. Know more than one who was treated horribly by her. Common knowledge." 
For some people, when celebrities spoke out against DeGeneres, it may have become "real." However, it's different for everyone. What is most appalling to me is this woman who has done so much good for society through the lens of a camera, allowed so much bad to take place behind the camera.
DeGeneres will always be known for her valiant efforts in normalizing "coming out" for members of the LGBTQ+ community, and no one can discredit her humanitarian work she has continued over the last several years. 
This may be the end of Ellen DeGeneres and her legacy as we know it. "The Ellen DeGeneres Show" Instagram has not made a new post in four weeks.
WarnerMedia's investigation is ongoing, and no official reported decisions have been made.