While some college students are rolling out of bed 10 minutes before their 8 a.m., others are clocking out of work, eager to squeeze in a quick nap before the rest of their day begins.
These students work graveyard, or overnight shifts, typically between midnight and 8 a.m.
Morgan Redell, a former Missouri State student, worked as a residence hall desk worker during her freshman year in 2018. Her shifts varied from 7 p.m. to midnight, 8 p.m. to 1 a.m. and midnight to 8 a.m. 
Student residence hall desk workers only work shifts after midnight on Saturday and Sunday mornings. Each residence hall has a full-time night host who works overnight shifts throughout the week.
"I am a first generation student, so I didn't really know what I was doing freshman year," Redell said. "I figured if I had an overnight job, it wouldn't mess around with my classes too much."
While the reasoning of why students work overnight shifts differs, many share the same experiences and effects.
Redell said as an overnight desk worker she was able to fall into a routine, which provided adequate time for balancing school, work and social life. During college, Redell worked two more jobs with overnight hours: Missouri State resident assistant and Walmart customer service associate. Redell said while working these jobs, she struggled to find a balance.
Often, Redell would find herself questioning the last time she ate.
"I ended up grabbing a notebook and started writing down what I did the day before," Redell said. "It was more to keep track of what I did each day, because everything started blending together, but eventually it evolved into full-blown journaling."
After over two years, Redell decided to quit working overnight shifts to prioritize balance in her life.
Redell and other students agreed along with finding time to eat, students also found it difficult to get meaningful sleep.
According to the Centers for Disease Control and Prevention, adults between ages 18-60 should sleep seven or more hours a day.
While obtaining her bachelor's and master's degrees, Missouri State alumna Jessi Cox worked as a patient care technician from 7 p.m. to 7 a.m. at Mercy Hospital. 
After getting off work at 7 a.m., Cox took an hour-long nap, went to class until noon, conducted master's research from noon to 3 p.m., then took another nap before work. Cox worked three or four shifts per week, often working shifts back to back.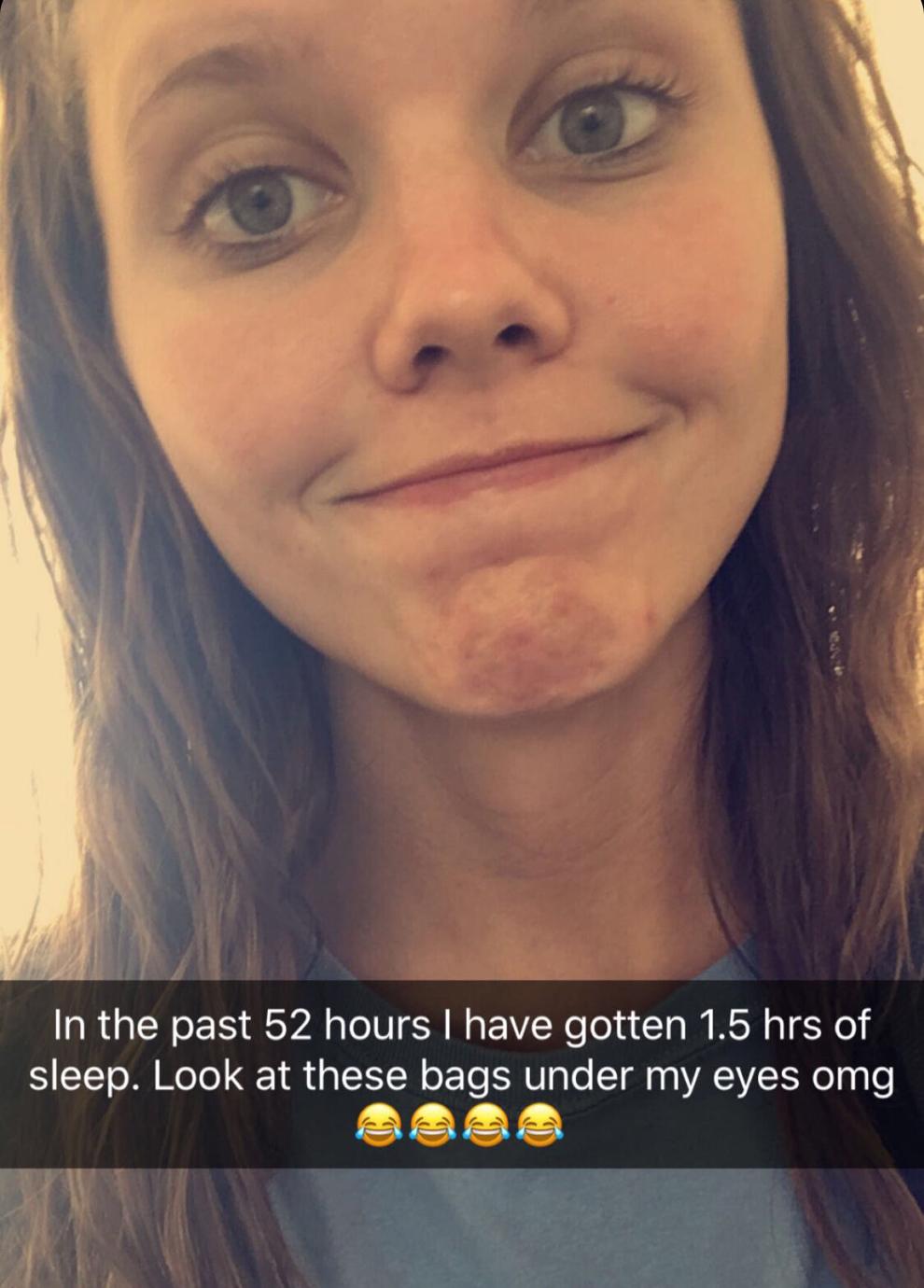 "There were plenty of times I would fall asleep and sleep through class; that was stressful," Cox said. "I definitely got sick more frequently. I felt like I was immune compromised throughout that time because my body was just so run down."
According to the National Sleep Foundation, a nonprofit organization that provides medically reviewed sleep health information and in-depth product testing, sleep deprivation is when an individual is getting less than the recommended hours of sleep per day. Symptoms include slowed thinking, reduced attention span, worsened memory, poor or risky decision-making, lack of energy, and mood changes.
For two and a half years Brianna James, senior cell and molecular biology major, worked as a certified nursing assistant at the Mercy Rehabilitation Hospital. She worked from 7 p.m. to 7 a.m.
In the beginning, James was eager to gain hands-on experience and network with professionals in the field because she planned on attending medical school.
But her exhaustion from working at the hospital impacted her mental health. She asked for shorter hours at work, but continued to work overnight shifts. Instead of 12-hour shifts, she worked eight hours.
However, the reduction in hours wasn't enough.
"I couldn't even make it through a whole shift without having to take my medication for anxiety," James said. "I had to go home. I would have panic attacks on my shifts. I just became overwhelmed."
About five months ago, James decided to take a break from her job at the rehabilitation hospital.
"Now that I am taking (a break), I'm actually focusing on my mental health and school," James said. "My grades are so much better. I'm actually able to see my friends, hang out with them, have people over, go to people's houses and keep in contact with my family."
Kamryn Amstutz, junior nutrition and dietetics major, began working as an overnight nurse at Hometown Veterinary Hospital in March 2020. Amstutz worked one overnight shift — 7 p.m. to 7 a.m. — each Thursday.
Amstutz said after caring for the patients she had time to do homework, but the job left a physical and mental toll.
"It was a very emotionally draining job," Amstutz said. "I would listen to (dogs) cry for 12 hours straight … it made me feel insane. My physical health was also bad because I wasn't eating enough, and I felt sick most of the time. I would throw up every morning after my shift because I was so tired."
Amstutz stopped working at the veterinary hospital in April 2021 to focus on her health.
Despite the hardships, James recommended healthcare students experience graveyard shifts, specifically because day and night shift responsibilities differ.
"If (students) get the experience now, they would see beforehand not only what nightshift consists of but what life is like there," said James, who plans on returning to overnight shifts at the rehabilitation hospital this year.
When considering working a job with graveyard shifts, students agreed physical and mental health should never be ignored.
"I think your mental health is way more important than a job, way more important than school," James said. "I think mental health should be a priority, especially in the work field."
For students feeling overwhelmed with balancing responsibilities, Missouri State's Counseling Center is free to all full-time students who need to discuss mental health concerns. To schedule an intake session, call 417-836-5116.
Follow Greta Cross on Twitter, @gretacrossphoto
Subscribe to The Standard's free weekly newsletter here