MY PATIO IN PLATTE CITY, Mo. — Mo State Mondays are back. Just like me. Welcome to this summer's Mo State Mondays with Amanda where I write down my thoughts about all things sports and attempt to answer your questions.
First things first: Why am I here? Yes, as I said before, I'm here to tackle your questions about Missouri State's upcoming year. A lot has changed — some hasn't — and you all have questions. My Twitter DMs are open. Follow me @mandasullivan14 for any tweets that could be about literally anything. But for now, since I have no tweets from you all (yet), here's what I've compiled so far.
Missouri State baseball had a tough season.
We're starting with a sore topic for most Missouri State fans: The Bears baseball team went 20-36, earning the most losses in MSU baseball history.
It was a rough season. The Bears' experienced players did well, but the young roster dominated the lineups each game.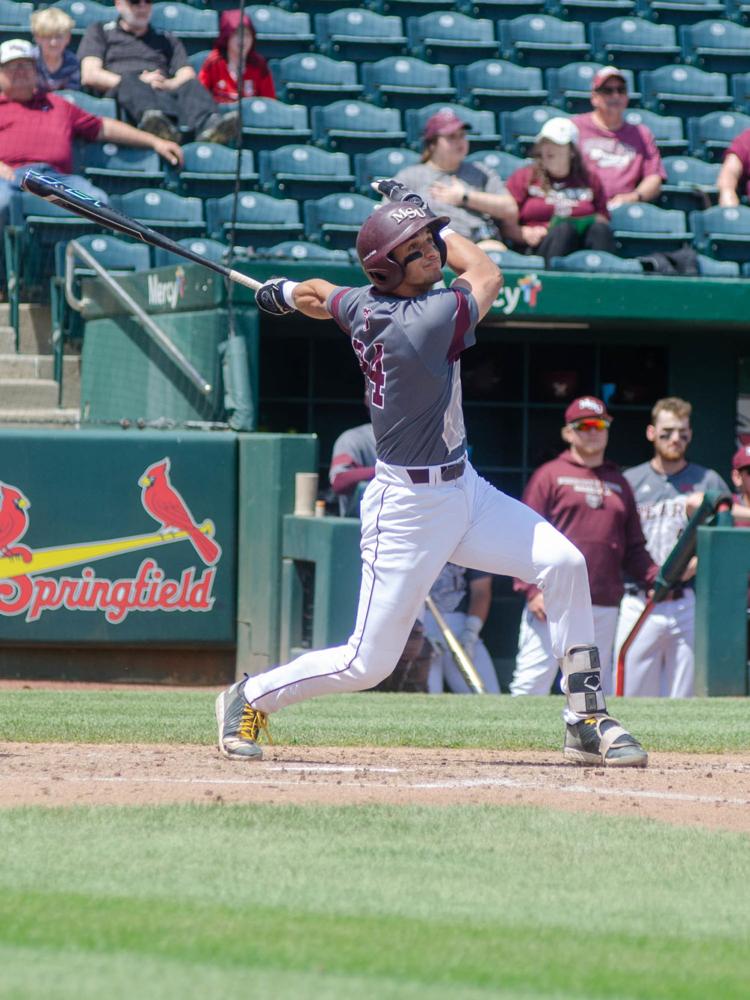 The Bears, who usually do fairly well in the offseason, struggled to start. They went 10-25 in the nonconference schedule, and started out in two tournaments where they went 1-6.
The rest of the season was tough to watch. Junior Ben Whetstone got behind a few after he struggled to start, and junior Drew Millas couldn't find a rhythm until late in the season due to an injury.
MSU almost saw something come together in early May when the Bears won the series over conference rival, Dallas Baptist, but it never fully fell into place.
The Bears also had a strong showing at Indiana State in late March. They took the series from the Sycamores, who went on to win the Missouri Valley Conference Tournament title for the first time since 1995.
It's not all bad news for the Bears, though.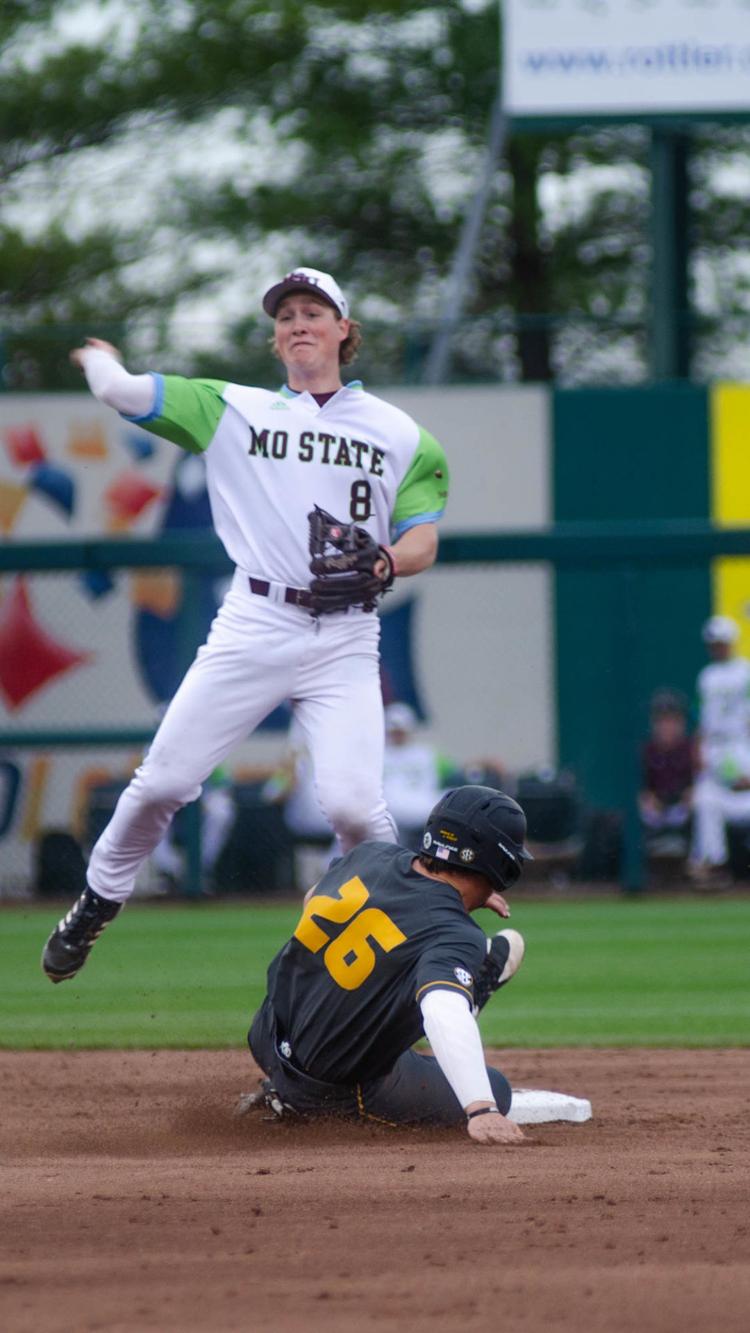 Players like shortstop Mason Hull and pitcher Javier Ramos are returning for the Bears' lineups for their second collegiate season. Hull finished the season batting .196 and a team-high 13 errors. The freshman has work to do over the offseason, but he has promise for the sophomore season. Ramos, a right-handed pitcher and field player, showed utility in both positions this season. He has a .222 batting average, which started with a grand slam. He only pitched 2.1 innings this season, but will have room to work with relievers like Davis Schwab graduating.
Other big players expected to return for the Bears include sophomore closer Connor Sechler, third baseman Joey Polak and outfielder Jack Duffy.
Duffy had the highest batting average on the team. He started to fall into stride as the season fell short at the end. Expect big things from him next year. Polak, a sophomore transfer, has brought a lot to this team. His bat will be what the Bears look to follow next season — as well as Whetstone's.
Sechler will be the leader of the bullpen as he heads into his junior year. He has 27 appearances — the most of any reliever — and 51 innings pitched for a .226 batting average against him.
The Bears should have a lot going for them next spring, especially with the bitter taste of this season in the mouths of almost their entire roster.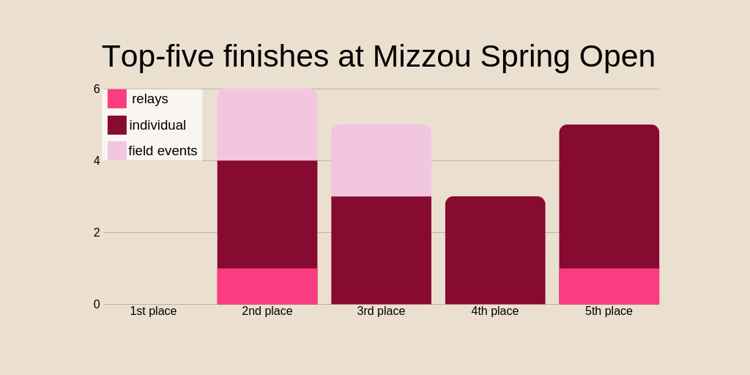 The Missouri State track team is starting to make a name for itself.
Taryn Smiley and Grace Breiten ended Missouri State's spring seasons with trips to the NCAA West Regional in Sacramento, California.
Smiley, a senior, shined under the coaching of Carmelita Jeter, the fastest woman alive. Jordan Fife, interim head coach of the women's track and field team, scored the hire back in September.
Jeter posted on Instagram a photo of Smiley saying: "Let me tell you how proud I am of this young lady." She went on to describe Smiley's success on the track.
Smiley never placed on the podium in her first three years at Missouri State. In her senior season, she placed in the 100- and 200-meter dash at the Missouri Valley Conference Championships and earned herself a spot in the NCAA prelims.
At the NCAAs, she ran an 11.99-second 100-meter dash to place 47th. She was a third of a second away from qualifying for quarterfinals.
Now, Smiley graduated, but Breiten is a junior. She placed 41st in the 3,000-meter steeplechase. Her 10:28.67 time is third best in MSU history, and she has another year to go. Fife has solid talent returning next year. With Breiten being a distance runner, she also runs cross-country — where Fife is head coach — and that gives her plenty of time to work towards personal bests as both seasons progress.
Oh yeah, classes are done for the semester.
I'm finally done with my fourth semester of college. Wow. I remember packing up my car for my first (and only) preseason for soccer and now I'm heading into my third year with a summer internship.
College is quite fun, in fact. Some people hate Gen Ed classes, but I tend to enjoy them. I'm forced out of my comfort zone, and I get to learn about something I wouldn't have otherwise thought about. I took Introduction to Religion this spring and really enjoyed it. Kathy Pulley was a great professor, and I learned a lot that I've already put to use at The Standard.
However, with the semester ending, I had to say goodbye to some of my best friends. They all wrote columns for the final issue of The Standard that they were a part of. You can find those here:
I didn't get to write a column of my own telling them how much I will miss them. I will miss making eye contact with Cortlynn from across the newsroom and immediately knowing what she's thinking. I will miss constantly butting heads with Nina — who is someone I hold dear to my heart. We would bicker and fight but I will never forget getting a side hug from her because that's the most affection I think she's ever given anyone.
But most of all, I'll miss Emily. I didn't know Emily when we started the 2018-19 school year as editors. She had an internship in Branson and I was in Kansas City for most of the summer. We grew closer over the fall. She sent me pictures of her cat, and we sang Hamilton songs together. Our trip to Louisville, Kentucky, secured our friendship for life. Now, I can't imagine not talking to her. She's spent the last week in London, so I don't talk to her that often. I miss her now, and I will miss her so much in the fall.
I couldn't be any happier for the three of them though. Cortlynn is starting an internship at The Washington Post, and Nina and Emily each got jobs at the Jefferson City News Tribune. Be sure to follow them on Twitter @Cortlynn_Stark, @Todea_NinaM and @EMCole19 to follow their careers.
With them leaving, our staff is turning.
My "friend that's in Africa," Sarah Teague is our new editor in chief. She's spent over a year in Africa, and is coming back in June to finish her last year of college. I'm so excited for her because she finally passed college algebra and will have some great ideas coming for you this fall. Follow her @sarah_k_teague as she finishes out her time in Côte d'Ivoire.
Also be sure to follow our new news editor, Carissa Alford, at @carissabalford. You'll recognize her if you watched The Standard Statement every Tuesday last year. She has some great stuff coming your way.
Zoe Brown — @zoe_zoebrown — will be the life editor. She is already killing it on stuff we are working on behind the scenes. I am so excited for you to see what she brings to the table.
Engagement editor is a new position that Greta Cross has filled. She'll be in charge of all social media and web workings. Her enthusiasm to learn and get better in all aspects is going to be incredible. If you have any concerns, reach out to her @gretacrossphoto or on any of The Standard's social media accounts.
Kaitlyn Stratman is back in the saddle as photo editor. She's such a stud at her job and just being a photographer in general. Follow her @kaitlynstratman for your sports photos — especially basketball.
Bill Nye the Sioholm guy is video editor. He's so enthusiastic to create content for everyone. Reach out to him with ideas for new video series or to just tell him good job because he does a lot of work behind the scenes for The Standard.
Our staff is stacked with talent. We're all excited to put together the first issue of The Standard together. Be ready. It's gonna be awesome.
I love working on Memorial Day Weekend.
I spend every Memorial Day weekend working at Park Lawn Funeral Home in Kansas City, Missouri. I pass out flags, collect surveys, find grave locations — anything they need me to do. It's a humbling experience. By the time Monday afternoon rolls around, the cemetery is rolling hills of flowers and flags. It's honestly quite beautiful.
While Memorial Day is was originally named a federal holiday to honor those who have died while serving in the United States Armed Forces, it has become a way for people to honor loved ones who have died.
On Saturday, there was a 95-year-old woman who came to visit her parents at their grave. She wasn't there long, but small stories like that are ones you remember.
So, take some time on this Memorial Day if you haven't already and head out to honor loved ones or those that have served. They fought for your right to read this and mine to write it.
To those that have served, thank you for your service and all you have done for our country. God Bless America.