Missouri State to host three postseason championships
Missouri State is tabbed to host three Missouri Valley Conference Championships during the 2019-2020 athletic season.
"We always take pride in hosting Missouri Valley Conference championship events each year, and I think it's great for our coaches and student-athletes to get that opportunity," Director of Athletics Kyle Moats said in a release.
Most notably, the Bears will host the MVC women's soccer championship at Betty and Bobby Allison South Stadium, Nov. 8-10.
Missouri State will also host two events away from the Springfield campus: the MVC women's swimming and diving championships which will take place Feb. 19-22 in Columbia, Missouri.
The other event is the MVC women's tennis team championship on April 24-26 at Cooper Tennis Complex.
The Bears have hosted at least three MVC championship events in each of the last four years, including women's soccer in 2017.
Missouri State, Adidas renew partnership
Missouri State University and Adidas renewed their partnership for seven more years.
Adidas became the official footwear, apparel and accessory brand for MSU in 2014 and will continue to be the university's selected brand through 2026.
"Adidas is one of the top athletic brands in the world, and we are excited to continue our partnership," MSU Director of Athletics Kyle Moats said in a release. "All of our teams benefit by being under one umbrella and having one look, which truly makes us Team Adidas. Our student-athletes appreciate the one-team concept."
The new agreement also includes expanded promotional allotment to Missouri State contingent on annual purchasing volume requirements and bonus incentives to include additional revenue if the Bears achieve certain seasonal and yearly milestones.
Former Bears infielder selected for hall of fame
A four year starter and All-American for Missouri State in the early '90s will be inducted into the Missouri Valley Conference Hall of Fame on Friday, March 6, 2020.
Bill Mueller set single-season records for singles, runs, walks and hits, and still holds the batting average for a four-year career at Missouri State with .376.
After being drafted by the San Francisco Giants in 1993, Mueller made his major league debut in 1996. He would go on to play for the Giants, Chicago Cubs, Boston Red Sox and Los Angeles Dodgers. During his time with the Red Sox, Mueller won the American League batting title in 2003, as well as a World Series in 2004.
After retiring from playing, Mueller spent time on the Dodgers coaching staff and front office, as well as hitting coach for the Chicago Cubs. He was also a first-base coach with the St. Louis Cardinals.
Mueller will be joined in the 2020 MVC Hall of Fame by Kansas basketball coach Phog Allen, Evansville basketball star Larry Humes and several others.
Battle for Bell, round four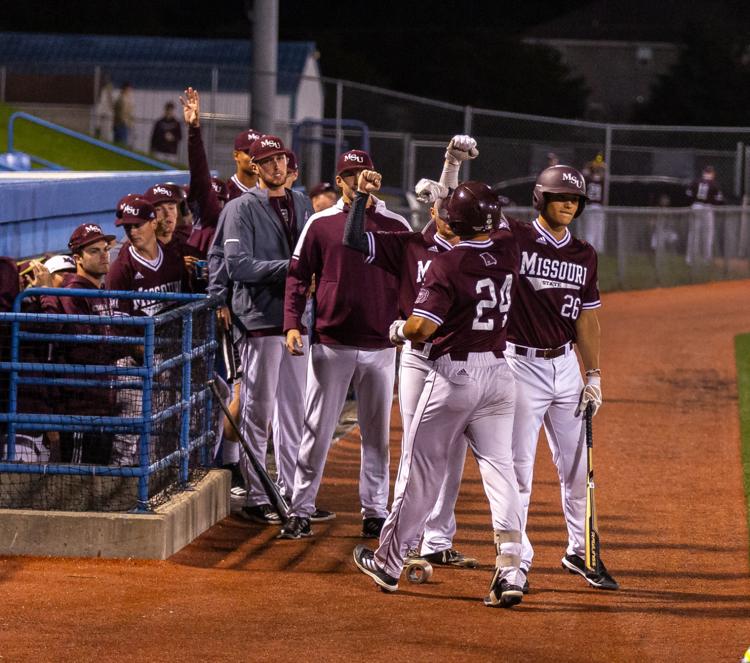 Missouri State and Drury University will once again put their baseball clubs up against each other in the fight against amyotrophic lateral sclerosis.
The Bears and Panther continue to raise money and awareness for ALS in honor of the late Howard Bell, who lost his fight in 2013.
Bell enjoyed a successful stint under current Bears head coach Keith Guttin, where he lettered three years and led the team with a .396 average, helping MSU to a record 47 victories and was named Mid-Continent Conference Player of the Year.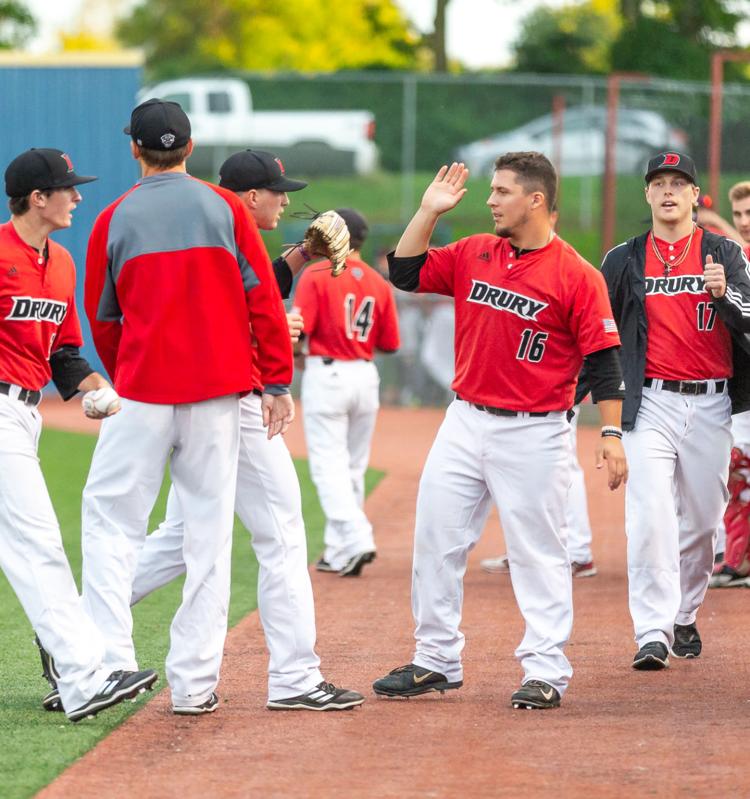 The Springfield, Missouri native later went on to coach at Glendale High School under head coach Mark Stratton. Stratton left Glendale to start the baseball program at Drury University, leaving Bell to fill his shoes as head coach with the Falcons.
The exhibition contest is on Saturday, Sept. 21, at U.S. Baseball Park in Ozark, Missouri. The gates will open at 4 p.m. for a silent auction, autographs and batting practice, followed by the first pitch at 6:30 p.m.
Tickets are available through The Meyer Center, U.S. Baseball Park, Drury University's O'Reilly Family Event Center Box Office and coxhealthfoundation.com.
Football team predicted to finish last in conference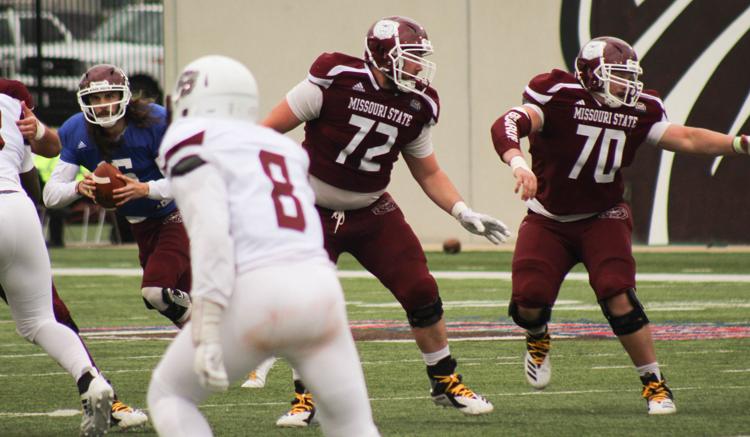 The Missouri Valley Football Conference preseason poll predicted the Missouri State Bears to finish in last place of the 10 teams in the league.
North Dakota State led the way with 32 first-place votes, while South Dakota State, Illinois State and Indiana State followed with four, three and one first place votes, respectively.
Despite the last-place vote, four Missouri State players earned preseason Valley honors.
Senior wide receiver Tyler Currie was selected to the conference's preseason offensive team on July 30. Currie earned All-MVFC honor mention at the end of his junior season after leading the team with 548 receiving yards and five receiving touchdowns. He ranked fifth in the MVFC for yards per reception with 15.66.
Seniors Angelo Garbutt, linebacker, McNeece Egbim, linebacker, and Matt McClellan, defensive end, earned preseason All-Defensive team honors on July 31. Garbutt was the sole first-team selection after leading the Bears with 99 total tackles last season. Egbim and McClellan earned second-team spots for their final seasons.
Men's soccer tabbed as preseason favorite to win conference
A poll of the Missouri Valley Conference men's soccer coaches selected Missouri State as the front-runner to win the 2019 conference.
MSU was given 32 points in the poll, including four first-place votes. Coming in at No. 2 was Loyola-Chicago University with 31 points.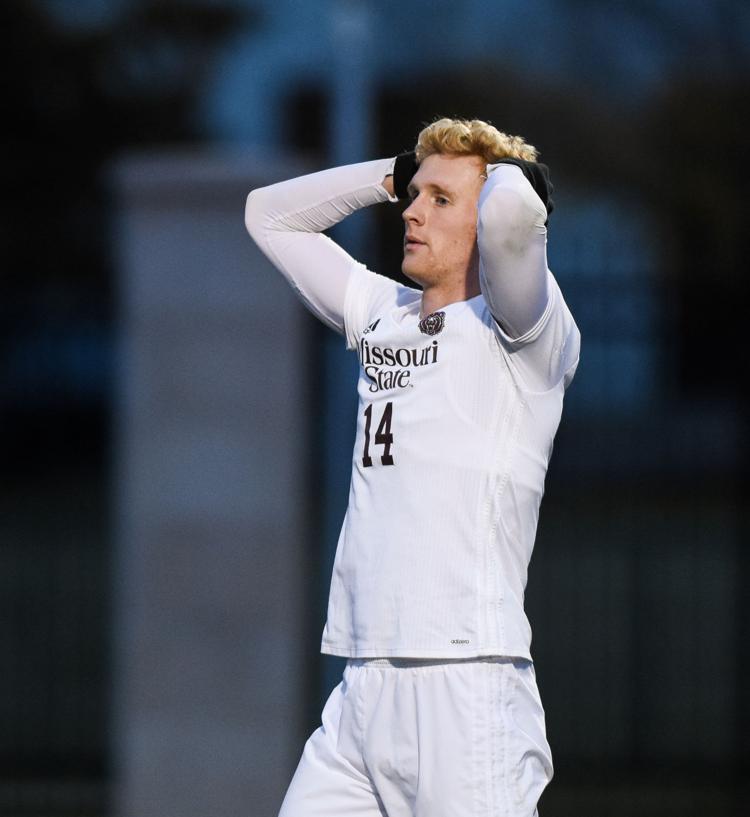 The Bears posted a 9-2-6 record in the 2018, which ended in sudden death penalty kicks to Central Arkansas in the semifinals of the conference tournament.
Missouri State opens the MVC section of their schedule on Wednesday, Sept. 18, at home against Valparaiso.
Volleyball picked third in preseason poll
Missouri State's volleyball team was picked to finish third in the Missouri Valley Conference this year, according to the league's coaches preseason vote.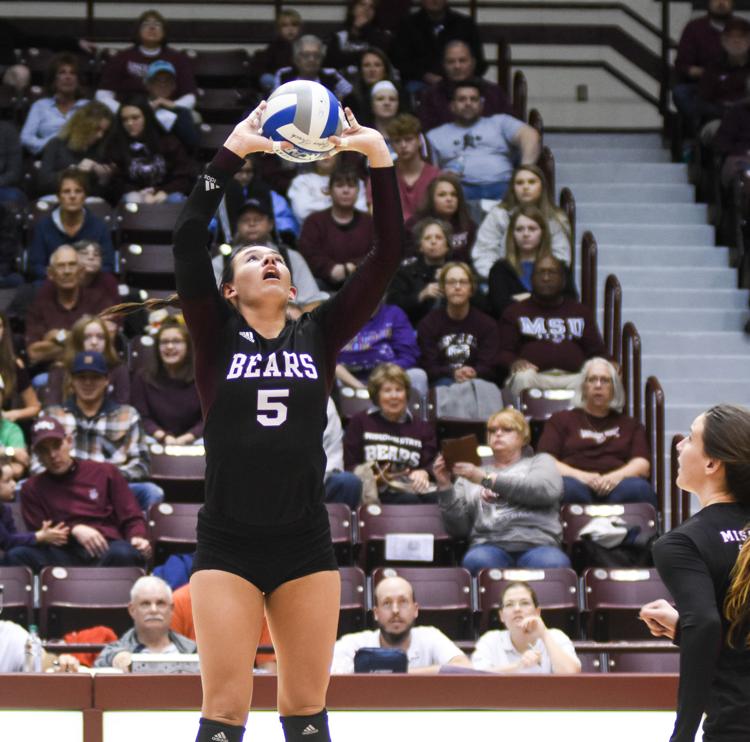 The Bears received 68 votes to tie Bradley for third in the poll, while Northern Iowa is the unanimous favorite. Illinois State earned the No. 2 spot, with Loyola and Drake expected to round out the six participants in the MVC Tournament held Nov. 28-30 in Cedar Falls, Iowa.
Valparaiso, Indiana State, Southern Illinois and Evansville finish the poll in respective order.
Also, sophomore outside hitter Amelia Flynn represents Missouri State on the seven-player preseason all-conference team.
Women's soccer team tabbed sixth in preseason poll
The Missouri State women's soccer team is predicted to get fourth in the Missouri Valley Conference this season.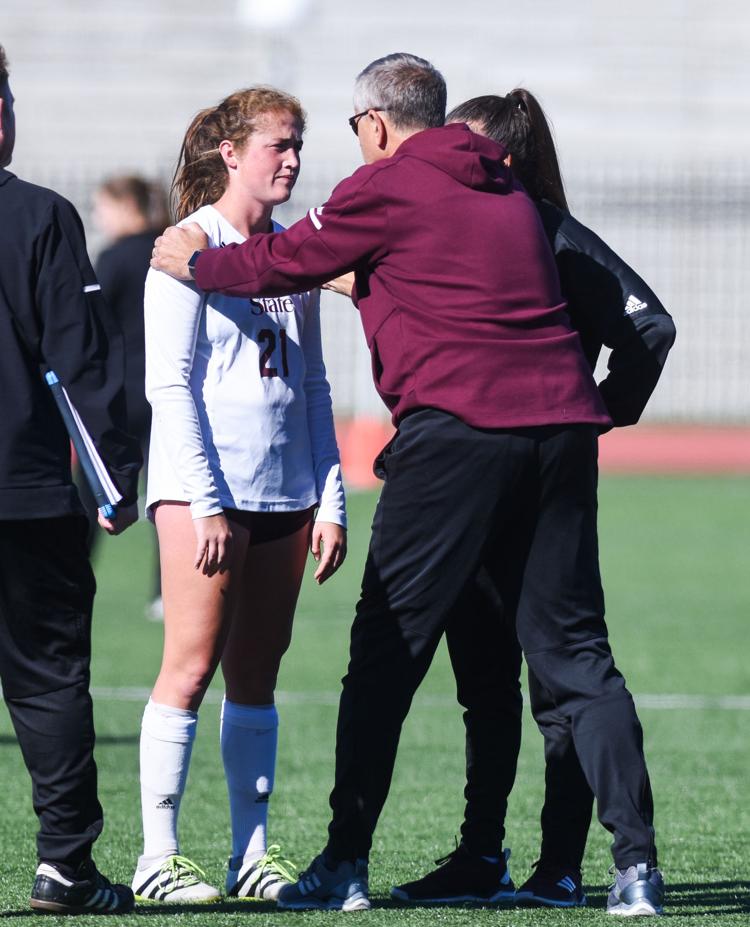 Loyola-Chicago topped the charts with six first-place votes while Drake and Illinois State earned one first-place vote apiece.
Missouri State will host the MVC Championship in November. The last time the Bears hosted the tournament in 2017, they were predicted to place seventh and ended up winning the title.
They return 15 letterwinners, including 2018 Goalkeeper of the Year junior Kaitlin Maxwell.
Ice Bears schedule to have fewer contests
The Missouri State Ice Hockey club's schedule has 35 games scheduled this season, a 14-game drop from 49 a season ago.
This was in part due to the Ice Bears' travel partner in the Western Collegiate Hockey League, the University of Arkansas, ceasing operations. Head coach Jeremy Law said in the spring he thinks the reduction in games will help the team long-term with fewer possibilities for injury.
The Bears open their season on the road against Illinois State on Friday, Sept. 20. The home opener is Friday, Oct. 4, at Jordan Valley Ice Park against Colorado, the first of 18 home games.
Fifth-year men's soccer player wins Virgil Cheek Award
Kyle Hiebert, a fifth-year senior former men's soccer captain, was selected for the 2019 Virgil Cheek Award.
The award is given out each year to a senior male athlete that best demonstrates "high qualities in scholarship, character, attendance, leadership and athletic performance," according to a university press release. 
Hiebert had a 4.0 grade-point average as a student and helped the Bears to a goals-against average below one in the 2018 season, which ranked No. 16 nationally. During the season, Hiebert started all 17 games and played in all but 45 minutes of the season.
 Hiebert was also selected to the All-MVC second team, the USSC All-West Region third team and the MVC Scholar-Athlete first team, among several other awards.
MSU female athletes earn season awards
Missouri State recognized a pair of the school's top female student-athletes on June 13, the university's year-end institutional honors for 2018-19.
Former Lady Bears star Danielle Gitzen was named the recipient of the 2019 Outstanding Female Athlete Award, as voted on by the head coaches of Missouri State's 11 intercollegiate programs.
Golfer Ashley Childers was also announced as the recipient of the Dr. Mary Jo Wynn Senior Female Scholar-Athlete Award.
Gitzen started all 35 games as the sole senior for Missouri State last season, earning All-MVC first team and MVC All-Defensive team honors for the Lady Bears that finished 25-10 and advanced to the NCAA Sweet 16. She led the team with 13 points, 3.2 assists and 1.5 steals per game and scored in double figures 26 times.
Childers was named to the 2019 CoSIDA Academic All-District team after earning the MVC Elite 17 Award in 2018.
The Wynn Award is presented every year to the graduating female senior student athlete with the highest GPA. Childers completed her undergraduate degree in May with a perfect 4.00 in logistics and operations management.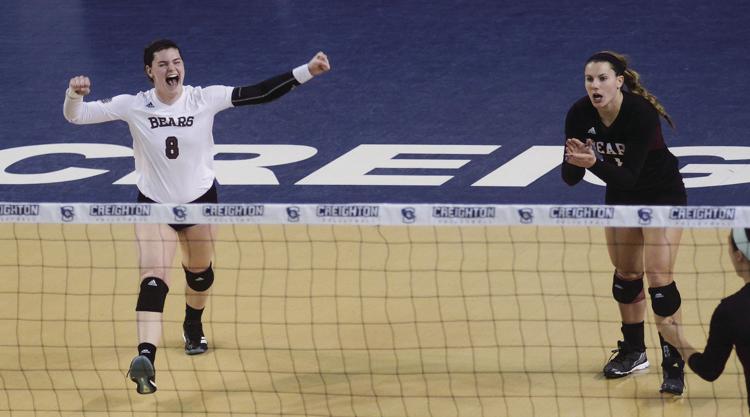 Former volleyball Bear wins postgraduate scholarship
Missouri State's former volleyball standout Emily Butters, who graduated last spring with a degree in exercise and movement science, won a postgraduate scholarship announced by the Missouri Valley Conference on June 6.
The MVC Faculty Athletics Representatives Committee voted to award post-grad scholarships to four student-athletes, due to their exemplary academic and athletic performances. Butters will receive a $5,000 postgraduate scholarship from the conference.
Butters was an American Volleyball Coaches Association Honorable All-American as a junior in 2017, and this past year became the fifth-player in Missouri State history to earn multiple all-region honors.
To be eligible for consideration, recipients must have achieved a grade-point average of at least 3.40, played in the MVC for at least two seasons and graduated from their institution within 18 months. Butters had a 3.93 cumulative GPA while at Missouri State. She is continuing her education at The University of Texas Medical Branch in Galveston, Texas.
Volleyball star wins Dr. Charlotte West Scholar-Athlete Award
Not only did she earn a postgraduate scholarship, but former Missouri State volleyball libero Emily Butters was selected as the female recipient of the Dr. Charlotte West Scholar-Athlete Award, announced by the Missouri Valley Conference on June 7.
The MVC Faculty Athletics Representatives Committee chose Butters from a field of league student-athletes who met the award criteria, including academic achievement, athletics excellence, service and leadership.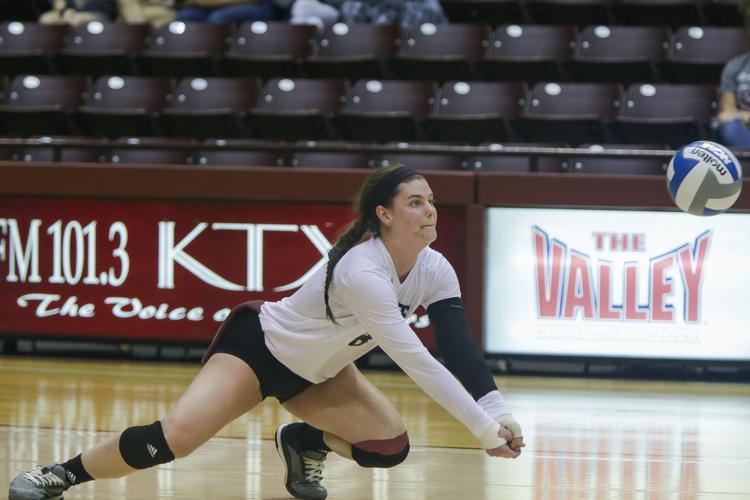 As libero, Butters led the Bears with 5.08 digs per set in 2018, finishing the season with 599 total digs, the fifth-highest mark in school history. She owns nearly every digs record at Missouri State, with her 2,482 career digs, third in MVC and 16th in NCAA history.
Butters played in every set of her career, ranking fourth in MSU history with 513, and seventh in NCAA history for consecutive sets.
MSU long snapper earns national preseason honor
Missouri State football's long snapper was included in the FCS Preseason All-America football team that was announced by STATS on July 30.
Senior Chandler Collins has started as a long snapper for the last three seasons, with a perfect 2018 season on field goal and extra-point attempts. He also tallied two special teams tackles and downed six punts his junior season before being named to the All-Missouri Valley Football Conference third team.
Collins is one of 16 MVFC players honored in the preseason by STATS. The 16 MVFC players is the most of any FCS league, and Collins is one of two MVFC long snappers to make the All-America list.
Craig Massoni joins baseball Bears staff
The Missouri State baseball team welcomed a new volunteer assistant to the coaching staff for this season. 
Craig Massoni concluded his own collegiate career in 2013 as the Ohio Valley Conference Player of the Year, as he helped Austin Peay earn an NCAA Regional berth, all while leading the Governors with a .385 batting average. He led the club in four other offensive categories.
Massoni was drafted in the 33rd round of the 2013 draft by the San Francisco Giants where he played for two seasons, followed by three seasons in the independent leagues.
Massoni spent the last two seasons at Arkansas State, where he wore many different hats — assistant coach, first base coach and worked with hitters and infielders — and he helped the Red Wolves finish among the top quarter of all Division I offenses in scoring during the 2019 season. 
Grad transfer hangs up his jersey
 A Colorado State grad transfer will not play in his final season of college basketball eligibility, Missouri State head basketball coach Dana Ford announced. 
Anthony Masinton-Bonner thanked the Springfield and Missouri State communities for welcoming him to the area for his short stint, according to a university press release. 
"Thank you, Missouri State, for believing in me and making me feel a part of something special," Masinton-Bonner said. "In my short time with the program, I am absolutely grateful for the experience and wish the guys and the staff nothing but the best."
Masinton-Bonner spent four years with the Rams, where he averaged 12.2 points a game and knocked down 44 percent from three. The 6-foot-2 guard previously announced on April 15 he would be attending MSU for the 2019-2020 season.
Hirdler selected as athletics compliance director
Missouri State hired a new Assistant Athletics Director for Compliance this summer. 
Alex Hirdler, had previously served as the NCAA Compliance Coordinator for Oklahoma State University since March 2017.
The Office of Athletics Compliance website says the office "acts as a resource center to coordinate, monitor and verify compliance with all NCAA requirements and to educate various constituencies of the university and the athletics community regarding NCAA regulations."
Hirdler went to school at the University of Iowa, where he earned multiple bachelor's degrees in accounting and sports and recreation management before going on to complete a master's there.