Down 5-4, with possibly the season on the line, Jeremy Eierman stepped up to the plate.
He had a runner on, with two outs in the bottom of the ninth in Game 1 of the NCAA-Fayetteville Regional. If the Bears were to lose, they would have to win four straight games to advance to the super regionals.
Eierman hit a walk-off home run to opposite field.
Fast forward to the regional championship.
Tied at one in the top of the sixth, Eierman had a runner on. It was win-or-go-home for the Bears.
Again, Eierman sent a home run to opposite field. The Bears would go on to win to advance to the super regional for the second time in three years.
In a lineup featuring potential first round pick Jake Burger, Eierman doesn't get the praise he deserves.
That's not the way it is anymore.
Eierman is a star.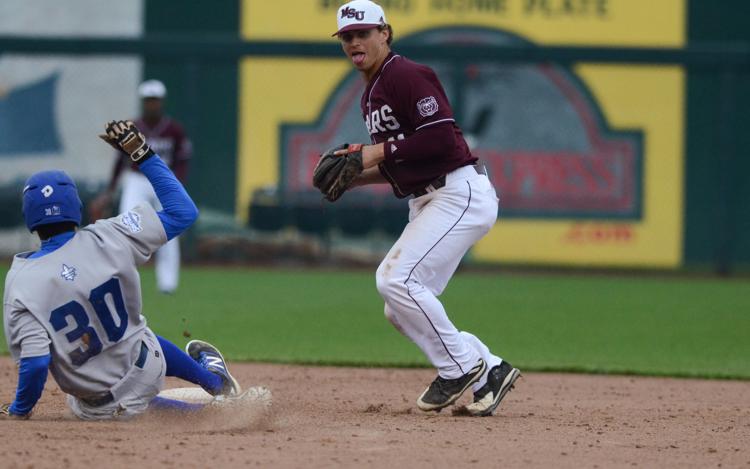 "He's awesome," Burger said. "You saw what he did this weekend … he's something special. I look forward to following his career and seeing how he takes off."
What he did over the NCAA regional weekend was go 5 for 15 with a regional-high 6 RBIs and three home runs.
This should come as a surprise to no one.
Going into the NCAA Super Regional round, Eierman is tied (with Burger) for the sixth most home runs in the country.
He has more home runs than any other shortstop. He leads the next closest shortstop (Wake Forest's Johnny Aiello) 22-18.
"I think he's shown during the course of the season that he's a very athletic, physical shortstop who can produce offensively," Bears head coach Keith Guttin said.
"Those players are hard to find."
Guttin found Eierman in Warsaw, Missouri (85 miles north of Springfield).
There, Eierman was ranked as Missouri's No. 1 shortstop in the class of 2015 by Perfect Game USA. He was named to the all-state team three times.
He batted .542 as a senior in high school while hitting eight home runs. He also drove in 33 RBIs and stole 18 bases … in 26 games.
Even though in his freshman year, he showed that he was a freshman (struck out 67 times, 21 errors), his sophomore year was no sophomore slump.
Eierman improved in just about every statistical category.
In just one more game played than his freshman year, Eierman has scored 20 more runs, while also hitting 12 more home runs than a season ago. He's knocked 17 more runs in and he's committed 11 less errors.
He's currently tied for third in the Missouri Valley with a team-high 15 steals.
He's yet to back down and he doesn't let the moment get to him.
The Bears are still playing due in large part to their first-team All-Missouri Valley shortstop.
"I just try to calm myself down and stay with my approach," Eierman said after winning the regional championship. "I try not to do too much. I just wait for my pitch and try to barrel it up."
Whatever his approach is, it's working.
The point is, Eierman right now might be what Burger was a season ago: A star sophomore who is on his way to being a high draft pick.
Enjoy him while you can. He is a special player.