On May 21, American singer Lana Del Rey posted to her Instagram voicing her frustration with her image in the music industry.
Del Rey, responsible for hits like "Summertime Sadness" and "Young And Beautiful," said she is tired of female writers and fellow alternative artists saying she glamorizes abuse, while other female artists write about similar topics but receive less backlash.
"With all the topics women are finally allowed to explore...I just think it's pathetic that my minor lyrical exploration detailing my sometimes submissive or passive roles in my relationships has often made people say I've set women back hundreds of years," Del Rey said in the post.
Del Rey claims she is a feminist but there needs to be a space for women who look and act like her.
Some artists took offense to the post but more so with Del Rey criticizing and name-dropping female artists of color.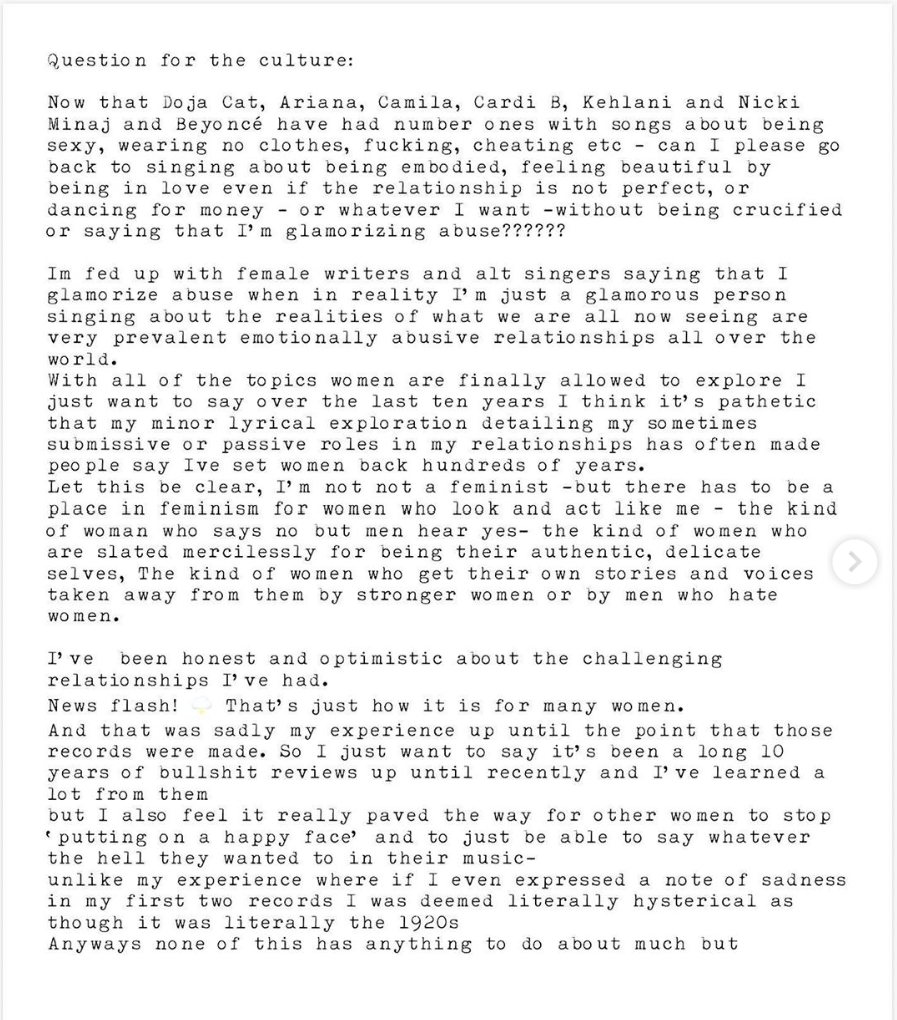 Doja Cat, Ariana Grande, Camila Cabello, Cardi B, Kehlani, Nicki Minaj and Beyoncé are among the artists Del Rey mentioned in her post, referring to the fact that they have all had chart-topping songs which relate to empowerment in promiscuity.
Singer Jessy Wilson commented on Del Rey's post, "I love your music, but black women have been singing about sex, abuse, being submissive, being aggressive in relationships and being glamorous for decades. Know the history."
Wilson continued by saying Del Rey's post came from a place of privilege, and no one is stopping her from being herself and saying what she wants.
Comedian Amanda Seales also commented, "I get your point, and I consider it valid. There was just a way to make it that didn't center you as someone who has been silenced."
Seales said Del Rey's claim of paving the way for women to speak freely on their experiences is not true.
Del Rey's post has left fans with opinions of their own and Gillian Gieske, junior hospitality major, disagrees with Del Rey.
"I think she was being tone-deaf, but I don't think she realized how bad she sounded," Gieske said. 
Gieske said she thinks Del Rey should apologize and reflect on how she uses her privilege.
"She made it seem like the women of color she mentioned hadn't experienced any kind of criticism, which is completely untrue," Gieske said.
Katie Cowan, junior and communications major, said while she doesn't disagree with Del Rey, she feels the post was made in poor taste. 
"I feel as though what she said was important because she has been degraded in the past for her music and behavior, but she is not oppressed by any means," said Cowan.
Cowan said she understands it must be hard for Del Rey to be criticized for her music and its context, but many other artists experience the same thing.
Del Rey made a follow-up post on May 22 addressing the backlash.
"I remain firm in my clarity and stance in that what I was writing about was the importance of self advocacy for the more delicate and often dismissed, softer female personality," Del Rey said in her second post.
Del Rey's final comment on the matter is that her intention wasn't about creating a space for white women specifically, but for women who don't look strong or smart and advocating for the delicate personality type.