The Kardashian family was initially brought into the limelight when the patriarch of the family, Robert Kardashian, served as OJ Simspon's lawyer in the trial regarding his wife's death in 1995. Years later, beginning in 2007, "Keeping Up with the Kardashians" premiered on E!. 
The show starring the famous family of eight has revolutionized American pop culture, leaving a lasting impact on fans, the business world and media.
Mother Kris Jenner, along with the rest of the family, announced on Instagram on Sept. 8 that the long time running show would be ending in 2021. The show has been on air for 14 years and will conclude in its 20th season.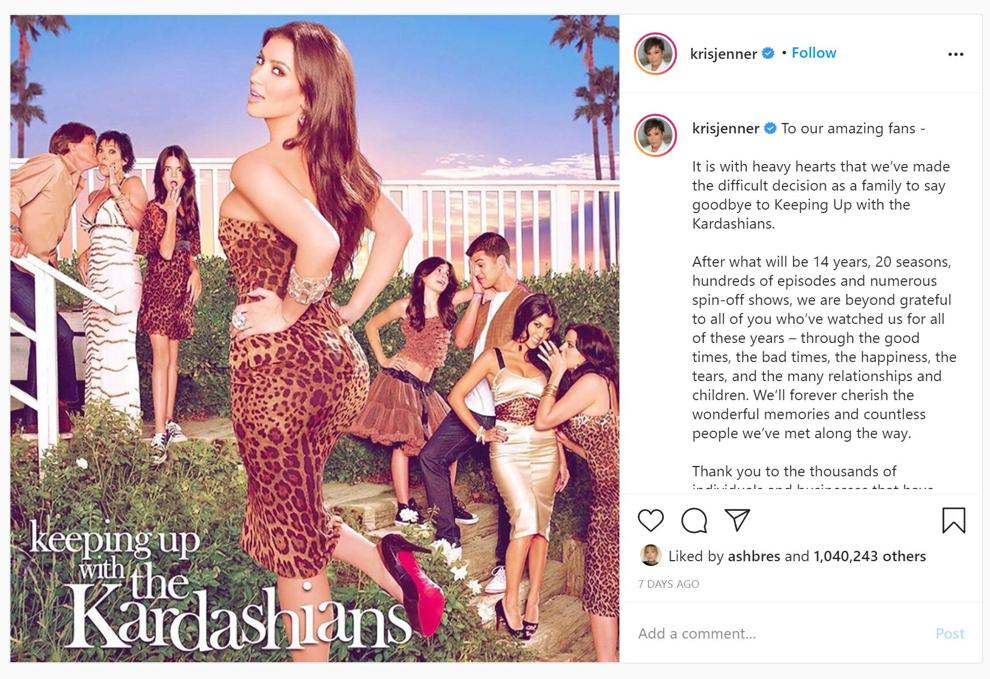 "We will be forever in debt to everyone who played a role in shaping our careers and changing our lives forever, said Jenner in her post. "Thank you for joining us on this crazy ride!"
I think it is time for the series to come to an end. However it is also bizarre to think how long it has been on television. Viewers of the show have witnessed multiple marriages and births of children, milestones and hardships as well as their lives being transformed through their numerous business ventures.
The oldest siblings of the family, Kim, Kourtney and Khloe, had clothing lines through SEARS as well as "DASH" retail stores in major cities across the country. Kendall Jenner has become a world renowned supermodel, and Kylie Jenner has taken the world of makeup by storm. 
There have also been several spin-offs of the series over time, including "Kourtney and Khloe Take Miami," "Life of Kylie" and "Rob and Chyna." These shows also had high success and were favored by fans.
Fans around the world had varying thoughts about the Kardashians' announcement.
Allison Garrett, Missouri State University senior class president said, "I grew up watching the Kardashians with my mom, so it's weird to see the show ending," Allison Garrett, Missouri State University senior class president said. "Like them or not, they have definitely made a mark on American pop culture."
The Kardashian family as a whole has been highly regarded by many, but there are also a lot of people that find them annoying or know nearly nothing about them. While the Kardashians have changed the entertainment scene forever, they've also been met with a lot of infamous controversy. 
In 2017, Kendall was involved in an ignorant Pepsi sponsored police brutality commercial. Kim was married for 72 days to basketball professional Kris Humpries in 2011. Scott has been known for his on and off alcohol abuse. In early 2019, Tristan Thompson cheated on Khloe with Kylie's ex best friend Jordyn Woods. 
"I have literally no thoughts," Cameron Jordan, a graduate student, said. "I've never watched an episode. I know three things about that family. One is married to Kanye, one has dated most of the NBA and one was in a Pepsi commercial." 
Although the family has conspired mixed views from fans around the world, they will reign as pop culture royalty forever. The show will be concluding, but episodes and memes of the show will continue to be adored by fans for years to come.
Fans can tune in to the final season of "Keeping Up with the Kardashians" in early 2021. An official date has not been announced.